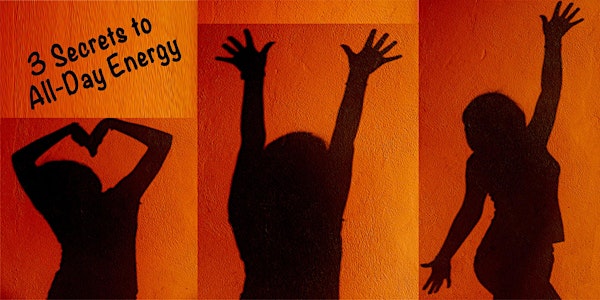 [Health & Wellness] Unlock Your Vitality: 3 Secrets to All-Day Energy
Location
The Box SF
1069 Howard Street
San Francisco, CA 94103
Description
Join Our Monthly Meetings To Learn More About The Health & Wellness world!
Featuring a different speaker each month, our meetings focus on networking with peers, sharing information as to best practices in building a successful business, and discovering ways to improve your health and the health of your loved ones.
November's meeting: "Unlock Your Vitality: 3 Secrets to All-Day Energy"
Nutritionist Dawn Preisendorf will share the hidden reasons you or your clients are feeling more fatigued and foggy than you'd like….and how to naturally unlock all-day energy you can count on.
You'll Discover:
• Why the foods you eat (even the "healthy" ones) may be taking your energy
• Why your gut is your first stop on the road to reclaiming vitality
• The hidden reasons people can't climb out of fatigue

• How your hormones can support you or sabotage you (and how to get them on your team)
• The one "life-hack" that will keep you effortlessly energized

Dawn will also share case studies of how her clients healed.
Speaker's info:
Dawn Preisendorf, MA, NC, CHWC frees women from fatigue, low energy, and digestive distress. She has helped hundreds of women reclaim vitality and energy so they can live their lives full-out.
Dawn is a national speaker who has taught and presented on nearly 500 occasions. Once an over-stressed, under-nourished veteran of the corporate trenches, Dawn recovered from her own health crash and found vitality again. Dawn has studied functional nutrition and holistic health for 18 years; she has a master's degree in nutrition and health education, is a certified Wellcoach, and a certified Hormone Cure Practitioner through Dr. Sara Gottfried.
Agenda:
6:30 - 7:00 PM / Open Networking
7:00 - 7:30 PM / Welcome & Introductions
7:30 - 8:15 PM / Featured Speaker, Q&A
8:15 - 8:30 PM / Closing Remarks
We Look Forward To Seeing You!
Chapter President: Rae Roth
For information on joining:
Call 310-595-8536 M-F 9am-6pm / Email raerothcoaching@gmail.com