Health & Wellbeing Accelerator Workshop - eCoaching Teleseminar Series

Saturday, October 21, 2017 at 9:30 AM

-

Saturday, June 30, 2018 at 11:30 PM (BST)
Event Details
THE TRANCEFORMATION™ HEALTH & WELLBEING DAY
The Live 1-Day Workshop has now been completed however you can register your interest using the EOI ticket option if you would be interested in taking part in the eCoaching & Teleseminar Series
WHAT IS THIS EVENT?
As I packed down the room following the free Mid-Year Supercharger Workshop that I ran for my Facebook #MembershipGroup on Saturday 22nd July, I realised that both physical and emotional health was such a key piece of what we were talking about, that it would probably be beneficial to have a day devoted solely to health and wellbeing.
I have studied various modalities over the years, starting with Reiki about 20 years ago, and then everything from NLP, Time Line Therapy, Hypnosis, EFT, New Medicine, Medical NLP, and DNA Theta Healing, through to Huna, EmoTrance, Positive EFT, Energetic NLP, Soul Core Issue Therapy and a host of others.
I decided that it was time to bring all of these wonderful modalities and approaches together for a targeted day transformation focused on your physical and emotional health and wellbeing.  
This unique 1-Day Workshop is a culmination of what I have gleaned over the past 20 years that have helped both me and my clients transform, create more energy, and cultivate a different relationship with your mind and body.
WHAT DID WE COVER AT THIS WORKSHOP?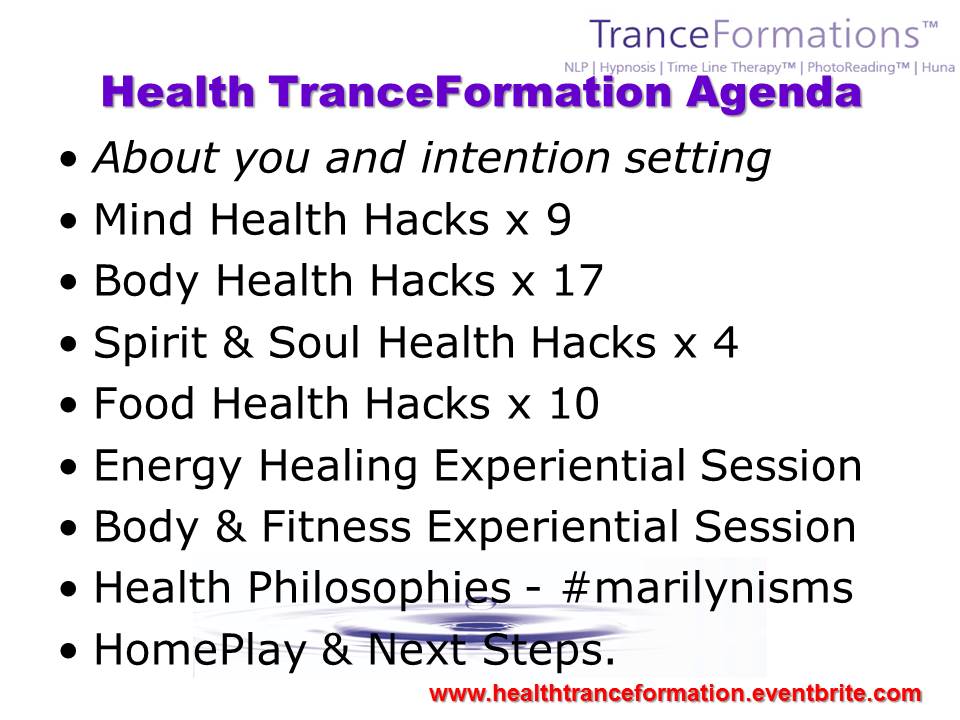 The Workshop will cover elements of the above modalities, picking out those which can easily be used as standalone practices, and those which have made the biggest impact both in my life and the lives of my clients over the past 17 years that I have been in therapeutic practice.
We will look at the mind-body connect as far as dis-ease is concerned and share processes, tools and techniques that you can use to help and enhance your own wellbeing. 
These range from energetic and mind-set based, through to hands on practical techniques, many of which you can do in just a few minutes from the comfort of your own home. 
I will also share with you what I did to go from needing to sleep for 12-15 hours a day and still feeling tired;a condition that lasted almost 3 years even with medical intervention, to changing that literally overnight and being fine on 2-3 hours sleep during those busy times; and there are no lotions, potions, or weird pills herbal or otherwise required! 
It is not going to be a generic day, and will be tailored towards the needs of the people in the room. 
WORKSHOP RESULTS
This is what happened within just 24 and 48 hours of attending the Health Workshop:
 "This is me out running after getting 3 hours sleep last night... I really am running... my trainers are on, leggings, shower jacket, hair up... yep... I am definitely running right? I can cope with this level of training today... " (Previously this delegate was struggling to do ANY training since finding out they had been accepted to run the next London Marathon!  At the Workshop I shared easy tips for Motivation and Inspiration).
Delegates were making new food choices and leting go of the guilt around food:
"New Wilkins & son - Triptree Tearoom/ Cafe in Chelmsford 
Food pics & creating a balance & no guilty emotions #health  
Delegates were also changing their relationship to exercise using my 5 Minute Power Question:
"Hi Marilyn
Now for some Feedback - The first 24 / 48 hours:
I love the '5 minutes concept'. I have been getting lots of little things done, which I previously put off in those 5 minutes. So easy, simple and they just 'get done'. I have also put a smile on my face trying to race with the clock to see how much I can do in those 5 minutes. ☺
On Sunday, with motivation in tact thanks to the Huna, I collected for free an unwanted exercise bike and a cross trainer and commenced my exercises in the shed this morning, with music in my ears, I enjoyed a dance break and exercise at the same time.
When & Where
Comfort of your own home
Global / Anywhere



Saturday, October 21, 2017 at 9:30 AM

-

Saturday, June 30, 2018 at 11:30 PM (BST)
Add to my calendar
Organizer
Trance FormationsTM offers Training, Coaching, NLP Facilitation, PhotoReading and Accelerated Learning & Development courses to corporations and individuals.
A pioneer in cutting edge change technologies, and with over 20 years industry experience, Trance Formations offers Coaching and Events that enable people to tap into their own innate potential.
Contact Information:
For details of PhotoReading one to one coaching sessions and corporate training courses, you can contact Marilyn Devonish on: 
Tel: +44 1923 337282
E-mail: Marilyn@tranceformationstm.com  Web: www.tranceformationstm.com