Health, Wealth and Entrepreneurship Women's Conference 2011

Thursday, March 10, 2011 from 8:30 AM to 5:00 PM (EST)
Event Details
 Health, Wealth and Entrepreneurship Conference
 A day of information and inspiration for women of all cultures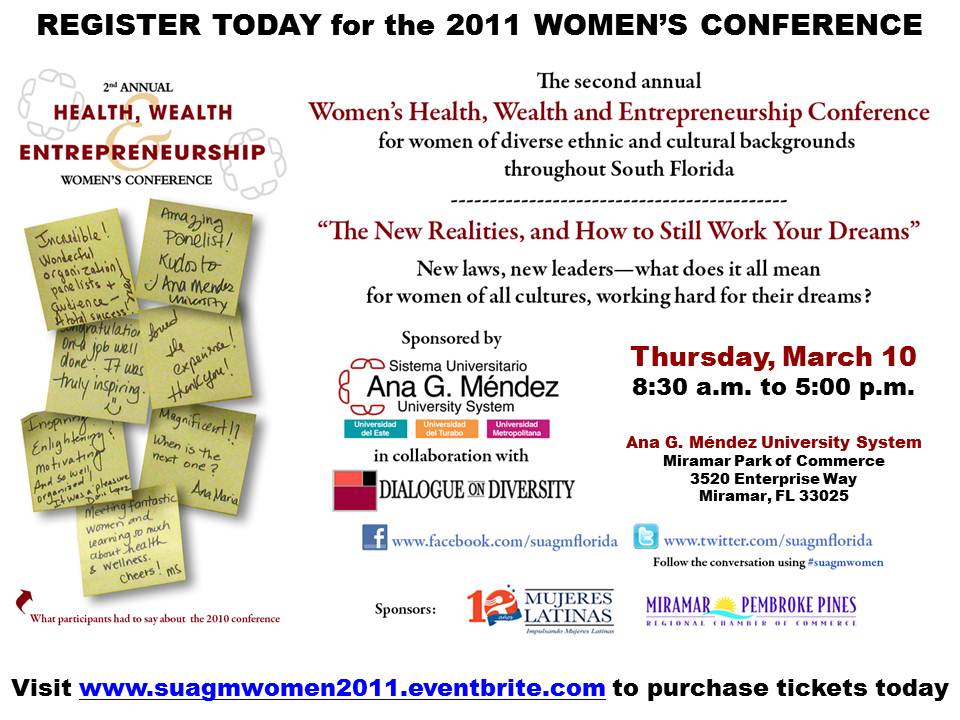 Thursday, March 10, 2011
REGISTER NOW
Registration is $50 per person in advance or $65 at the door.
It includes a full-day attendance, continental breakfast and box lunch.
The conference features four sessions that will offer a mix of practical advice, audience discussions and uplifting messages. Experts in health, wealth, entrepreneurship and technology will lead the conversations.
8:00 a.m. Registration check-in & continental breakfast
9:00 a.m. Welcome session and introductions
9:30 a.m. - 5:00 p.m. Program panels and speakers
 at the South Florida Campus of Ana G. Méndez University System
Miramar Park of Commerce, 3520 Enterprise Way, Miramar FL 33025
Follow the conversation on Twitter via #suagmwomen to stay up to date with new information leading up to, and even during, the event. Updates will also be posted on our Facebook page. 
Our experts will share the answers to the
10 Most Important Questions for Women in 2011 and more…
Women's Health & Wellness
Janet Perales, VITAS Innovative Hospice Care
Peggy Mustelier, Psychologist, Southeast Florida Institute for Psychoanalysis and Psychotherapy
David L. Pick, MD, F.A.A.F.P., Baptist Health Systems Urgent Care, Medical Director
Carmen Calfa, MD, Breast Medical Oncologist, Memorial Breast Cancer Center, Memorial Healthcare System
Building Wealth
Olivia S. Benson, Esq., PA, Offices of Olivia S. Benson, Esq. PA
Leslie Spencer, Interim Manager of State Operations, AARP
Laura Steckler, WMS, Associate Vice President, Investments, Raymond James and Associates
Maria Cristina Caballero, President & CEO, Dialogue on Diversity
Entrepreneurship
Stella Tokar, President/CEO, Miramar Pembroke Pines Regional Chamber of Commerce
Jennifer R. Diaz, Attorney, Customs and International Trade, Becker & Poliakoff, P.A.
Jacqueline Mosley, S & J Catering Company
Wanda E. Gozdz, CAPS, eSMM, President, Golden Age Living, LLC
Emerging Technology
Bridget Carey, The Digital Dish, The Miami Herald
Erika Twani, Education Industry Director, Multi-Country Americas, Microsoft Corporation
Travis L. Berger, Digital Sales Manager, WPTV.com and President, South Florida Interactive Marketing Association
Stephanie Camargo, Assistant Communications Manager for SE Region, General Motors
Activities @ Onsite Parking Lot
Memorial Healthcare System Breast Cancer Centers and Women's Imaging Center will have the Mobile Mammography Van on site.  The van is equipped with state of the art digital equipment that is also used at the health center. The van is available to do screening mammograms and tours. Robin Dockery, Radiologic Technologist Mammographer will be on site.
GM is bringing three cars to the conference for attendees to test drive. Hop into a Chevy Cruze, Tahoe or Traverse and take it for a spin!
Thanks to our Sponsors!
Vitas Innovative Auspice
Aaron's Sales & Lease Ownership
AARP Florida
Verizon Wireless
Baptist Medical Plazas
Costco
New York Life Insurance Co.
Chevy – General Motors
Nayibi Naranjo Photography
Noi Caffé
Salud al Día Magazine
Lead Collaborators
Miramar Pembroke Pines Regional Chamber of Commerce
Mujeres Latinas Impulsando Mujeres Latinas
Local Collaborators
Broward County Health Department
Greater Fort Lauderdale Alliance
Hispanic Unity of Florida
Latin Chamber of Commerce of Broward
Miami-Dade County Commission for Women
NACOPRW
National Association of Latino Elected Officials (NALEO)
New Tech Community
Organization of Women in International Trade, South Florida
South Florida Hispanic Chamber of Commerce
South Florida Interactive Marketing Association
Women Impacting Public Policy - Florida
Women in Distress
Media Partners
Aldea Educativa Magazine
El Venezolano Newspaper
Ciudad Weston Newspaper
Portada Magazine
Attendee List
Sort by:

Date

|

First Name

|

Last Name
When & Where

Ana G. Méndez University System
3520 Enterprise Way
Miramar Park of Commerce
Miramar, FL 33025


Thursday, March 10, 2011 from 8:30 AM to 5:00 PM (EST)
Add to my calendar
Organizer
Ana G. Méndez University System - South Florida Campus
Ana G. Méndez University System (SUAGM the official acronym in Spanish) offers the first and only Accelerated Dual Language Immersion Program for adults in the United States. Established in 1949 in San Juan, Puerto Rico, SUAGM has become an important addition to Florida's higher-education institutions and currently operates three campuses in the state: South Florida, Metro Orlando and Tampa Bay. Together serving over 1,800 Hispanics to achieve their academic goals. 
SUAGM's university programs are targeted toward students, ages 23 and up, and are designed to accommodate students who are holding down jobs, raising families, or both.  SUAGM has a 60-year history of offering outstanding higher education in Puerto Rico, where more than 42,000 students are currently enrolled in three institutions: Universidad del Turabo, Universidad Metropolitana and the Universidad del Este.
The South Florida Campus, located in the Miramar Park of Commerce, offers bachelor's and master's degree programs in education, business administration, social sciences and tourism, among others.  For more information on curriculum and enrollment, call 954.885.5595 or visit www.suagm.edu/southflorida
El Sistema Universitario Ana G. Méndez (SUAGM), a través del Programa AHORA, ofrece el único programa de estudios acelerados y bilingües para adultos en la nación. Fundada en el 1949 en San Juan, Puerto Rico, SUAGM tiene tres campus en el estado de Florida: Orlando, el Sur de Florida y Tampa Bay.  La matrícula de ambos centros es de sobre 1,800 estudiantes. La aspiración de la institución es educar donde exista la necesidad y poder elevar la calidad de vida de los hispanos alrededor de la nación.

El SUAGM, con una trayectoria de 60 años de historia, es la universidad privada de educación superior de mayor crecimiento en Puerto Rico, con una matrícula de aproximadamente 42 mil estudiantes en tres instituciones: Universidad del Turabo, Universidad Metropolitana y la Universidad del Este.
Los programas del SUAGM en la Florida están diseñados para brindar una alternativa académica a estudiantes mayores de 23 años que luchan por alcanzar con sus sueños académicos mientras cumplen con su trabajo y sus responsabilidades familiares. 
El campus del Sur de Florida, ubicado en Miramar Park of Commerce, ofrece grados de bachillerato y maestría en Educación, Administración de Empresas, Ciencias Sociales y Turismo, entre otros. Para más información sobre los programas de estudio y matrícula, llame al 954-885-5595 o visite www.suagm.edu/southflorida
Health, Wealth and Entrepreneurship Women's Conference 2011