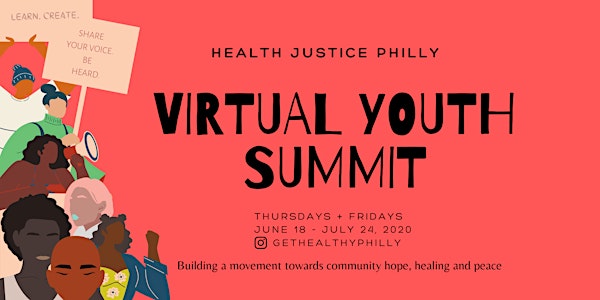 Health Justice Philly: Virtual Youth Summit
A series of virtual sessions for teens & young people to learn skills, share tools and create messages for hope, healing and peace in Philly
About this event
Register to receive weekly updates about sessions offered during the Health Justice Philly: Virtual Youth Summit. This summit is designed for young people (ages 14 - 26) and allies in Philadelphia who are change-makers, creatives, educators and peacekeepers. More details will be available online here.
After participating in a session, you qualify to earn a $50 - $250 gift card! All you have to do is submit a social media campaign by July 31, 2020. More information about what we are looking for in a social media campaign and how to submit your material is on our website. Click here to visit the website and scroll down to see all of the details.
-------------------
The Health Justice Summit is an annual convening of community leaders, public health professionals and residents to provide education, inspire community action, and amplify our power to effect change. It is an opportunity to discuss new approaches to long standing challenges while recognizing that racial, social, and economic justice is fundamental in improving community health. Due to COVID-19, the 2020 Health Justice Summit will be a series of virtual convening throughout the summer aimed at young people ages 14 – 26 to continue building a movement of community hope, healing and peace in Philadelphia.