Description
Health & Well-being are issues that cannot be ignored in Singapore!...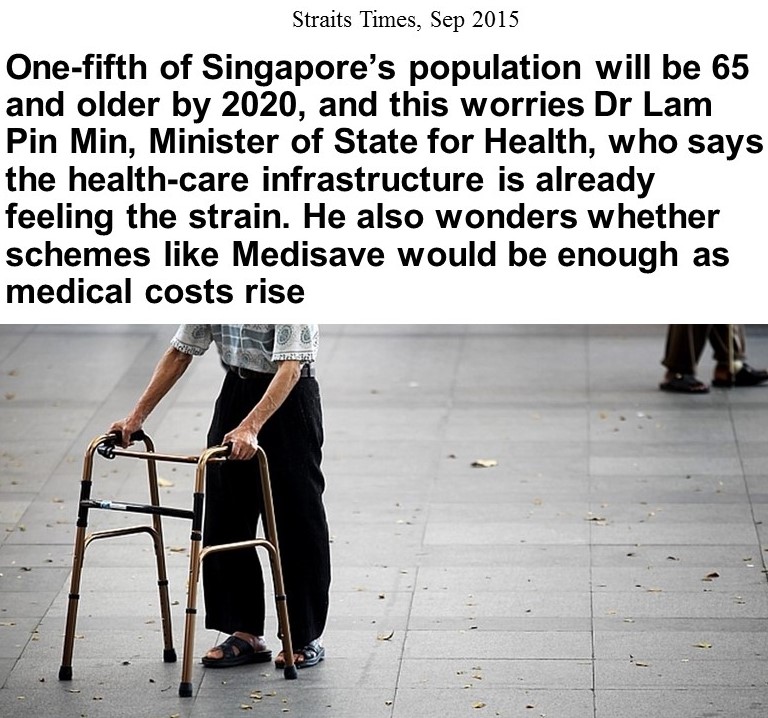 LONGER LIVES DO NOT EQUAL 'BETTER LIVES'!
On a national level, the Aging Population has become the government's top priority. Why? Because, people may be 'living longer, but are we enjoying better quality of life?" (PM Lee H.L., 2015). A major impact on longevity is critical illness, especially on those who are more vulnerable (like the elderly, sickly etc). Even in a modern nation like Singapore, we cannot deny the stats such as this one below...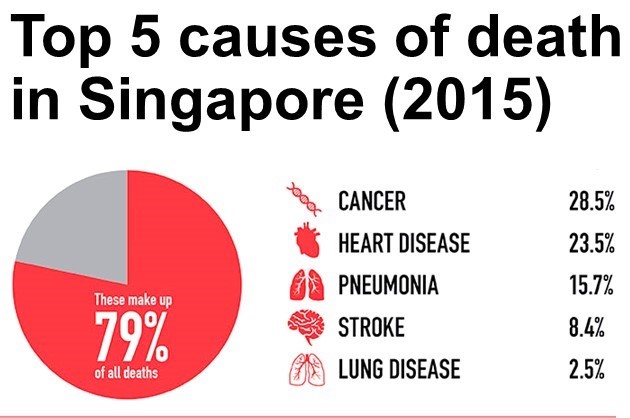 ALL YOU NEED IS ONE MAJOR SICKNESS TO WIPE OUT YOUR SAVINGS!
"After going through my heart surgery, I still had to cough up $38,000 after claiming insurance...What's worse is that I lost my job, so now I don't even have income!" (Ang C.W., coronary bypass patient).
"For 10 yrs now, my family has been spending $3,500 EVERY month for my dad's dialysis, medication & rehab...It's been such a financial strain!" (Janice W., accountant).
---
WE NEED TO DO THINGS DIFFERENTLY!
We cannot rely on our Insurance, Medisave, & other schemes to 'assure' our well-being anymore. And with the uncertain economy looming ahead, we need a more effective strategy. It's our loved ones & our own lives we are talking about here! We can ill-afford to let chance take its course on us!
ATTEND THIS FREE 2-HOUR TALK!
A panel of guest speakers will be presenting key findings, as well as personal testimonials of beating these health-related issues at their own game! We will also be addressing the below:
✔ The 4 current Healthcare trends that should scare every Singaporean!
✔ Understand Naturopathic remedies to aid natural self-healing, instead of relying on pharmaceutical drugs!
✔ Introduce an award-winning breakthrough Health-Tech that promotes longevity & well-being!
✔ How some people have successfully treated their Cancer, Diabetes, Parkinson's Disease, high Cholesterol, Psoriasis & other diseases!

*NOTE - this talk is conducted in ENGLISH LANGUAGE.
---
REAL TESTIMONIALS!
"My mother-in-law had diabetes, eczema, joint pains, high blood pressure, & high cholesterol. In April 2014, she took the 100% natural botanical blend containing anti-inflammatory properties which I recommended her. Within 1 month her skin stopped itching and her joint pains also went away. Her blood sugar reading (as high as 8) had also dropped to 4.8 within 2 months!... Her medical report in Jan 2015 shocked her own doctor, who asked her what she was taking or doing to get such positive results! Today, her doctor is also taking this amazing propriety product too!" --- Dorothy Peck, stay-at-home mom

"I am a breast cancer patient. I had a surgery and chemotherapy in 2011 and was cleared by my doctors. However I had a relapse in mid 2015 and it had already metastasized...My doctor couldn't do anything except to recommend chemotherapy again...I was skeptical at first when I was introduced this botanical product that contains anti-carcinogenic properties. As I dislike taking pills and have a problem swallowing, this product was easier to consume (being a bio-gel format)...After 1 mth, my tumors shrunk (according to my doctor), and another month later my cancer markers dropped tremendously! I was so happy and my doctor did not mentioned about going for chemotherapy. My whole family is so happy about my condition and we are also helping our relatives to get back their health (through this product)!" --- Jessica Sim, property agent

"In Oct 2014, I was diagnosed with a few cysts near both my right & left ovaries. My medical report showed that I had one about 1cm size on both, and one big cyst of 3.5cm on the left ovary. I started taking this propriety organic anti-inflammatory product everyday, and after 6 months, my last medical report in April 2015 showed that all my cysts were gone, cleared and normal!" --- Claudia Sew, entrepreneur
"I used to suffer from Rheumatoid Arthritis for 20 years of my life! My joints would often swell, at my knees, my fingers, & my heels...Whenever I was out late like after a late-night movie, my heels would swell & I would have to limp and my wife has to hold me by the arm like an Old Man! After taking this amazing botanical supplement since 2 years ago, the symptoms have not surfaced since!...It took me about 2 months to see some effect..." --- Winston Y, online entrpreneur

"My dad was diagnosed of Parkinson disease 2yrs ago and since then has been taking medication from the doctor 3 times a day. I got my dad to start taking this botanical product daily. After 6 months, he went for his regular medical review, and the doctor found that there's significant improvement in his condition and was asking if he's taking any other medication or supplement as his current medication is only supposed to maintain his condition and not have such improvements! I was so happy to hear that! As a result, the doctor cut down his dosage by 2/3...Not only that, my dad's cholesterol and high blood test lately have shown normal results too and no longer needs to be on medication!" --- Serene Sin
---
VERY LIMITED SEATS! REGISTER EARLY!!!
For more info text / call 9299-4148