Health Fair

Sunday, November 17, 2013 from 9:00 AM to 3:00 PM (CST)
Event Details
FREE HEALTH FAIR FOR ALL
FLU VACCINATION* AVAILABLE
*Free for Uninsured who cannot afford a flu vaccine. Please RSVP for your flu shot.
*Insured participants, please bring insurance card.
FREE CHOLESTEROL**, BLOOD PRESSURE, GLUCOSE,
STROKE SCREENINGS, and MANY MORE!
**Please DO NOT eat or drink 12 hrs before if you want cholesterol testing.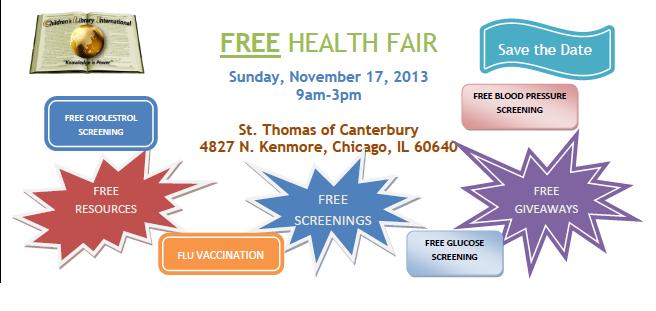 When & Where

St. Thomas of Canterbury
4827 North Kenmore Avenue
Chicago, IL 60640


Sunday, November 17, 2013 from 9:00 AM to 3:00 PM (CST)
Add to my calendar
Organizer
n Countries scarred by war and poverty, Children's Library International is building a new vision of hope, one library at a time to the underprivileged children and communities so that they can have access to knowledge so that they can better their lives.
Children's Library International builds Library/Learning Centers in various undeveloped countries around the world as living monuments to peace and goodwill among peoples. It explores and acts upon opportunities to improve the health, education and welfare of the individuals in the communities these facilities serve. Finally, it builds enduring personal relationships between and among all who become part of the library family, whether sponsors, travelers, government officials, war veterans, citizens, adults or children—with the primary focus on children, their hopes, dreams and aspirations for their futures.
Our core philosophy is truly American, the common man can get things accomplished and that's where the real power to change things is. Our approach is not only very American; it's very Oriental too. It is the 'little guy' that does big things. Added to this is the fact that we are here to stay and help, well after the building is built. Upon leaving each library and site after work is done, we have two important messages that we leave with the people: "we will be back" and "this is only the beginning."
Some things we have learned along the way:
1.)    BEING BIG BY BEING SMALL
Doing small charitable projects have big advantages. Our large central Library Projects are $40,000. We envision, someday, a nationwide system of over 600 central libraries in the 600 districts of Vietnam, (in addition to the 100 in Lao) with an unlimited number of smaller satellite facilities ranging in cost from $1,500 to $15,000.
2.)    TIME TOGETHER BUILDS BONDS
CLI spends a great amount of time to get to know our volunteers, our contractors, and the communities we are helping.  CLI wants to build a lifetime bond with all the people that cross paths with CLI. CLI have learned so much from each individuals that have joined our CLI's family.  CLI's extended families in Cambodia, Laos, and Vietnam have brought us laughter and have taught us anything is possible. The relationships we have built with our extended families motivate us to help more less fortunate children and communities.
3.)    AMERICAN HERITAGE IS OUR STRENGTH
Being an American is our number one asset. We carry our heritage proudly. At each event/libraries groundbreaking/meetings, we proudly discuss our American history and our deep understanding of poverty. Many of us are immigrants or descendants of immigrants who have migrated to the America in hopes of searching for new opportunities and better lives.  We, Americans, are so blessed with so many opportunities and we are so grateful for everything we have. Unfortunately, not everyone has the opportunities that we have. This is why we want to give back and help those in need by providing access to knowledge so that one day their lives will change.
4.)    OPTIMISIM DEFINES US
Optimism is one of our greatest American traits. As an American, we are always optimistic that things will go well. America is a land of possibilities and hopes. America is the land where dream comes true. Sky is the limit in America. People to People International Committees have commented many times, " CLI has create a happy project that looks forward to the future with excitement and anticipation."
5.)    WE ALWAYS COME BACK
We always come back because our relationship lives on after the construction has been completed and the dedication event held. We are not just there for feel-good photo-ops for publicity or stateside consumption. We are here to stay to improve these projects so it will last from generation to generation. The dedication is ONLY THE BEGINNING. We do not want our extended families to feel we are only there to build but rather there to be  a part of their lives and be a part of their families. Families stick together for the good and the bad and this is what we will do for our extended families. We will always be here for our families no matter what happens.
The objective of the Children's Library International is to create hopes and new beginnings for the poor and undeveloped communities by opening doors for cultural exchanges, international discourse, peace, understanding, cooperation, and economic development. This is a people to people effort in hopes of better future for the underprivileged.