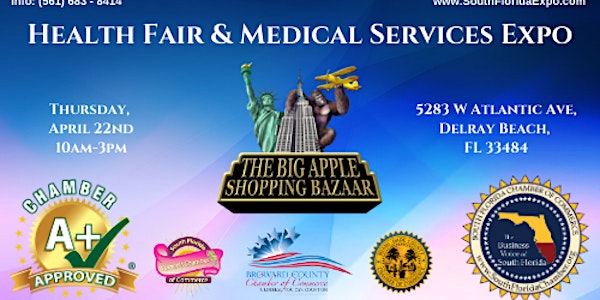 Health Fair & Medical Services EXPO in South Florida
Live Life To The Max in South Florida @ The BOOMERS & SENIORS Health, Wellness, Medical, Lifestyle, Entertainment, Financial & Home EXPO
When and where
Location
The Big Apple Shopping Bazaar 5283 West Atlantic Avenue Delray Beach, FL 33484
Refund Policy
Contact the organizer to request a refund.
About this event
Live Life To The Max in South Florida @ The BOOMERS & SENIORS Health, Wellness, Medical, Lifestyle, Entertainment, Financial & Home EXPO
@ The Big Apple Shopping Bazaar
5283 W Atlantic Ave, Delray Beach, FL 33484
PLUS 500 Free Florida Scratch Lottery Tickets to the First 500 Seniors & Boomers!
Info:
Patty Meyer
954-565-5750
General Admission FREE Face Mask, Free Hand Gloves, FREE Portable Hand Sanitizer, FREE health screenings, FREE refreshments, Hourly DOOR PRIZES, FREE Lottery Florida Lottery Ticket, Restaurant Gift cards, TV Grand Prize Drawing, Meet & Mingle, FREE Food, FREE Give-aways,
Elvis Presley will be performing his Greatest Hits Live and in Person.
Delray Beach's New Mini Mall "The Big Apple" Shopping Bazaar, Jewelry Exchange, and Salon &Spa Suites will transport you to the streets of New York City for food, shopping and fun. Complete with streetlights, iconic buildings, brick walkways, and even the Statue of Liberty. "The Big Apple" provides shoppers with over 65 one of a kind Specialty Boutiques, Jewelers Showrooms, and Salon & Spa Suites all under one air-conditioned roof. Not your ordinary Mini Mall.
The Broward County Chamber of Commerce, South Florida Chamber of Commerce & It's Partners are the first and original presenters of the South Florida Expo's with 658 Consecutive Sold-Out Trade Shows since 1998, Over 44,652 Exhibitors, Over 1 Million Attendees, Millions of Dollars in Transacted Business, Partnerships, Alliances, Contracts, New Customers, New Relationships, New Products!!
Social Media Extravaganza including Facebook After-Hours, LinkedIn Meet Up, Google+ Circle Event, Twitter Networking, Meet Up Social Networking & Event Brite VIP Event. Come Network with your Friends, Connections and Followers!
Presented by South Florida Chamber of Commerce, Broward County Chamber of Commerce, South Florida Chamber of Commerce, South Florida Women's Chamber of Commerce, CHAMBER APPROVED – Your Local, Regional, State, National & International Chamber of Commerce, South Florida Business News Newspaper, and many other World Class Organizations.
INDUSTRIES REPRESENTED AT THE SOUTH FLORIDA SENIOR EXPO
Fitness & Exercise, Medical Services, Health Services, Spa, Massage, Beauty, Senior Housing, Senior Job Fair, Home Show & Remodeling, Lifestyle Products & Services, Assisted Living Options, Pain Relief, Hemp, CBD, Non-Profit Resources, Vacation & Leisure Destinations, Senior Mobility, Banks, Insurance & Investing, Fashion, Jewelry & Gifts, Travel & Tourism, Estate & Financial Planning, Bathroom & Kitchen ReDo's, Restaurants & Hotels, Hearing Aids, Vision & More, Real Estate Services, Senior Networking & Dating, Safety & Home Security, Government Agencies, Legal Matters, Charities & Philanthropy, Pharmacies & Pharmaceuticals, Dentistry, and Dermatology.
25+ Reasons to Exhibit at the SOUTH FLORIDA SENIOR EXPO: Reach the Wealthy Senior Market in South Florida, Inform & Educated the Elderly Population, Reach the Senior Market on a personal level, Give Seniors the quality of life they deserve, Meet the Caregivers, meet the family members, Secure new business contacts, develop prospect database, accelerate the sales process, access the decision maker, provide hands-on exposure to products and services, identify and assess new markets, maintain market viability, introduce a company to a new market, launch a new product or service, counteract competitor claims, generate media exposure, build brand awareness, recruit new distributors, retailers or representatives, recruit personnel with specialized skills, network with the regional business community, expand your business out of county and Internationally, gain customer feedback, maintain profile with competitors, test the market for new product or service development, identify and assess new markets, getting your customers to buy more, maintain or extend relationships with existing clients, trade show return-on-investment is lasting, market research, prevent client switching.