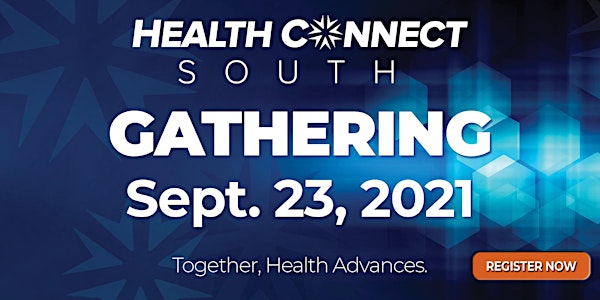 Health Connect South 2021
Health Connect South 2021
About this event
Please make plans to join Health Connect South for our 8th Annual Gathering on September 23rd, 2021. A virtual event, Health Connect South is committed to meeting our mission as a platform to promote health collaborations throughout the Southeast.
While we are all living in a time of challenges and changes, we are very excited to continue our tradition as the largest gathering of the health industry's top decision makers, innovators and next generation of health leaders. This year, we are excited to highlight some of the most remarkable health collaborations from individuals and institutions throughout the Southeast.
Additional Speakers and Panels To Be Announced Soon
"The Path Forward: A Conversation with Centers for Disease Control and Prevention"
Rochelle P. Walensky, MD, MPH, Director of the Centers for Disease Control and Prevention
Judy Monroe, MD, President & CEO, CDC Foundation
David Rubinger, Market President & Publisher, Atlanta Business Chronicle
"Hospital Leadership: Reflections on the Past, Present and Future of Healthcare"
Candice L. Saunders, FACHE CEO & President, WellStar Heath System
John Haupert, President & CEO, Grady Health System
Carol Burrel, President & CEO, Northeast Georgia Health System
Jonathon S. Lewin, MD CEO & Chairman of the Board Emory Healthcare
Andy Miller, CEO & Editor of Georgia Health News
"Epidemic of the Underserved: The South's Maternal Mortality Crisis"
Pam Shipley, COO, Sharecare
Wade Rakes, President & CEO, Peach State Health Plan, Centene Corporation
Samantha Manderson, MD, FACOG, OB/GYN, CareConnect Health
Barry Igoubadia, MD, OB/GYN, CareConnect Health
"Executive Insights – Leading Community Based Healthcare"
J. Scott Steiner, FACHE President & CEO Phoebe Putney Health System
Delvecchio Finley, President & CEO of Atrium Health Navicent
Angela Ammons, CEO Clinch Memorial Hospital
Matt Reed, CEO Georgia CEO
"Fallacies & Dangers of Practicing Race-Based Medicine"
Bonzo Reddick, M.D., MPH J.C. Lewis Primary Health Care Center & Chair Community Medicine Mercer University
Angela Ward, CEO Gamechangers
"Virtual Health: Blending Care Delivery to Improve Health Outcomes"
Lea Sims, Vertical Marketing Lead Verizon Healthcare, Insurance & Life Sciences
Ann Mond Johnson, CEO American Telehealth Association
Nate Lacktman, Partner & Chair of National Telemedicine & Digital Health, Foley & Lardner, LLP
Sherrie Williams, COO Global Partnership for Telehealth
"The Changing Future of Healthcare Investments"
Ben Scruggs PhD, Associate Hatteras Venture Partners
Sri Mani, The Chartis Group
L.A. Galyon, Managing Director and Partner, Brentwood Capital Advisors
"From Angel to Exit – Seeding The Future of Health "
Lance Black, MD, MBID Senior Medical Director 3iveLabs
Richard Munassi MD MBA, Co-Founder Blackfin Technology Partners and Blackfin Venture Partners, Director Tampa Bay Wave Accelerator
Chris Lee , Chairman & CEO, Co-founder Huxley,
Tim Howe, AVP, Strategy & Corporate Development - Healthcare, Cox Enterprises
Philip Lewis, Partner, Fulcrum Equity Partners
"A Data-Driven Approach to Designing and Implementing Systemic Gender Parity Solutions"
Susan O'Connor, CEO Healthcare Businesswomen's Association
Adam Dubow, Chief Compliance and Ethics Officer Bristol Myers Squibb
Devray Kirkland, Chief Diversity Officer VP Diversity and Inclusion Cardinal Health
Nicola Greenway SVP, Human Resources, Global Manufacturing, Supply and Quality, Takeda
"5G's Impact on Health Equity"
Lucienne (Lucie) Ide, M.D., Ph.D., Founder & CEO, Rimidi
Jeffrey Rosowski, Senior Manager – Healthcare, T-Mobile
Cherry Drulis, MBA, BSN, RN, Industry Solution Advisor – Healthcare, T-Mobile
Greg Jungles, Healthcare Technology Catalyst, ATDC
"How Precision Medicine is Transforming Treatments for Oncology adn Neonatal Patients" 
Devin Absher, PhD Faculty Investigator, Director of Genomic Health HudsonAlpha Institute for Biotechnology
David Bick, MD, FACMG Lab Director/Clinical Geneticist, HudsonAlpha Clinical Services Laboratory and Medical Director, Smith Family Clinic for Genomic Medicine
Jessica Merritt, Director of Business Development, HudsonAlpha Institute for Biotechnology