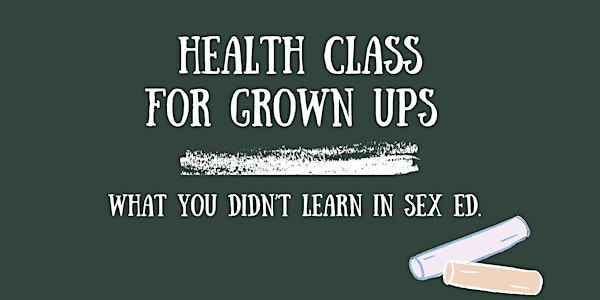 Health Class for Grown Ups: What You Didn't Learn in Sex. Ed.
Join us for a trivia night sure to blow your mind! Try your hand at some reproductive health questions that weren't in your school text book
Refund Policy
Contact the organizer to request a refund.
Eventbrite's fee is nonrefundable.
About this event
Did your health class in high school leave you with questions? You're not the only one! Our bodies do some incredible things, but most of us left with a knowledge of how not to get pregnant and how to label anatomy photos. Come join us for a fun and fascinating trivia night where you'll definitely leave with some fun facts!
Jennifer Fay of Rooted Ground and Diana Fuller of Watered Grass are your teachers for the evening. With a heavy focus on body positivity and self-knowledge, grab your friends and come enjoy this zoom version of your favorite trivia night at the bar including:
A goodie bag full of everything you'll need for the event, mailed right to you
Trivia that is equal parts entertaining and enlightening, aiming to help you feel more in-tune with your body and how to care for it. *Don't worry, answers are submitted by poll so you don't have to say anything in front of the class*
Prizes for high scores and those who feel bold enough to jump on the mic
Tons of body and female-positive activities guaranteed to have you feeling empowered by the end of the night
This event is open to all women and anyone who identifies as female or femme. All you need to do is register, and we'll do the rest! Keep an eye on your email, as we will be sending out different freebies each week to get you ready for the event. The sooner you sign up, the more goodies that you'll receive in your inbox.
Invite your friends! Register a group of 4 for the price of 3 entries.
Register by February 25 and get extra self-care goodies in your goodie bag at no extra cost!
Disclaimer: While Diana Fuller and Jennifer Fay both engage in coaching, this event does not initiate a formal coaching relationship. All information presented is strictly for education and fun. Check out the Watered Grass and Rooted Ground websites if coaching is what you're looking for!
F.A.Q.:
Q: What do I need to participate?
A: All you need to have ready is your zoom account, the goodie bag we ship to you, and your favorite foods and drinks at the ready.
Q: Who are Diana and Jennifer, the hosts of this event?
A: Diana Fuller is a coach and host o f the podcast, Watered Grass. She loves helping people unlock their happiest selves through small, impactful, and personalized mind and body habits.
Jennifer Fay of Rooted Ground helps women to lead powerful lives of authenticity and integrity by accessing the wisdom of their bodies. She is a birth doula, childbirth educator, fertility awareness method coach, women's circle leader, and peer lactation counselor. She works from a Health at Every Size and Intuitive Eating allied platform and brings the core tenants of body trust and body wisdom to all of her work.
Q: What's the dress code?
A: You tell us! Whatever you'd wear to your local trivia night, with the option to get as cozy as you'd like.
Q: What comes in the goodie bag?
A: We won't spoil the surprises, but here's what to expect. You'll find items you'll need for trivia night, something to enjoy while you zoom, plus a few other items just for fun.
Q: Do I need to have my camera and mic on?
A: This event is a little bit different from our previous events. Because we are focused on fun and bonding, we are going to ask that you at least have your camera on-- how much you verbally participate is up to you! We don't like being unexpectedly called on either, so we will not be putting you on the spot. We do think it's pretty brave to show up on the mic, so there may be some celebrations for those who are feeling bold!
We also highly recommend setting the time aside, and letting those in your home know that you'll be busy. You deserve time to yourself, and we'd love to help you find it for Health Class!
Q: Is there a replay available?
Because this event is a little different and requires some connection from guest to host, we will not be offering a replay at this time.