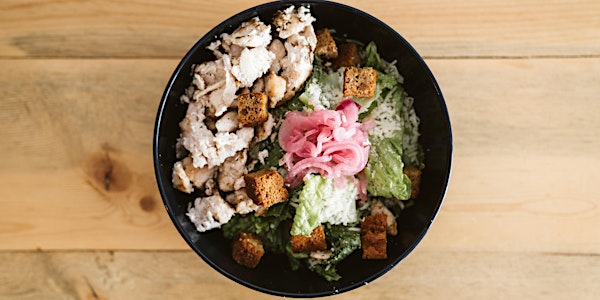 Health Challenge: Jump Start Your Metabolism!
Metabolic Health Matters! Join this challenge to learn simple ways to improve metabolism & understand individual metabolic biomarkers!
Date and time
May 9 · 6pm - June 27 · 7:30pm MDT
Location
Just BE Kitchen 2364 15th Street Denver, CO 80202
Refund Policy
Contact the organizer to request a refund.
Eventbrite's fee is nonrefundable.
Agenda
6:00 PM - 7:30 PM
May 9th @ 6 pm- Kick Off Night
---
This is an event held at Just BE Kitchen's Lohi location. It will be a time where you get to know the other participants in the challenge, speak with Blokes & Joi Wellness and their clinicians, hear ...

6:00 PM - 7:00 PM
May 23rd @ 6 pm - Virtual Check In #1
---
Virtual check ins will BE with challenge leader and Just BE Kitchen Wellness Advocate, Amber. You will have 3 virtual check ins during this challenge. At each check in, Amber will explain the new imp...

6:00 PM - 7:00 PM
June 6th @ 6 pm - Virtual Check in #2
6:00 PM - 7:00 PM
June 20th @ 6 pm - Virtual Check in #3
6:00 PM - 7:30 PM
June 27th @ 6 pm - Send Off Event
6:00 PM - 7:00 PM
July 11 @ 6 pm
---
This is an opportunity for everyone to come together at the end of the 6 weeks to talk about your triumphs, what you enjoyed most, what was the most challenging, etc. throughout the challenge. At the...

About this event
BEcome the BEst You!
Metabolic health is a foundation of overall longevity & how we feel as we live longer. Poor metabolic health impacts blood sugar balance, which in turn creates havoc on our kidneys, liver, weight management, heart, mental functioning & more. However, a key challenge in understanding metabolic health is that it's typically not a factor in preventative medicine and can be difficult to determine how metabolically optimal we are - and where to focus improvements. How do we even know what factors to look at to determine our metabolic health?
This challenge will help you focus on simple, but effective ways to optimize metabolism, balance blood sugar & feel better by implementing daily habits around nutrition, exercise and lifestyle. AND, the challenge also has the ability to take two individual blood tests to look at your metabolic biomarkers to give clarity on where YOUR numbers lie and cease this "guessing game" around optimizing health.
This challenge will be hosted by Just BE Kitchen, Blokes & Joi
Blokes mission is to help men reignite their energy and drive by getting back what's been lost due to aging, environmental factors, or other medical conditions. By providing easy access to treatments and services, Blokes power the potential of each person to relaunch their health. Blokes provides lab testing for men and will be the company you schedule your consultation and labs with if you are a male.
Joi is for women looking to slow down the effects of aging. Joi's modern women's health provides a unique health care experience that includes personalized treatment plans and personal relationships with their providers and staff creating an atmosphere of understanding you because they need to truly understand your health history, symptoms, and goals so you can get you back to being you! Joi offers lab testing for women and will be the company you schedule your consultation and labs with if you are female.
To participate in the challenge you have two options:
1. Challenge only - Learn simple but effective strategies to optimize metabolic health. We will provide a series of nutrition, exercise and lifestyle programs with bi-weekly calls and check-ins with us and the Challenge community to educate, share and talk through each strategy.
2. Challenge + Individual Biomarker Testing - We have partnered with Blokes & Joi to provide a heavily discounted metabolic biomarker panel so there is NO guessing on where you metabolically lie. This is very difficult to get done with traditional doctors in a preventative manner. With the testing, you receive a total of 2 labs - one at the beginning of the challenge and one at the end to see your improvements! PLUS you receive a one-on-one consultation with a Blokes & Joi Wellness practitioner to help you decipher your results. Purchasing lab testing through this challenge gives you a $200 savings on full price lab tests!
**Please note that if you choose to do lab testing, you will have to get your labs drawn at your local LabCorp before the kick off event on May 23rd. A link to schedule a consultation with Blokes/Joi Wellness will be sent to you by email after you sign up.**
Looking for more of what the challenge will include? Check out the agenda to get more information!
Frequently asked questions
Can I use insurance for lab tests?
About the organizer
Just BE Kitchen is a gluten, grain, dairy & refined sugar-free food operation in the heart of Denver. It's mission is to serve Mindful Mouthfuls from a Conscious Kitchen with Kindness on a Plate. Its goal is to serve comfort food that's made nourishing & wholesome.