Event Information
Location
The Astro turf Arena
off Osborne Road
Ikoyi
Lagos, Lagos LA
Description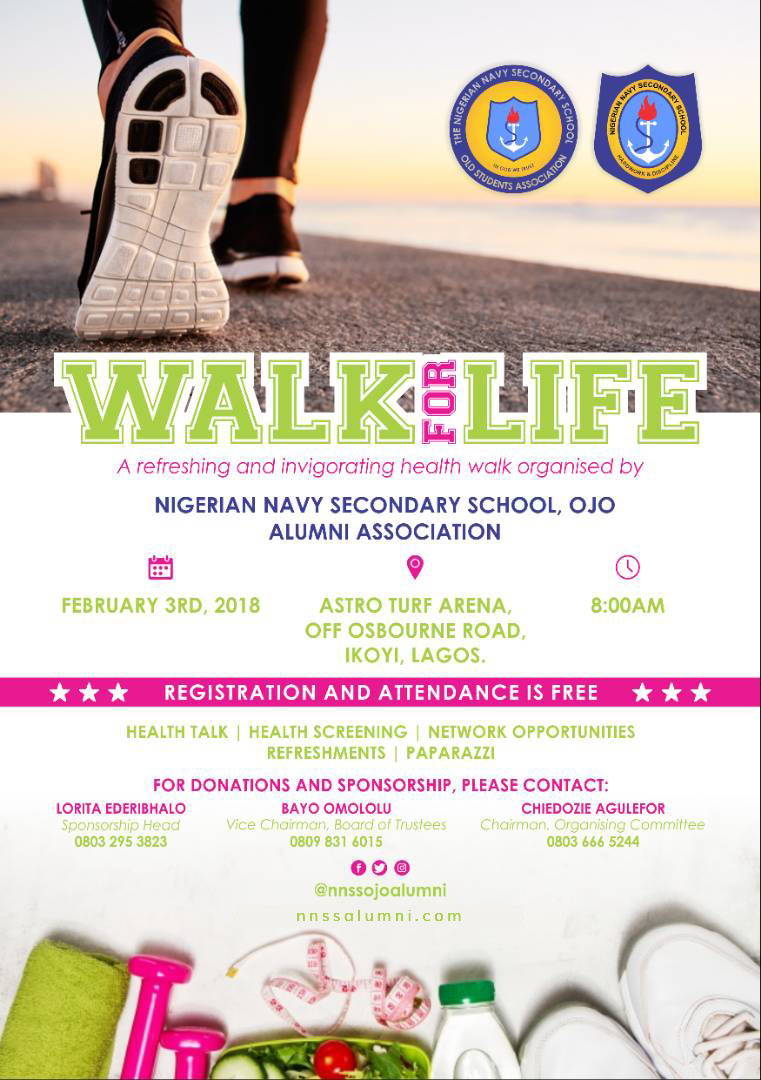 Health Campaign – Are you Proactive or Reactive
How's your health?
Proactive people use opportunity to go for check ups and are very aware of their health status at all times.


Reactive people wait till symptoms appear and can be caught off guard past the stage when illnesses could have been arrested.


So who would you rather be?


Join the Alumni of Nigerian Navy Secondary School Ojo on a refreshing and invigorating health walk tagged "Walk4life" scheduled to hold on the 3rd of February 2018 in Lagos.


(Alumni covers all sets from 1986 - 2017)


The aim of the health walk is to raise awareness, share relevant information and help us determine our health status.


Find below activities for the day;


•Health Talk

•Health Screening

•Health Walk

•Networking Opportunities

•Refreshments

•Papparazzi


All alumni will be required to register for the event which entitles you to a T-shirt and hand towel for the walk.


VENUE;


The Astro turf Arena, off Osborne Road, Ikoyi.


A committee made up of group Admins of ALL Sets have been planning this both on WhatsApp and physically.


Kindly contact your WhatsApp group admin/representative for more information.


Onward together – leaving no one behind!


Sylvester Chiedozie Agulefor (2000 Set) - Chairman Organizing Committee(08036665244)
Bayo Omololu (1987 Set) - Vice Chairman Board of Trustees (08098316015).
==============


DONATIONS/SPONSORSHIP:::


Contact Person:
Lorita Ederibhalo (08032953823)
Account Name:

Old Student Association of NNSS Lagos


Account No:

Bank:

GTBank


==============
Date and Time
Location
The Astro turf Arena
off Osborne Road
Ikoyi
Lagos, Lagos LA