Description
BreastfeedLA invites you to Dignity Health California Hospital Medical Center for a full-day seminar on "Health & Safety in the Baby-Friendly Hospital Environment."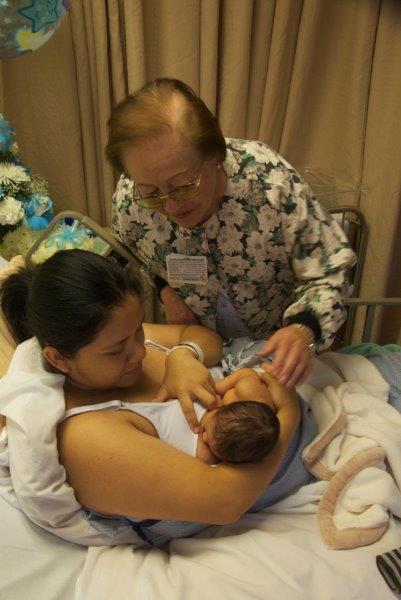 Families, hospitals, and providers have one thing in common: making infant safety a priority. Balancing safety with changing processes and procedures in a hospital can sometimes be a challenge. As we work toward a Los Angeles where ALL babies are born in Baby-Friendly designated facilities, we offer this seminar to increase knowledge about keeping babies safe while implementing the Ten Steps to Breastfeeding Success.
Please join us on Tuesday, Feb 21, 2017 from 9am to 4pm to learn more about:
Skin-to-Skin: Reducing the Rate of Sudden Unexpected Postnatal Collapse (SUPC) with Connie von Kohler, MSN, RNC-OB - the latest research and strategies for ensuring that babies and postpartum women are appropriately supported during skin-to-skin contact
Changing Course: When Alternate Care Plans are Needed with Susan Aldana, IBCLC - knowing when and how to intervene when breastfeeding problems arise

The Ins and Outs of Milk Expression and Alternate Feeding Methods with Denise Parker, IBCLC - helping parents with skills and techniques for expressing milk and feeding babies without bottles
Clear Communication: Guiding Families Toward Their Breastfeeding Goals with Christine Staricka, IBCLC - counseling skills and scripting to support optimal breastfeeding
5 L-CERPs (for IBCLCs) and 5 CEUs will be awarded for attending this learning opportunity. When you register early, you receive the best value on our seminars! Earlybird Registration is now open.
Location and Parking
This seminar is located at Dignity Health California Medical Center. Parking is at Joe's Parking on the corner of Grand and Venice for all participants
Cancellation Policy
Written cancellations received one week prior to the event will be granted subject to a $5 fee. No refunds after this date.
Continuing Education Credits (offered at no additional charge)
Registered Nurses: BreastfeedLA is an approved provider by the California Board of Registered Nursing. This course offers 5 contact hours of continuing education will be offered. BreastfeedLA's provider number is CEP 16435. Licensee must maintain certificate for a period of four years.
Lactation Consultants: BreastfeedLA is an approved Long-Term Provider by the International Board of Lactation Consultant Examiners #CLT113-36. 5 L CERPs will be awarded.
Photography Policy
When registering for this event, you give your consent to be interviewed, videotaped, and/or photographed for use by BreastfeedLA. You understand that your interview, video, and/or photographic image may be used in print or digital/electronic form (e.g., publications, website, advertising, videos) and may recognize your association with BreastfeedLA.
When registering for this event, you agree to the following:
- not to post photos of the speakers' slides on social media or use them for any other purpose than your own education.
- to print a copy of the speakers' presentations for your own use only and not to share the links or presentations with any persons not registered for this event.
Sharing of Your Contact Information
If you select "Yes" during registration, BreastfeedLA may share your first name and email address with the vendors who exhibit at this event. BreastfeedLA partners with vendors who comply with the International Code of Marketing of Breastmilk Subsitutes (the WHO Code) and who offer products or services which may benefit you and/or your clients. If you select "No" during registration, BreastfeedLA will NOT share your contact information with anyone and will only use your contact information to contact you with details about this event and future BreastfeedLA events.