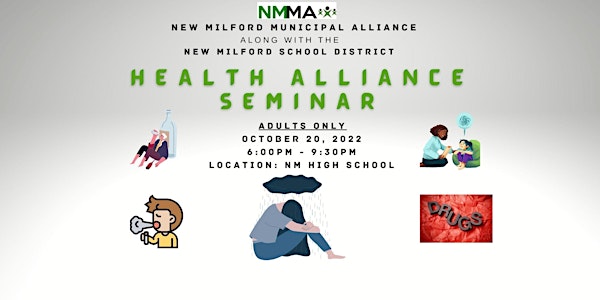 Health Alliance Seminar
The Health Alliance Seminar is to help the community get answers on any type of abuse, mental issues, vaping and much more via workshops.
When and where
Location
New Milford High School 330 River Road New Milford, NJ 07646
About this event
The New Milford Municipal Alliance has partnered with New Milford High School to offer members of Bergen County an opportunity to educate themselves about various areas of wellness. All guests will attend our keynote speaker, who will share his own story about how addiction affected his own family and the aftermath. From there, our guests will be invited to attend one or two workshops, depending on time, to learn about areas of concern and interest. Topics will include vaping, depression, self harm and more. At the conclusion of our workshops, all speakers and guests will be invited to share light refreshments and mingle. This will be an informative and engaging event will be free to all individuals who register.