Location
Crowne Plaza - Foster City Hotel
1221 Chess Drive
Foster City, CA 94404
Refund policy
Contact the organizer to request a refund.
Eventbrite's fee is nonrefundable.
SAN MATEO/FOSTER CITY COMMUNITY EVENT !!! Check in at 8 AM; EVENT Runs from: 8:30 AM - 5 PM. LUNCH & SNACKS INCLUDED WITH THIS EVENT.
About this event
PARKINSON'S DISEASE & RELATED CONDITIONS ARE THE TOPICS OF THIS YEAR'S CONFERENCE. (8:30 AM- 5:00 PM)
The mission of Rotary International, a worldwide association of Rotary clubs, is to provide service to others, to promote high ethical standards, and to advance world understanding, goodwill, and peace through its fellowship of business, professional, and community leaders.
Presenters at this event include:
***Special Guest Speaker****
DAVID IVERSON: PRODUCER & ANCHOR OF NATIONAL , REGIONAL & LOCAL SPECIALS FOR PBS FOR 30 YEARS! MOST RECENTLY, HE WAS THE WRITER, CORRESPONDENT & C0-PRODUCER/DIRECTOR OF THE PBS FRONTLINE DOCUMENTARY "MT FATHER, MY BROTHER AND ME" WHICH AIRED FEBRUARY OF 2009 ABOUT THE FAMILY'S CONNECTION TO PARKINSON'S DISEASE.
Dr. Laurice Yang, Clinical Associate Professor of Neurology & Neurological Sciences speaking on Parkinson's Disease Therapeutics.
Dr. Mehrdad Ayati, Dr. Ayati member of the Ethnogeriatric and Quality and Policy Performance Committees of the American Geriatric Society. He serves as a Community Health Advisor for Alzheimer Association, Northern California and Nevada Chapter. Dr. Ayati is the co-author of "Paths to Healthy Aging" Medical Complications due to Parkinson's Disease.
Dr. Elena Sherma Call, Neurologist, Kaiser Permanente.
Ki Siadatan, Vice President Sales at Silverado Communities speaking about Technology & Aging.
Geoff Fong Physical Therapist, Owner, Indie Physical Therapy, Inc.
Roxanne Jen Esq, Attorney at McDowall Cotter
Curtis Chen, CFP, Principal Financial Planner
A series of specialized professional presenters related to the topic and overall welfare of the attendees are scheduled throughout the event.
The presenters include a Movement Disorder & Clinical Research Practice Physician, Attorney, Financial Advisor, Physical Therapist, Alzheimer's Specialist, Technology in Aging Specialist, and a Geriatrician.
Heath Care Partners are scheduled throughout the event to provide education resources for all attendees.
We are building a strong community of health awareness and prevention with access to resources. Therefore, no one feels isolated or without guidance.
The Annual Health & Education Day has become a community-wide event. Older Adults (over the age of 50+) look forward to attending each year to gather with friends, caregivers and professionals. This is the event's fourth year, gaining more traction and increased attendance. As the event grows in popularity, the attendance rises; therefore the knowledge of the attendees increases, and the Bay Area Community health and wellness flourishes.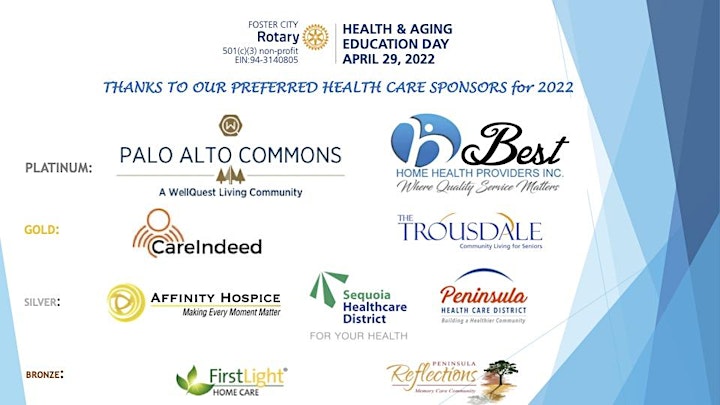 IF YOU WISH TO BECOME A SPONSOR FOR THIS EVENT:
NEW PAYMENT DEADLINE APRIL 15, 2022.
PLEASE READ THE DETAILS BELOW. YOUR SUPPORT IS APPRECIATED!!!