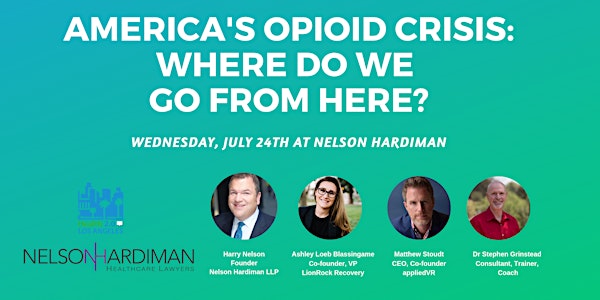 Health 2.0 LA & Nelson|Hardiman Present: America's Opioid Crisis: Where Do We Go From Here?
When and where
Location
Nelson Hardiman, LLP 1100 Glendon Avenue #15th floor Los Angeles, CA 90024
Description
Please join Nelson Hardiman and Health 2.0 LA for a thought leadership roundtable discussion centered around our nation's opioids crisis. Moderated by Harry Nelson, founding managing partner of leading LA healthcare law firm Nelson Hardiman and author of The United States of Opioids: A Prescription for Liberating a Nation in Pain, our panelists will provide perspectives from innovators at work on solutions to the crisis. In particular, we will hear from leaders in our region who are developing technologies for pain management and treatment of addiction.
AGENDA
5:30PM: Doors open
5:30PM - 6:00PM: Networking
6:00PM: Open by Jessica Santana, Health 2.0 LA, Intro of Harry Nelson, and program begins
7:00PM: Program ends
7:00PM to 8:30PM: Mix and mingle
CHECK IN:
Please check-in with security at the Lobby Level and let them know you are going to the 15th floor for the Health 2.0 LA event to gain access.
PLEASE NOTE:
We will have light refreshments available to nibble on before and after the program.
PARKING:
There is parking at 1100 Glendon for a flat rate of $7.00 beginning at 5:00 pm. The law firm will not be providing parking validations for the evening's program. As always, we encourage rideshare and green transportation options.
PANELISTS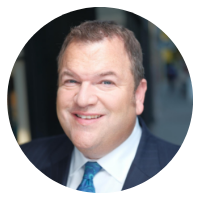 HARRY NELSON, FOUNDER OF NELSON HARDIMAN, LLP
Harry Nelson is the founder of Nelson Hardiman, LLP, the largest healthcare and life sciences specialty law firm in Los Angeles. Harry is the author of The United States of Opioids: A Prescription for Liberating a Nation in Pain, published by Forbes in March 2019, which received critical praise for changing the crisis-related conversation from spectacle to solutions. The book grew out of Harry's work in opioid overdose and other crisis response in behavioral health. In 2017, Harry co-authored From ObamaCare to TrumpCare: Why You Should Care, an exploration of U.S. health policy past, present, and future aimed at moving beyond rhetoric and hand-wringing to bipartisan dialogue.
Like his books, Harry's work as an advisor straddles the intersection of healthcare transformation and regulatory compliance with a focus on practical solutions to emerging problems from digital and behavioral health to cannabis and biologic products. Harry serves as chair of the Behavioral Health Association of Providers, an education and advocacy organization that works to advance standards and develop tools to address industry challenges. His leadership has been recognized, among other distinctions, by Behavioral Health Network Resources' 2018 Addiction Advocacy Award.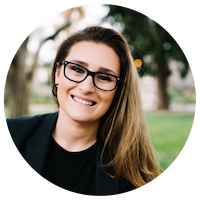 ASHLEY LOEB BLASSINGAME, CO-FOUNDER, VICE PRESIDENT, LIONROCK RECOVERY
A co-founder of Lionrock and member of the executive team, Ashley builds Lionrock's capacity through the talent acquisitions operations. By interfacing with the people her company serves and operationalizing their needs within her company, Ashley has helped to grow Lionrock from the first client to now, surpassing Lionrock's 1,000th. She interacts with Lionrock's online community, too, driving social media engagement and deepening Lionrock's community.
As a co-founder of a start-up using technology to reach and engage people who have been deemed "hard to reach", Ashley, alongside her co-founder colleagues, has had to persevere to convince people of the effectiveness of their platform - and the impact they are having on lives every day.

Ashley has been featured in Cosmopolitan as a young founder and created a column called "Recovery Tech" in a quarterly magazine. She hosts a successful podcast called "The Courage to Change: A Recovery Podcast" that tackles issues in recovery and stories of triumph.

Ashley is a Certified Alcohol and Drug Counselor-II, a Certified Relapse Prevention Specialist, and a Certified Arise Interventionist. She holds a Bachelor's degree from the University of California at Los Angeles and is an MBA candidate at Johns Hopkins University: Carey Business School with a concentration in Healthcare Management. She is also an owner of a patent for an accountability application owned by Lionrock Recovery. Embedded in the Los Angeles Health Innovation community, Ashley co-directs the Healthtech Women LA Hub, a global syndicate of formidable women in health and technology.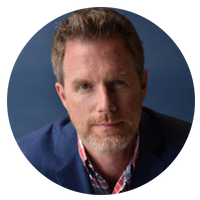 MATTHEW STOUDT, CEO OF APPLIEDVR
Matthew Stoudt is the CEO and Co-Founder of appliedVR where he is pioneering the next generation of digital medicine. Leveraging the unique therapeutic properties of virtual reality, appliedVR is addressing major health care challenges including pain, behavioral health issues and chronic disease management. AppliedVR is backed by leading institutions including the NIH via the National Institute of Drug Abuse (NIDA), the National Cancer Institute (NCI), the VA, Cedars-Sinai, Cleveland Clinic, Geisinger and over 150 other institutions.
Matthew is an accomplished entrepreneur who founded and built Outcast Media, the largest out of home digital media platform in the US, exiting to Verifone in 2014. Prior to Outcast, Matthew was an Entrepreneur-in-Residence at McDonald's where he launched several successful businesses including a digital media platform in multiple countries. Matthew began his professional career in investment banking and private equity, having raised over $1 billion in growth capital for a variety of businesses across multiple sectors. Matthew earned his MBA at Kellogg Graduate School of Business graduating with honors and his BA from Northwestern University.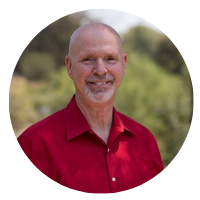 DR STEPHEN GRINSTEAD
Dr. Grinstead is an internationally recognized expert in preventing relapse related to addiction and chronic pain disorders and is the developer of the Addiction-Free Pain Management® System. He has been working with chronic pain management, substance use disorders, eating addiction and coexisting mental and personality disorders since 1984. He is also the author of Freedom from Suffering: A Journey of Hope as well as several other pain management books including Managing Pain and Coexisting Disorders, and the Addiction-Free Pain Management® Recovery Guide.
Dr. Grinstead has a Bachelors Degree in Behavioral Science, a Masters Degree in Counseling Psychology and a Doctorate in Addictive Disorders (Dr. AD). He is a Licensed Marriage and Family Therapist, (LMFT) a past California Certified Alcohol and Drug Counselor (CADC-II), and a current Advanced Relapse Prevention Specialist (ACRPS). He served on the faculty of UC Santa Cruz Extension Alcohol and Drug Studies Program and also taught at Santa Clara University, UC Berkeley Extension and Stanford University Medical School and served on the faculty of University of Utah's School on Alcoholism and Other Drug Dependencies as well as serving as an Adjunct Professor at Alliant University teaching Masters Level and Psy.D. Students the Treating the Addicted Family System course for the Marriage and Family Therapy track for five years.
Since 1996 Dr. Grinstead has conducted Addiction-Free Pain Management®; Managing Pain Medication in Recovery; Managing Pain and Prescription Drug Abuse; as well as Relapse Prevention Counseling, Relapse Prevention for Eating Addiction and Denial Management Counseling, seminars and certification trainings for over forty thousand healthcare professionals therapists and counselors at more than 600 training seminars in key cities across the United States and Canada.