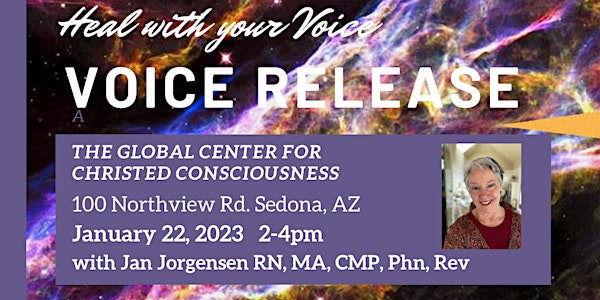 Healing With your Voice
Heal your Life with your Voice Experience a powerful scientific - spiritual process that re-aligns your voice from fear to freedom!
When and where
Location
The Global Center for Christed Consciousness in Sedona 100 Northview Road Sedona, AZ 86336
Refund Policy
Refunds up to 1 day before event
Eventbrite's fee is nonrefundable.
About this event
Voice Release
with Jan Jorgensen RN, MA, CMP, PHN, Rev
Heal your Life with your Voice
Our Voices hold our calling card to the world and this scientific spiritual process re-aligns your voice from fear to confidence and clarity.
- Experience Voice Release for personal empowerment in love, life and work.
- Become the co-creator of new brighter realities by shifting your vibration through your Voice.
- Join specialist Jan Jorgensen as she shares this powerful process that has helped so many re-gain joy and success!!!!
Sunday January 22 2-4 pm
The Global Center for Christed Consciousness
100 Northview Rd. Sedona, AZ
LInk to the Global Center for Christed Consciousness
$22 early bird thru Eventbrite, $33 at the door
Release Fear from your Voice and you can re-align everything in your life! Yes.....The frequencies of fear within your voice attract through resonance repeated interactions and outcomes that are unconscious. If the Voice of the Divine Feminine is emerging to lead the planet back to its senses, we need to be resonant bells of truth of communication free of fear. We need all Voices on deck, male and female to speak directly without fear to enable a new social system moving away from manipulation and control-based communications.
Voice Release is a simple yet powerful scientifically, spiritually designed process that can release the patterns of fear that keep you small and shy away from Leading. This workshop is for men and women who are tired of holding back in the boardroom, bedroom (or podium) and are ready to dive into authentic heart-filled communication free of fear. It's time.
What: A two-hour multi-sensory experience that is educational, with a participatory toning session that will clear fear from your Vocal profile. By exploring the science behind the process, we can understand the profound effect our Voice has on others and whether they trust us or not. It is not our WORDS that matter as much as our thoughts behind the words, or our intention. Learn about the new Vocal Tracking systems that make visible the frequency imbalances when we are experiencing fear and how we can mitigate these patterns out of our body. We will move from an explanatory mode into individual and group-focused Voice Release toning that feels safe and empowering. Volunteers can step forward for more intense work and then the whole group will have a sound release experience.
No special toning or singing skills are necessary. We use our intention, and then sound and shift the old patterns with focus. It works profoundly and though sympathetic resonance, everyone who shares the same pattern is cleared in the room.
What to Expect: After the session you might experience a sense of freedom around trigger topics when you speak up to others in the boardroom or bedroom. Subtle thought shifts from the old pattern into a fresh new field of possibilities as you confidently state your truth and the world responds to your new vibrational field and coherency. Personal empowerment and deepening relationships based on expanding trust.
What to Bring: Dress comfortably and bring water. You might even want to journal or jot down notes.
Facilitator:
Jan Jorgensen RN, MA, PHN, CMP, Rev has connected the dots for Vibration, Consciousness, Intention, and our upcoming needed co-creations to activate the Divine Plan. Studying the importance of our Voices, she developed Voice Release and lectures, and provides workshops, and Intentional Creativity sessions to remind people of their innate power and divinity. She taught at the Sound and Consciousness Institute and is a frequent speaker at Unity and New Thought Educational Centers. Her PhD dissertation is focused on the Voice Release process she created. A recording artist, author, TV and Radio host, Jan is currently on Tour to activate Light in Circles in Community.
Email: SOARGlobalVision@gmail.com
Sound and Light Healing Arts website About Jan
Voice Release Resources; YOUTUBE Voice Release Resources
The Voice made Visible: YOUTUBE Sound Made Visible
Testimonials:
Thanks again for the healing you did for me. My neck and shoulders are much more relaxed now and the energy flows easier. It has effects on my behavior. I feel freer to express myself. And I express myself more. I am also now starting to see all the patterns, beliefs, and programs that are running in me and inhibiting my expression and also my success. So things are moving now. I feel optimistic and inspired. Thank you so much.
Satora O, Energy Healer, Founder of Quantum Energetic Realignment
The service was filled with wonderful energy, grounding and so much heart. You definitely made a difference in creating an evening to remember and I look forward to working with you more. As we continue to grow and build a stronger community together. I say thank you.
Blessings, Love and Gratitude, Lisa Starbird Unity in Marin
"And since my Voice Release Sessions with you so much has changed in my life…I am more calm and can express anger without fear. My Voice is at a lower pitch, people notice it. Thank you for helping me release deep pains in my heart" Michelle H. 2018
If you want a truly spiritual companion to assist you in evolving your soul and expressing your deepest callings, Jan Jorgensen is one to trust. As a Unity Minister and Spiritual Pilgrimage Tour Guide, I've met many individuals with a wide variety of gifts and of clarity in their expression. Jan not only has amazing talents but continues to evolve and integrate them. Most of all, she listens to Spirit as she lovingly connects with others in authentic service through her sound healing, music, art and meditations. In both private and group settings, she is truly a channel of Love and Light in these times of evolutionary shift for us both personally and globally. If you have an opportunity to spend time with this dedicated Sister of Spirit, gift yourself with it. It will bless you and send you forth to bless others. Pamela Douglass Smith, Unity Minister of Port Townsend WA