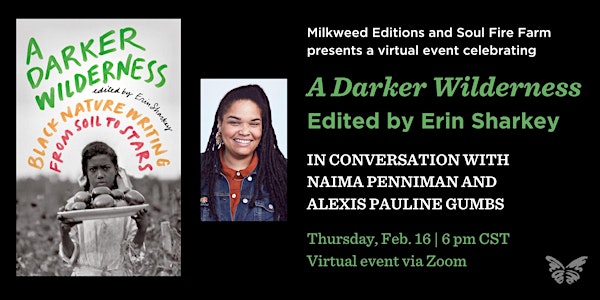 Healing with the Land: A Celebration of A DARKER WILDERNESS
Join Erin Sharkey, Naima Penniman, Alexis Pauline Gumbs and J. Wortham in celebration of the anthology A DARKER WILDERNESS.
About this event
"behind you stands a tree. it's brown like you. and maybe here your spine is not yet crooked, not yet weighed down by backpacks full of printed afterlives. so stand here in the dignity of tall, in the sureness of brown, the shade. trust me there will be years enough to twist and curve, stand here where you already know your roots, stand here where you already feel your reach, stand here and just remember who you are, i'm right behind you." ~ Alexis Pauline Gumbs
Join Erin Sharkey, Naima Penniman, Alexis Pauline Gumbs and J. Wortham in celebration of the newly released anthology A Darker Wilderness: Black Nature Writing from Soil to Stars. They will share excerpts from their work and discuss their relationships to ancestry, collective memory and to healing through their relationships to land and the natural world.
The anthology where their work appears, A Darker Wilderness, is a constellation of luminary writers reflecting on the significance of nature in their lived experiences and on the role of nature in the lives of Black folks. The stories span hundreds of years and thousands of miles, traveling from roots to space and finding rich Blackness everywhere.
This interactive event is hosted by Soul Fire Farm in partnership with Milkweed Editions. We look forward to welcoming you into an evening of conversation and community.
This event will take place via Zoom Webinar. RSVP to reserve your place.
Order a copy of of A Darker Wilderness here: https://milkweed.org/book/a-darker-wilderness
More about the panelists:
Erin Sharkey is a writer, arts and abolition organizer, cultural worker, and film producer based in Minneapolis. She is the cofounder, with Junauda Petrus, of an experimental arts collective called Free Black Dirt and is the producer of film projects including Sweetness of Wild, an episodic web film project, and Small Business Revolution (Hulu), which explored challenges and opportunities for Black-owned businesses in the Twin Cities in the summer of 2021. Sharkey has received fellowships and residencies from the Loft Mentor Series, VONA/Voices, the Givens Foundation, Coffee House Press, the Bell Museum of Natural History, and the Jerome Foundation. In 2021, Sharkey was awarded the Black Seed Fellowship from Black Visions and the Headwaters Foundation. She has an MFA in creative writing from Hamline University and teaches with the Minnesota Prison Writing Workshop.
Naima Penniman is a multidimensional artist, mycologist, medicine grower, healer, and educator rooted in her ancestors' brilliance. Co-founder of WILDSEED Healing Village, Director of Education at Soul Fire Farm, and healing practitioner at Harriet's Apothecary, Naima devotes her creativity to nurture planetary interdependence. Published in All We Can Save, We Are Each Other's Harvest, Farming While Black, A Darker Wilderness, Black Earth Wisdom and Semillas, Naima's poetry has inspired thousands of people and movements across the world.
Alexis Pauline Gumbs is a cherished oracle and community accountable queer Black feminist author and scholar. She is a granddaughter of the Anguillian revolution, an aspirational cousin to all life, an exuberant facilitator, student, mentor and educator. Devoted listener and multi-dimensional archivist, Alexis honors Black feminism as a spiritual tradition, a political legacy and a relevant resource for everyone on the planet. Alexis is co-founder of MOBILE HOMECOMING, where she partners with Sangodare to connect generations of LGBTQ Black Visionaries to each other in a myriad of tangible ways that constitute an experiential archive of sustainable brilliance. Author of Undrowned: Black Feminist Lessons from Marine Mammals, Dub: Finding Ceremony, M Archive: After the End of the World, and Spill: Scenes of Black Feminist Fugitivity, Alexis is an Experimental writer whose textual ceremonies transform her community's sense of possibility. Creative Writing Editor at Feminist Studies, Writing Matters! series co-editor for at Duke University Press, 2020-2021 National Humanities Center Fellow, 2022 National Endowment for the Arts Creative Writing Fellow and 2022 Whiting Award Winner in Nonfiction, Alexis activates language to connect us to the constant presence of generations of love.
J Wortham (they/them) is a sound healer,, reiki practitioner, herbalist, and community care worker oriented towards healing justice and liberation. J is also a staff writer for The New York Times Magazine, and co-host of the podcast 'Still Processing,' They occasionally publish thoughts on culture, technology and wellness in a newsletter. J is the proud editor of the visual anthology "Black Futures," a 2020 Editor's choice by The New York Times Book Review, along with Kimberly Drew, from One World. J is also currently working on a book about the body and dissociation for Penguin Press. J mostly lives and works on stolen Munsee Lenape land, now known as Brooklyn, New York, and is committed to decolonization as a way of life.