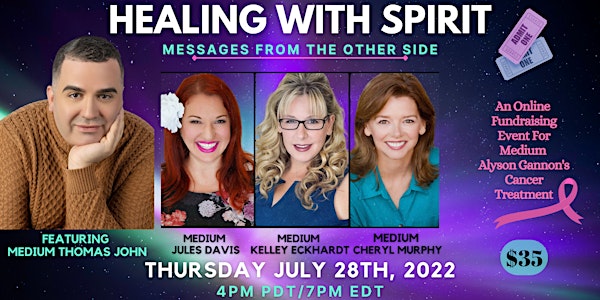 Healing With Spirit
An evening of audience readings!
About this event
Join us for an evening of mediumship messages from your Spirit loved ones. Three hours of audience readings with top evidential mediums. This is also a special fundraiser for our colleague, Alyson Gannon, who is battling metastatic breast cancer. All proceeds go toward her medical care.
Please note: While the Mediums will do many readings, ticket purchase does not guarantee a reading.
There is a GoFundMe setup for Alyson's on-going medical needs, contributions can be made here: https://www.gofundme.com/f/lets-give-back-to-alyson-when-she-needs-us-most or by going to the GoFundMe.com website and search 'Alyson Gannon'
MEDIUMS BIOS:
THOMAS JOHN: Thomas John is a global psychic sensation who has wowed audiences across the world with his impressively accurate messages from 'the other side'. Thomas John, gifted since birth, connected with the spirit of his late paternal grandfather at the tender age of four and correctly described to his parents the location of a missing wrist watch that had haunted the family for years (Grandpa's best friend Jack had it!). From that point forward, Thomas and his family knew he had prodigious abilities, unlike any they had experienced before.
In recent years, Thomas' infallible track record, ethics and down-to-Earth approach as a psychic medium has led him to being known as one of the world's top psychics and has earned him an honorable reputation in the industry. He has made innumerable accurate psychic predictions about celebrities that have come to pass often months after he has reported them to the media, including the death of Whitney Houston, the splitting of Tom Cruise and Katie Holmes, the death of Michael Jackson, and the circumstances surrounding the birth of the royal babies. Thomas John has also had countless visions surrounding medical breakthroughs, political events, and natural disasters, which have come to pass in record time.
www.MediumThomas.com
JULES DAVIES: Jules is a professional Psychic, Medium, Reiki Master, Crystal Healer, Spiritual Teacher and Owner of Auralux in Los Angeles. She has spent many years training with some of the most highly regarded teachers in all of her specialized fields. Jules' Psychic and Mediumistic abilities have been evident since she was a very young child. Many of her earliest memories include experiences with Spirit. Jules works with all the Psychic Senses, she is clairvoyant, clairsentient, clairaudient, claircognizant and can even smell and taste with Spirit.
Having experienced many significant losses and challenges herself, she has an abundance of love and compassion for the people she connects with through her work. Her desire is to give her contacts another moment to share with their loved ones, and to create an environment for healing when needed.
Jules' work has been featured on BuzzFeed, E! TV, Mixed Makeup, Sunset Magazine, SuperDeluxe and LATV.
For More Info About Jules Please Visit: www.healingwithjules.com
CHERYL MURPHY: Cheryl is an Evidential Medium and Psychic. She has studied metaphysics for over 20 years including international studies in England at the Arthur Findlay College.She has oriented her practice as a spiritual medium towards channeling departed loved ones and helping people make life's important decisions. She is a clairvoyant, healer, and ordained minister, as well as a certified hypnotherapist and an intuitive health facilitator.Cheryl practices animal communication, authors articles on spirituality, and teaches intuitive development to students worldwide. She is the founder of The Healing Prayer Circle and a member of Bob Olson's Best Psychic Directory. Cheryl is a contributing author of The Last Breath: True Stories of Mediumship, the Afterlife & Messages from Heaven
Her new internet radio show, Seeing Beyond: Living Transformed, is on every Wednesday on the VoiceAmerica Empowerment channel. You can watch the show live on Cheryl's Facebook page or at: www.seeingbeyondradio.com.Website: www.mediumcheryl.com / Facebook: @mediumcheryl / IG:@mediumcheryl / Twitter:@mediumcheryl
KELLEY ECKHARDT: Kelley Eckhardt is a Certified Advanced Psychic Medium who has trained with many Arthur Findlay tutors over the years. She has been recognized and featured as an expert on the Roni Deutch radio show, was a guest on 98Rock's That Damn Show, and is an inspirational speaker. In 2020, Kelley co-authored the Amazon #1 best-selling book, The Last Breath. Currently Kelley is hosting alongside fellow medium Cheryl Murphy a weekly radio show called "Seeing Beyond: Living Transformed" on VoiceAmerica's Empowerment Channel.Kelley loves learning and continuing to develop her gifts further; She understands that there is always more to know and prides herself in life-long learning. Kelley understands navigating life-shaping grief, having experienced the loss of her oldest son Ron when he was 20 years old. She draws from this devastating experience and her own healing process to offer others an understanding of the Spiritual world.
www.mediumkelley.com