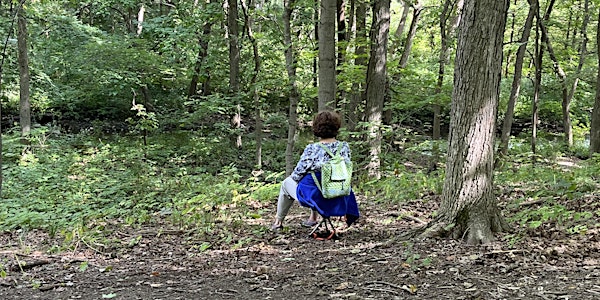 Healing Through Nature - A Forest Therapy Experience
Join us for this new offering led by Jeanne Iovinelli, Certified Forest Therapy Guide
When and where
Location
Tau Center 26W171 Roosevelt Road Wheaton, IL 60187
Refund Policy
Contact the organizer to request a refund.
Eventbrite's fee is nonrefundable.
About this event
One way to open your eyes is to ask yourself ; What if I had never seen this before?
What if I knew I would never see it again? - Rachel Carson
Drawing on techniques from the practice of Forest Therapy, we invite you to come explore the Peace Path and grounds at Our Lady of Angels - to see the land in a new way and experience yourself held in the natural world in a deep and profound manner.
By slowing down and noticing and being embodied in nature, you will deepen your relationship with nature. When you are still in the natural world, you begin to notice many different facets of nature. These things we have not taken the time to notice before. Once you begin to notice you will find yourself on a different type of walk. Forest therapy is not a one-time event; it is a practice much like prayer - each session draws us deeper. In order to build a relationship with the natural world, you must slow down and pay attention. You will be in awe!
Our time together is an opportunity to disconnect from technology, pause and be at one with the natural world. As Mary Oliver states "pay attention, be astonished, tell about it"
Held entirely outdoors 'rain or shine', Jeanne will lead the group in a slow and deliberate walk that incorporates a series of gentle invitations and includes 'sitting and noticing' before the experience closes with a tea ceremony. While the format is similar month to month, each session is a new opportunity to be drawn into the unique attribute of our ever-changing landscape and you are encouraged to attend on a regular and ongoing basis, if possible.
Come join us to deepen your relationship with the natural world and experience the healing benefits of forest therapy. The Forest Therapy Walk is 2 hours - but you are welcome to stay and walk the paths before or after the structured program session. Bring a blanket or a sack lunch to enjoy additional quiet time on your own!
Tues Oct 25 - 9:30am Sat Nov 12 - 1230pm Wed Dec 21 - 2:30pm
Suggested Donation $10 - $35, ONLINE REGISTRATION is REQUIRED to attend
Choose your date; come to one or register separately for each session
Select 'available date' under the 'register tab' to choose your session. Separate registration and donation is required for each monthly stand- alone session
Dress comfortably for the weather; warm layers, walking shoes and umbrella is needed
More information about Forest Therapy and Forest Bathing is available in our issue of Still Point 'Communion Through Nature' available on our website under Eco-Spirituality.
A note from our guide, Jeanne Iovinelli: My training in forest therapy has taken me to a level of connectedness to the natural world and God that I have never experienced before. My soul yearns to go outside, slow down, and notice the handiwork of our creator. Yes, this all takes time. As part of self-compassion and self-care we must make time for our souls to experience the wonder of nature, which will enrichen your life in ways you have not experienced before. You will grow spiritually, be gentler with mother earth, and help to restore your relationship with her. The magic and wonders of the natural world will naturally and organically lift your spirits.