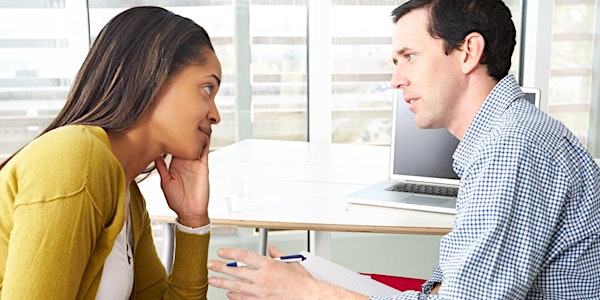 Healing through Listening: An Immersion in NVC for Therapeutic Practice + P...
Location
SAFE Alliance
1515 Grove Blvd
Austin, TX
Description
HEALING THROUGH LISTENING: An Immersion in NVC for Therapeutic Practice (April 6-7, 2017)
PLUS
MASTER LISTENING: An NVC Practicum (April 8-9, 2017)
For therapists, social workers, coaches, and counselors

At the basis of all healing and transformational work is a person being deeply heard. It is through being heard that a person gains insight, understanding, and empathy and renewed internal resources to better navigate their own needs and the feelings and needs of others.
In Healing through Listening, a two day immersion in Compassionate, Nonviolent Communication (a model developed by psychologist Marshall Rosenberg PhD and influenced by Rogerian psychology), we will experience first hand the profound impact of being completely and empathically present to others and ourselves and how to integrate empathic listening (including somatic-based empathy) in therapeutic work with clients. This highly experiential and popular workshop includes kintesthetic and somatic learning, role-play, and experiential exercises and games, and will focus specifically on integrating the model in therapeutic and coaching settings.
In this program, learn how to:
Help your clients re-connect and move forard when shut down, stuck, or "looping"

Listen to your clients in a way that opens up deep healing, possibility and transformation

Empower others to discover and draw on their own internal resources

Support clients in hearing what really matters to them underneath judgments, self sabotage, demands, anxiety, anger, shame, and blame

Work more effectively and comprehensively with empathy and compassion, including through Somatic-Based Empathy (a practice developed by Dian Killian based on the NVC model)

Support clients in more powerfully identifying and meeting their needs

Increase self-connection, mind-body awareness, and self-empathy for clients and yourself
Who will benefit from this program?
Therapists, coaches, counselors, and social workers or counselors in training who want a powerful set of practices to deepen and enhance how you support others and yourself.
ALSO, for those who have attended the two day immersion and want to deepen your skills, we will be offering in Austin for the first time a two-day Practicum, April 8-9. Do you:
*have clients who could benefit from greater empathy and listening skills?
*want to deepen your NVC skills and how you're applying NVC in your therapeutic practice?

*desire support in applying different aspects of the model?
In this Practicum, we will take and apply the skills/mindset learned in the two day immersion to actual therapeutic dynamics. This program is for those who have completed the immersion in the previous two days and/or attended past immersions and are wanting to deepen and renew their application and practice of NVC in their therapeutic work.
Please Note: Spaces are limited for both programs to maximize individual attention and learning, and both are expected to fill completely. Participants are encouraged to register early. This program is open only to those who are working therapists, counselors, psychologists or coaches or in training for these professions. CEUs for LPCs or LMFTs are included in your registration fees (13 for either training or 26 for both). Full time students and LPC-Interns and LMFT-Associates can take 20% off registration fees---using the code STUDENT when registering and bring your student ID or license to registation on the day of the workshop. Student/intern/associate tickets limited to 8 spots. Please register early.
Cancellation Policy: If you cancel anytime up to March 18th, you will get a full refund minus a $50 administration fee and any non-returnable fees charged by Eventbrite. Starting March 19th, there are no refunds but you can transfer your registration to another person for a $50 admin fee.
To prepare for the program, we suggest you read Connecting Across Differences, by Dian Killian PhD & Jane Marantz PhD.
If you have any questions about this program or registering, please contact Michelle Hawn at michelle @labyrinthcounseling.org
Each time we listen, we change the world...