Healing through Laughter 3- Comedy, Creativity and Improv Workshop- Survivors' Empowerment

Thursday, May 9, 2013 from 6:00 PM to 7:30 PM (EDT)
Event Details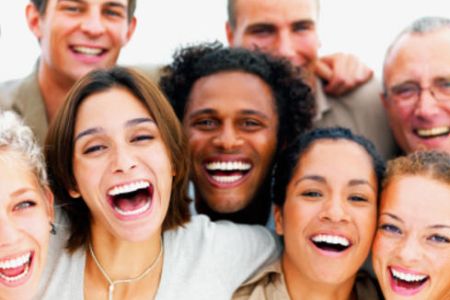 Back by popular demand Healing through Laughter Workshop is a series of three sessions specifically designed to use laughter, creativity and support as part of the healing process. 
 By registering clicking the regestration tab you will be registering for the 5-16-2013 workshop. 
The Benefits of Laughter

Physical Health Benefits:

Boosts immunity
Lowers stress hormones
Decreases pain
Relaxes your muscles
Prevents heart disease

Mental Health Benefits:

Adds joy and zest to life
Eases anxiety and fear
Relieves stress
Improves mood
Enhances resilience

Social Benefits:

Strengthens relationships
Attracts others to us
Enhances teamwork
Helps defuse conflict
Promotes group bonding
Laughing with others is more powerful than laughing alone
Creating opportunities to laugh
Watch a funny movie or TV show.
Go to a comedy club.
Read the funny pages.
Seek out funny people.
Share a good joke or a funny story.
Check out your bookstore's humor section.
Host game night with friends.
Play with a pet.
Go to a "laughter yoga" class.
Goof around with children.
Do something silly.
Make time for fun activities (e.g. bowling, miniature golfing, karaoke).
Shared laughter is one of the most effective tools for keeping relationships fresh and exciting. All emotional sharing builds strong and lasting relationship bonds, but sharing laughter and play also adds joy, vitality, and resilience. And humor is a powerful and effective way to heal resentments, disagreements, and hurts. Laughter unites people during difficult times.
Incorporating more humor and play into your daily interactions can improve the quality of your love relationships— as well as your connections with co-workers, family members, and friends. Using humor and laughter in relationships allows you to:
Be more spontaneous. Humor gets you out of your head and away from your troubles.
Let go of defensiveness. Laughter helps you forget judgments, criticisms, and doubts.
Release inhibitions. Your fear of holding back and holding on are set aside.
Express your true feelings. Deeply felt emotions are allowed to rise to the surface
Information taken from the http://www.helpguide.org/life/humor_laughter_health.htm
Laughter is FREE! Come join us and LAUGH!
 Registration to this and all Empowerment workshops are confidential. 
When & Where

Crisis Center of Tampa Bay
One Crisis Center Plaza
Tampa, FL


Thursday, May 9, 2013 from 6:00 PM to 7:30 PM (EDT)
Add to my calendar
Organizer
Crisis Center of Tampa Bay
At the Crisis Center of Tampa Bay we offer help, hope and healing to all people experiencing life's problems and challenges, big and small. We are located in Tampa, Florida, and provide services throughout the State and beyond.

We can help you deal with the devastating trauma of sexual assault or abuse, domestic violence, financial distress, substance abuse, medical emergency, suicidal thoughts, emotional or situational problems.

We are here 24 hours a day, 365 days a year.

Dial 2-1-1 where you will receive free, confidential crisis counseling, along with referrals to a Crisis Center service or to over 4,600 other community resources. 
Healing through Laughter 3- Comedy, Creativity and Improv Workshop- Survivors' Empowerment