Event Information
Refund Policy
Contact the organizer to request a refund.
Eventbrite's fee is nonrefundable.
Join us for this very special event and hear how you can make a difference in providing specially trained service dogs for Veterans.
About this Event
Operation Warrior Shield proudly announces its partnership with Warrior Canine Connection. Join us and hear how you can make a difference in providing specially trained service dogs for Veterans.
Hosted by Chairman and Founder of Operation Warrior Shield, CMSgt (ret) Edward Schloeman, the event will feature an impressive line-up of VIP speakers and celebrities including: Luke, AKC Service Dog of the Year; Warrior Canine Connection Founder, Rick Yount; Tony Lo Bianco; Lainie Kazan; Greta Blackburn; Dabney Coleman; Cindy Marinangel; Daniel Rodriguez; Errol Rappaport; Vietnam Veteran President Ch.126 Fred Gasior; Capt. (ret) Robert Koffman, MD; BG (ret) Loree Sutton, MD; Chef Andre Rush; Hands Across The Bay Founder Julie Weintraub; and Patric Hale.
Please see warriorcanineconnection.org and operationwarriorshield.com for complete details of the foundations whose mission is to HEAL THEIR HIDDEN WOUNDS.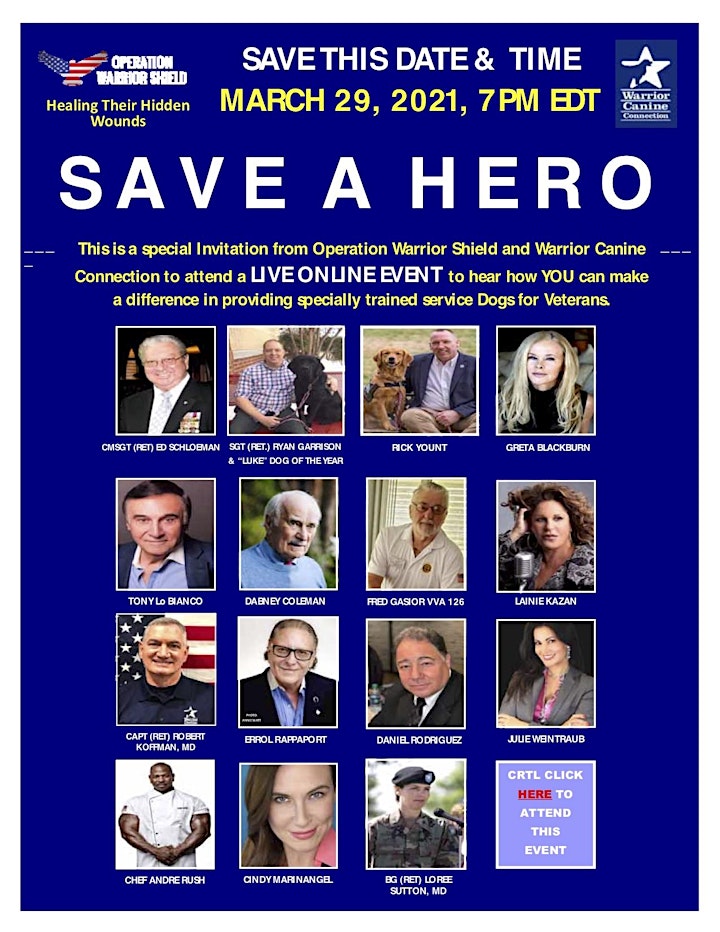 SPONSORSHIP AND TICKET PRICES
ADMISSION $25
*GOLD SPONSOR $1,000 (10 FREE TICKETS/PLAQUE)
*SILVER SPONSOR $500 (5 FREE TICKETS/PLAQUE)
*BRONZE $100
* Indicates this level is eligible for a prize drawing!
These prize drawings include:
1. Framed Iwo Jima Print ( $500 value) 22"x24" Signed by those who fought the battle of Iwo Jima as well as signatures from Marine Corps Commandants and Medal of Honor Woody Williams donated by CMSgt (ret) Ed Schloeman Sr.
2. Michael Hall Oil Painting ($3500 value) 30"x24" Sunflowers By The Sea michaelhallfineart.com
3. WTC Memorial Lights Photograph (Priceless) 21"x16" donated by LtCol. (ret) Ed Schloeman Jr
4. Ruby Earrings ($1500 value) donated by Ms. Julie Weintraub goldanddiamond.com
5. "Spinning Flag" ($3,000 value) donated by Robert Farber. 22"x 14" American Flag series 48 star Flag with model created in Rockport Maine 2007. Signed and personalized for winner. Farber.com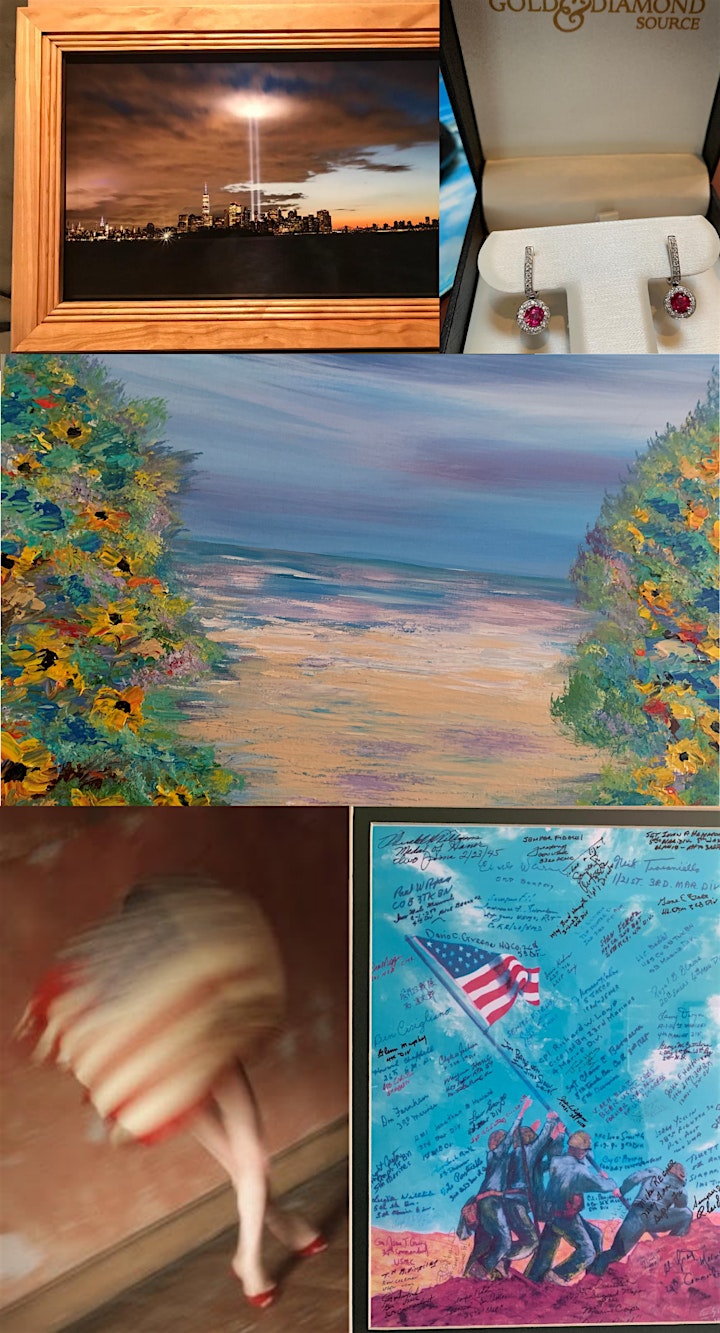 OPERATION WARRIOR SHIELD- OUR MISSION
Operation Warrior Shield, Inc. provides comprehensive support programs for service members, veterans, first responders and their families that are focused on transition, health and wellness, employment, prevention of homelessness, peer engagement, and connections to community resources.
Operation Warrior Shield is led by CMSgt(ret) Edward Schloeman, John Walsh, Walter Primoff, and Lt Col. (ret) Patrick Kernan, and Special Advisor Anne Akers.
Over the last 11 years, Ed Schloeman and the late Jerry Yellin traveled the country speaking on behalf of the non-religious modality of Transcendental Meditation –TM. In turn, they became partners with many veteran service organizations –Wounded Warrior Project, USO, US Army, USMC, NYC Department of Veterans Services, NYPD and others.
Today, we have partnered with the David Lynch Foundation and Warrior Canine Connection to bring proven treatments to help "heal the hidden wounds" and to build resilience to the stresses of life.
CMSgt (ret) Ed Schloeman
eschloeman@aol.com
https://operationwarriorshield.com/about/
Warrior Canine Connection
WCC's innovative therapeutic service dog training program (called Mission Based Trauma Recovery or MBTR) was the first of its kind in the country. The program supports Veterans with Post Traumatic Stress Disorder (PTSD) and Traumatic Brain Injuries (TBI) by giving them the opportunity to help train a service dog for a fellow disabled Veteran. In doing so, they receive treatment for symptoms of PTSD and TBI, a sense of purpose, and help reintegrating with their families and communities. Because of its unique program design, each WCC dog can aid in the rehabilitation and recovery of as many as 60 Veterans before placed with their permanent partner.
Accredited by Assistance Dogs International, WCC maintains program sites at VA and military hospitals, Veterans Treatment Courts and community treatment centers in Virginia, Maryland, North Carolina, Colorado and California. Since its founding, more than 5,000 Service Members and Veterans have been able to benefit from WCC's innovative MBTR program, and 80 highly-skilled assistance dogs have been placed—at no cost—with Veterans with disabilities and their Military Families. For more information or to view WCC's 24-hour live Puppy Cam, please visit www.warriorcanineconnection.org.
Date and Time
Location
Refund Policy
Contact the organizer to request a refund.
Eventbrite's fee is nonrefundable.