HEALING THE WOUNDS

Saturday, November 10, 2018 from 10:00 AM to 1:00 PM (PST)
Event Details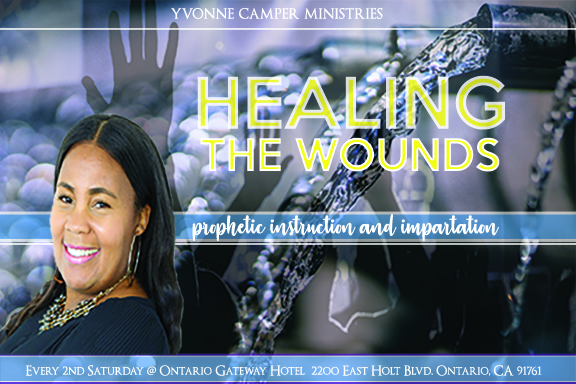 We are a community of prophetic people, worshippers, and intercessors who understand that deep fellowship with other prophetic people is important, healing from crippling wounds is necessary and impartation from the Holy Spirit is crucial if we are going to complete our assignments.
If you are in any form of leadership and are dealing with rejection, fear, bitterness and lingering wounds from your childhood God wants to heal all of your wounds. Join us as we gather every 2nd Saturday of the month at the Ontario Gateway Hotel and registration is free.  There will be no session on December 2018.

When & Where

Ontario Gateway Hotel
2200 East Holt Boulevard
Ontario, CA 91761


Saturday, November 10, 2018 from 10:00 AM to 1:00 PM (PST)
Add to my calendar
Organizer
Yvonne Camper's mandate is to help prophets excel in the marketplace, marriage, and ministry. Her expertise is in organizational development with an emphasis on the Prophetic.  Engaged in ministry and business for the past thirty years, she has worked for some of the largest non-profit organizations in the country as well as being elected to serve on their boards. As a natural-born leader, she has spent countless hours training leaders and giving spiritual counsel in both the private and public sector. She is a change agent and a prayer strategist with a powerful gift of impartation and healing; her message is revelatory, transforming, and revolutionary. 
Yvonne is not only a dynamic speaker but is also a prolific writer. In addition to writing books, she has also written for several online blogs, local newspapers and national magazines. Yvonne has a B.A. in Christian Studies from Vision International University with coursework in childhood grief, trauma, and loss. She is also a member of American Association for Christian Counselors. She is currently pursuing her master's degree in the same field of study. Her ministry affiliation and oversight is through the Harvest International Ministries (HIM). She is a wife, the mother of nine children, which consists of five natural children and four step-children. She is also the grandmother of five.  
Yvonne is no stranger to pain and hardship, she is a survivor of domestic violence, divorce, she overcame the grief and loss of her mother and stillborn child. Through lives challenges, she has poised herself to overcome and win. Her peers know her as an individual who lives a sacrificial life of giving and service. She selflessly donates her time to community development and missionary work, both domestic and abroad.  The culmination of Yvonne's benevolence happened on February 16, 2006, when she donated a kidney to her friend. As a result, Between the Porch and the Altar Ministries was divinely birthed.