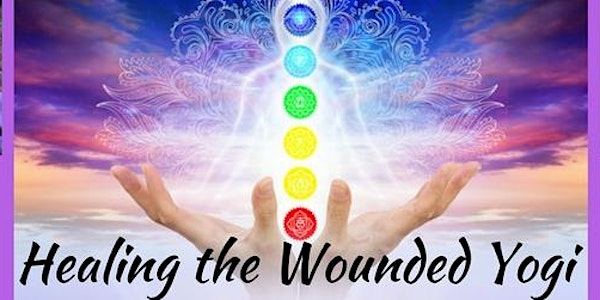 Healing the Wounded Yogi - a weekend yoga retreat
When and where
Location
Maitripa Centre 528 Myers Creek Road Healesville, VIC 3777 Australia
Description
"HEALING THE WOUNDED YOGI"
WEEKEND YOGA RETREAT IN HEALESVILLE
with Andrew Mournehis and Hugh Lee
TWO DEVOTED YOGA PRACTITIONERS …TWO HIGHLY EXPERIENCED FACILITATORS …MANY HEALING MODALITIES …OVER 35 YEARS OF COMBINED EXPERIENCE …
…5000 YEARS of ANCIENT WISDOM to be shared .…
…COME HEAL THE WOUNDED YOGI…
Yoga Practitioners that come to the mat, come for a variety of reasons…many come to get fit, feel good and calm their minds…others to have some space to Be …a chance to have space for their Soul.
Yet others come for deeper exploration so that they can Heal, and this healing may take many forms.

For the past 20 years, both Andrew Mournehis and Hugh Lee have worked intimately with the healing benefits of yoga and the recovery and renewal it brings. They hold complete trust and faith in its power, potency and potential, to heal not only the body, but also mental afflictions, traumas, addictions, deep emotional wounds and places that we have difficulty accessing in everyday life. Yoga brings to the surface these areas that are in need of our Love and Attention and provides extraordinary keys and gifts for unlocking the greatest potential within us all to be co creators of our own Healing.
Through a multitude of different healing practices that have been drawn from over 20 years experience in the healings arts including Yoga, Yin, Ayurveda, Chinese Medicine, Transpersonal Counselling, Art therapy and Dance Movt therapy, we will dive deep into our bodies, through the layers of our minds and into the more subtle layers of our Etheric fields. Through the five koshas, we can access one of the greatest healing resources within, far greater than any healing resource on the planet.

Come share in this Deep Exploration of the Healing Powers Of Yoga and not only offer yourself this gift of Love, but then share it with your students, peers and Spiritual Yoga Family.

Optional limited massage therapy available on site at extra cost.
A Priceless gift to share and heal our wounds together with our Yoga Sangha (Heart centred Community)

Intention and Theme is:
- to acknowledge and Be present to our wounds
- to bring acceptance to what has been
- to understand the root causes of our wounds
- to explore triggers and reactivity
- utilise Yogic Practices, Art therapy and Transpersonal Counselling Techniques to learn new methods and tools that will become our "Medicine" that we can then use each day to help "treat our wounds".
- share and inspire each other with new ideas and inspirations of different "medicines" and resources available to us in our lives
- if re-triggered, ways to deal with wounds that become raw and open again, and ways to continue the healing journey and stay with the process.

Retreat will be a blend of:
- Morning Yang practice to prepare the body and mind for two full days of healing
- Afternoon/Evening Yin practice focusing on balancing, healing and nourishment meridians/organs through Chinese Medicine and Mindfulness Practice for self awareness training.
- Workshops will be interactive, creative, hands-on art therapy
- Also Utilising the Ancient Life wisdom of Ayurveda working with each students Dosha type
- Night time Yoga Nidra to prepare to ground and prepare the body and mind for sleep and rest

This will be a retreat where students come away with many different healing medicines and tools to apply to the wounds both in the present and the future.

Date: Friday 31st March - Sunday 2nd April
Venue: Maitripa Buddhist Contemplative Centre
528 Myers Rd, Healesville 3777
Investment into Healing:
$545 EB Price ($195 Deposit (Non refundable) paid upon registration before March 2nd)
Balance for EB to be paid by March 2nd 2017
$615 Full Price after March 2nd 2017
Inclusive of 2 nights accommodation, All Yoga classes from Friday evening to Sunday noon, Meditations, Visualizations, all workshops and materials,
ALL meals from Friday Dinner to Sunday Lunch are inclusive.