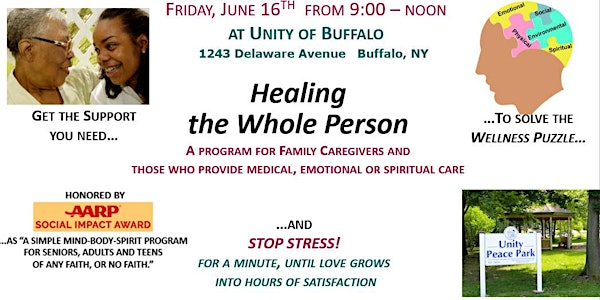 Healing the Whole Person for caregivers, nurses, counselors and ministers
Learn how to stop stress, control illness and feel more love using this AARP-honored program. Then use our free workbook to help others.
By Living Well - Sponsored by Unity of Buffalo
Date and time
Friday, June 16 · 9am - 12pm EDT
Location
Unity of Buffalo 1243 Delaware Avenue Buffalo, NY 14209
Refund Policy
Refunds up to 1 day before event
Eventbrite's fee is nonrefundable.
About this event
Healing the Whole Person for caregivers, nurses, counselors and ministers
Learn how to help yourself and others to have Less Stress, Better Health and More Love. This Living Well program was honored by AARP's Social Impact Award as "a simple mind-body-Sprit program for seniors, adults and teens of any faith, or no faith." It is sponsored by Unity of Buffalo.
About ninty percent of prior participants agree that this program can help them to reduce stress, control chronic illness and forgive themselves, others and God . The same materials are used to train patients, caregivers and professionals, so everyone uses the same language, skills and strategies - whether the problem is physical, emotional or spiritual.
How do you learn best? This evidence-based program integrates music, story-telling, drawing and journeling to help caregivers, nurses, counselors, ministers and volunteers to improve their own physical, emotional and spiritual well-being - before helping others. Options to improve the social and environmental factors that affect our health will be discussed.
You'll learn simple strategies to work more closely with those who provide your medical, emotional or spiritual care, plus: how to continuously improve the quality of that care; reduce hospitalizations and celebrate life's final chapter. You'll leave after creating a personal plan to stop stress for a moment, before love (i.e., a sense of oneness with others and the world) grows into hours of satisfaction.
A donation of $10 is suggested, but Eventbrite requires a donation of at least $1 to process your reservation. It includes a free workbook with unlimited downloads to share with family, friends or those you serve. It is published under a Creative Commons license, so anyone can use or improve the graphics or content without seeking prior permission, Space is limited, so please register early.
Our speakers will include:
Rev. Dr. Melody Rutherford, DMin, MS - BCC, Director of Spiritual Care at Roswell Park Comprehensive Cancer Center will describe how her interfaith department supports holistic medicine. She will also discuss the value of a collaborative approach that extends care to patients, caregivers, and staff regardless of their faith.
Dr. Tom DeLoughry, EdD and Kathy DeLoughry, MS, will describe how this program grew from their their professional studies and yoga training with the Himalyan Institute into a program for adolescents at Buffalo Childrens Hospital. This later evolved into a wellness program for faculty, students and families that was integrated into the curriculum of over forty middle schools. And, they will explain how Tom's stumbles as his mother's caregiver - despite his experience from serving as Independent Health's director of health managment and an assistant professor of public health and family medicine - prompted him to convene a coalition of caregivers, clergy and other professionals to create a holistic approach to care that would also reduce hospitalizations and celebate life's final chapter.
Rev. Mary Masters, Senior Minister at Unity of Buffalo for more than twenty years, has been trained at the Kripalu Center for Yoga and Health through their School of Mindful Outdoor Leadership. She will discuss the health benefits of nature, and how to go within by going outside. She will conclude the morning with a"Blessing of the Hands" to recognize the sacredness of caregiving.
Come early at 8:30 for coffee and meet like-minded people. Then stay afterwards to walk the labryinth in our Peace Park; or discuss how you'll begin using our free workbook and unlimited downloads to help yourself and others.
Participants will be invited to join our Living Well Community Collaborative this summer and advise us as we convert our written Living Well materials into videos and eLessons that can be accessed from any smartphone or PC. Our goal is that that they can be easily used (and improved) in homes, hospitals, medical offices, faith communities, senior centers, counseling offices, schools, worksites and other settings.
WE WILL ALSO OFFER AN INTERACTIVE ONLINE VERSION OF THIS CONFERENCE on Saturday, June 24th from 9 am to noon. Please sign up for our email list at www.LivingWellNow.INFO for updates about this and other offerings.
About the organizer
Dr. Tom DeLoughry has served as director of adosecent and drug abuse services in Child Psychiatry at Buffalo Children's Hospital; corporate director of Health Management for Independent Health; and an assistant professor of public health and family medicine at the State University of NY at Buffalo, where he was awarded a Masters (MS) in Counseling and a Doctorate (EdD) in Health Education and Behavior.
For more information, visit https://livingwellnow.info/about-the-author-2/