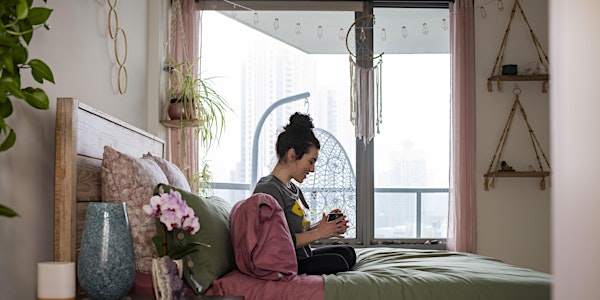 Healing the Feminine - 8 Week Group Coaching Program
We're healing burnout by reclaiming the pure joy of pleasure, finding our truth and recovering lost parts of ourselves. Join us?
Date and time
Tuesday, June 20 · 4 - 5pm PDT
Refund Policy
Contact the organizer to request a refund.
Eventbrite's fee is nonrefundable.
About this event
*Please note this program meets each week for 1 hour for 8 weeks, the dates and times are included towards the end of the description for you! If you cannot attend live, you'll be sent the recording after the class has ended*
Healing the Feminine isn't just about a different kind of empowerment. It isn't just about self-care either.
Healing the Feminine is about learning to self-heal. To learn to trust our inner wisdom and to practice connecting to that wisdom everyday so that it becomes second nature and something we don't ever want to live without. It's about learning to have unconditional love for ourselves and live each day from self-generation rather than depletion.
At it's core essence? It's about diving so deep into what brings us pleasure and joy that it can't help but help us heal from the inside out. It's from this space of inner healing that transforms our outside world.
Let me ask you a deep question... how often do you abandon yourself to either please others, take care of your many roles and responsibilities or just plain ol because someone else's needs feel more important than your own?
It's no secret that most women put everyone and everything ahead of themselves. We take care of ourselves last, with what little we have at the end of the day - if anything at all. All the while, we silently suffer, and we do it with joy because it brings us happiness to take care of that which is most important to us. And still, there's that suffering part.
How often are you able to quiet your world to hear your own voice inside yourself?
That voice is our inner wisdom and that wisdom is our inner guidance system, it's our intuition, it's our knowing without actually knowing. This is where our real power comes from.
How often do you tap into yourself to ask yourself what YOU need today? What would be most pleasurable, fun, enlivening? And then how often do you go out and self-generate the meeting of those needs for yourself?
You have the ability within yourself to discern your truth, what lights you up, what makes you feel connected and what rings true for you and your life.
The issue isn't that you don't "know." It's a great excuse (love you), but it isn't the truth.
The issue is that we've allowed so many distractions and disturbances to drown out our connection to that wisdom that we're developing mysterious illnesses earlier in life, taking on way more responsibilities and stress, having less than magical experiences in our life and are often feeling hopeless and at the mercy of how we're feeling or what our bodies are doing that day.
I'd like to help you change all that. What if settling for "good enough" just isn't good enough anymore? Not for you. What if instead of feeling exhausted, depleted and starved, we chose to start taking care of ourselves in such a way that self-generates feelings of aliveness, inspiration, soul-nourishment... excitement? Pleasure?
I'm excited to have you here, I'm excited you're choosing yourself, I'm excited to introduce you to some of my friends who want to open your eyes wider to the different modalities out there in the name of self-healing. I'm excited to help you learn (or really, remember) to feed yourself first - not feed yourself "instead of" this person or that thing, but feed yourself first so that when you're showing up to the rest of your life, you're having a different experience with it - and the person or role you're "feeding" is having a different experience with you too.
Healing the Feminine is all about love.
Pleasure.
Joy.
Fun.
Play.
Real, sustainable healing balms.
A tea-time story for you...
I'm not an expert in anything I teach about or anything I'm going to share with you. What I am though is an overcomer and a lifelong learner of all things in service to my own healing and sense of freedom, pleasure and fun. I did the usual thing we do - I went to college, I got the stressful corporate job for 10 years, I got myself into all the unhealthy relationships, I had no idea what real self-care was, I was completely disconnected from my body.
And then I got sick, and that changed everything. I was diagnosed with Discoid Lupus in 2009 and then Grave's Disease in 2013. My treatment options were slim and I could either go the route of traditional Western medical treatment which included lifelong medication and eventually removal of my thyroid or.... I could seek out other "unconventional" options in Eastern modalities.
This burnout-healing cycle repeated over and over again until my late 30's when I realized I had come to a plateau in my healing. I had made great strides and met amazing practitioners, but I wasn't where I wanted to be. And then... the ah-ha moment of what was next for me...
I realized I wasn't being fed in the ways I longed to be. In fact, I was settling for breadcrumbs in NUMEROUS areas of my life without realizing I was actually starving myself. I was relying on the help of all these people outside of myself to help me heal - which we need, we need a team.
And, the person we most need is ourselves. We need to learn what joy and pleasure feel like in our body and what brings us those feelings, and then how to generate them ourselves - without relying on anyone else to do it for us. It's from this intimate relationship with ourselves that we get to come face to face with our true needs, our boundaries, our self-worth, where our compass is pointed and what we most want to experience in this life.
Then, from THAT space, we go out and create it. We modify, we shapeshift, we transform, we literally alchemize pain and suffering into our next steps to bring us what we most wish to experience. And, it takes a lot of courage, support and ecstatic bliss to get there.
This is where our journey begins - getting you in touch with yourself and helping you treat yourself as a queen, because you are.
In this 8 week journey with me, we'll cover a lot of ground including:
Learning how to come into harmony with the seasons and being a cyclical being, along with learning about the 4 phases of your menstrual cycle, how to work with what your body is doing in each phase so you feel more alive and in your body
Creating time in your daily life to connect to yourself in ways you need most, in stillness there is massive amounts of connection, peace and pleasure
Infusing joy and play back into your life - afterall, pleasure solves problems
Learning to love solitude time (which is very different from isolation) because in solitude there is freedom
Devotion to Nourishment: Learning the ways of our ancestors through kitchen medicine and home remedies
I've also asked a few of my friends to share there infinite wisdom with you in guest workshops, including:
Harmonizing Your Home with Feng Shui with special guest host Kim Downey
Using Your Senses for Expand Your Life Energy with Pam Buchanan
Pleasurable Boundaries with Tazima Paris
Allowing Our Ancestors to Teach Us About Our Innate Gifts with Julie Pacheco
Soundbath and EFT (Emotional Freedom Technique) Tapping for Stress Reduction with Dr. Kirsten Grant
Sensuality and Play for the Feminine Spirit with Tazima Paris
Rewriting Your Personal Story with Jodie Baudek
Feminine Rites of Passage Rituals with Berenice Sanchez
Healing the Feminine will meet virtually on the following dates from 6pm-7pm CST:
Tuesday June 20th, 27th, July 5th (in observance of 4th of July), 11th, 18th, 25th, August 1st and 8th. Please note that while it's strongly encouraged for you to meet with us live, I do understand that scheduling conflicts happen and if you can't make it live, you'll be sent the recording after class has ended each week.
Payment plans are available, please email misty@loveyourlifewithmisty.com to coordinate!
If you can't make this round of Healing the Feminine, make sure to subscribe to my newsletter for announcements and special deals for upcoming cohorts -> mailchi.mp/loveyourlifewithmisty/newsletter
If you aren't sure if Healing the Feminine is for you, I invite you to schedule some time to connect with me so I can answer your questions directly! To book a free 20min call with me, please email me at misty@loveyourlifewithmisty.com and I will send you my scheduling link!
About your facilitator:
Misty Giordano is an Intuitive Life Coach, Speaker and Author. She is a former HR Manager who is now the owner of Love Your Life, LLC where one of her proudest accomplishments is helping support her body through autoimmune issues like Discoid Lupus and Grave's Disease to a current state of remission. Every teacher, resource and piece of knowledge Misty shares comes from her own lived experience using these tools and modalities to support her body to heal itself. Afterall, that's what our bodies most want to do is heal, and we get to learn how to support that mission.
About the organizer
Intuitive Life Coach, Speaker and Author
Love Your Life, LLC
misty@loveyourlifewithmisty.com
All offerings available here: https://campsite.bio/loveyourlifewithmisty
Connect with me:
Instagram, TikTok, LinkedIn, YouTube and Facebook: @loveyourlifewithmisty