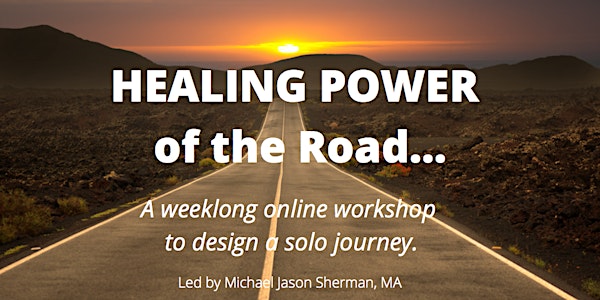 HEALING POWER OF THE ROAD - A Weeklong Workshop to Design a Solo Journey
HEALING POWER of the Road is a weeklong online workshop teaching you how to design your own transformational solo journey.
Refund Policy
Contact the organizer to request a refund.
About this event
Hi friend.
This is Michael Sherman. I'm an author and a coach who helps people with transformational mind/body healing and wellness in life and work.
I'm here to tell you about a special learning experience that teaches us a healing process that integrates the power of movement and traveling with focus, intention and emotional freedom.
It's called HEALING POWER OF THE ROAD, it's a weeklong online class, and it will teach you to design and go on your own transformational solo journey.
Below: me teaching at HPRC The Connection in Eureka California.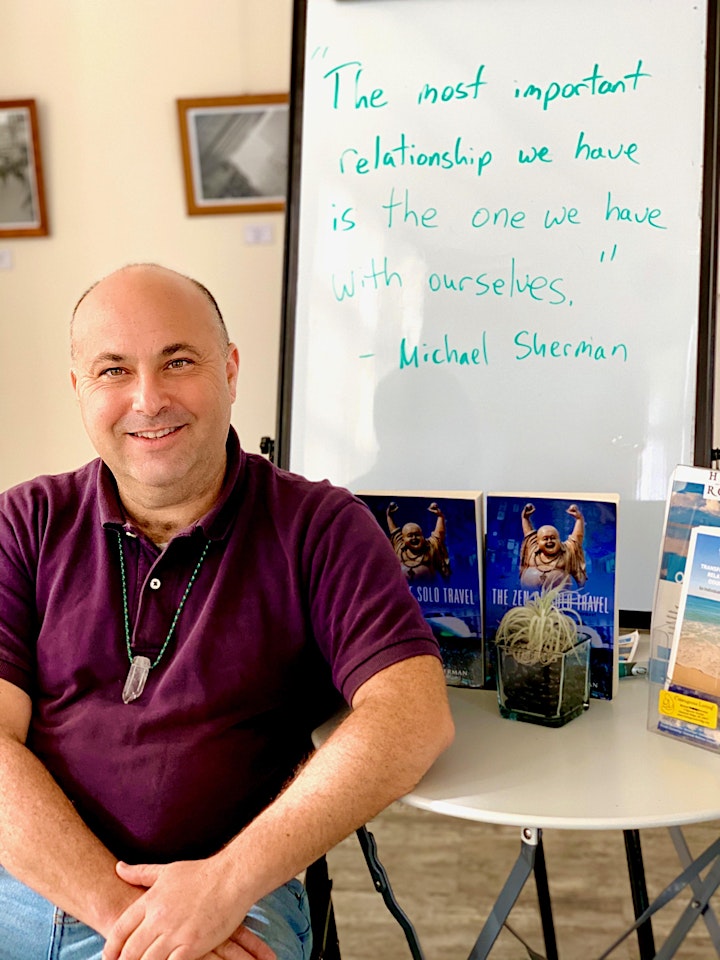 "Michael's methodology is brilliant and his workshops are outstanding."
- Hope Stanger, Holistic Health Consultant and Speaker
*
HEALING POWER OF THE ROAD online workshop happens like so:
We go from Sunday to Sunday, helping each person design a personalized, healing, transformational solo journey, which they may take during the week of the class, or sometime after workshop is over.
We have 4-5 zoom classes during the week, all of which start at 6pm Pacific Standard Time. Each class lasts an hour, and each class is recorded and emailed to you the next day that you may watch on your own time. Figure that classes will be Sunday, Tuesday, Thursday, and the following Sunday, or a schedule similar to this. These classes build upon each other to help you design your own "solo."
You also will receive two E-coaching sessions with me, where I will give you written coaching feedback on the assignments that help you design your solo journey.
We set aside the final weekend of the class for each member to try a brief (optional) solo somewhere. Others use the class to plan a later trip, or simply to learn.
That's it. We learn together and leave somewhere to be with ourselves. Then we come back the final Sunday for a graduation class, to share and celebrate all of us and hear from those who attempted the solo journey process for positive feedback.
*
"The HEALING POWER OF THE ROAD online workshop taught me a powerful and accessible holistic process that combines self-awareness, communication, meditation, and movement to help me heal and grow as an individual. I am grateful to have learned this process which will continue to add to my personal development for the rest of my life."
- Dave C., Graduate of the Online Intensive and multiple solo travel journeys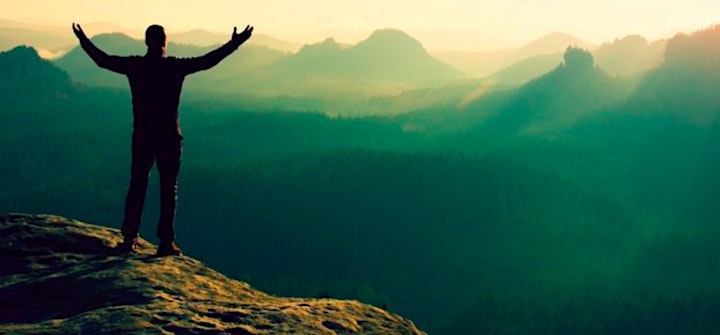 Your solo and the design of it is done with the purpose of personal healing and empowerment for you and you only. It teaches you to create a unique, intentional experience that brings your relief, wisdom, excitement, clarity, renewal and energy --- and it does so with intelligence, inspiration and heart. It is a week of intensive learning focused on making a real impact for you in your life and work. .
Even in these times, we can still lose ourselves in the freedom of a drive on the highway. We can experience movement for movement's sake. And by following this training system, we can access new dimensions of ourselves through the intentional process of taking solos--- readying ourselves for a visualization of leaving everything behind and then actually setting forth on a journey, allowing the road to be our medicine. We go where we are called, and follow our own self-designed program that we created through the learnings in class.
If you are someone who wants to access the spiritual side of themselves, or you simply want to breathe the air of nature, you will love this work.
It has been done by entrepreneurs, leaders from industries such as technology, wellness and entertainment, and by regular people young and not so young, going through real life grown-up changes like marriage and divorce, job change and career dream, or just needing a boost of self-esteem and personal power.
This work is simply about following a safe, structured system to help you return to the rhythm of your own music, to trigger in you feelings of joy, freedom and wisdom, giving you a journey that will support your desires in your life and work.
*
"When I was on my solo journey, I found myself on the Staten Island Ferry staring at the Statue of Liberty. And I remember telling myself, 'This is your mirror. This is what you represent."
- Chanie T. , Has studied solo travel with Michael for more than two years.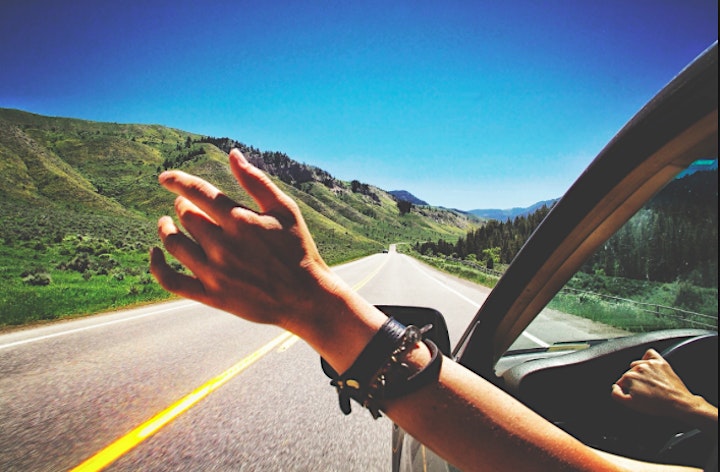 "It's hard for me to put into words what it's like to take a Solo Journey with Michael Sherman's guidance and teaching. It's like flying. I reclaimed my life --- my authentic life. This is a legit, for-real, life changing program."
- Virginia, Licensed clinical psychotherapist who completed 3 solos using this system
*
Your solo can be a hike. Your solo can be on a bike. Your solo can take you far, far away to your family's country of origin. And if that's too far for now or travel is impossible, your solo can take you on a quest to find food from that part of the world.
Your solo should be a deep, personal, healing experience, one that brings you quiet if that's what calls to you, or wildness if that needs to be felt or expressed. The road is a kind of medicine, an emotional state of motion and mystery. The road has a way of spinning us into a feeling orbit we have been seeking to have with ourselves.
If you love the idea of the richness of a journey, you will love this work. People have followed this system to parts all over the globe, yet some have simply found a way to get away somewhere close to home with the intention of connecting to nature or taking action that has unique meaning for themselves. This work is about accessing the energy that lets you try on your new life, while allowing you to move through the hurt, negativity and inevitable change of your current situation.
It's a way of initiating an awakening with the deeper knowing within yourself that comes when we see the road as medicine...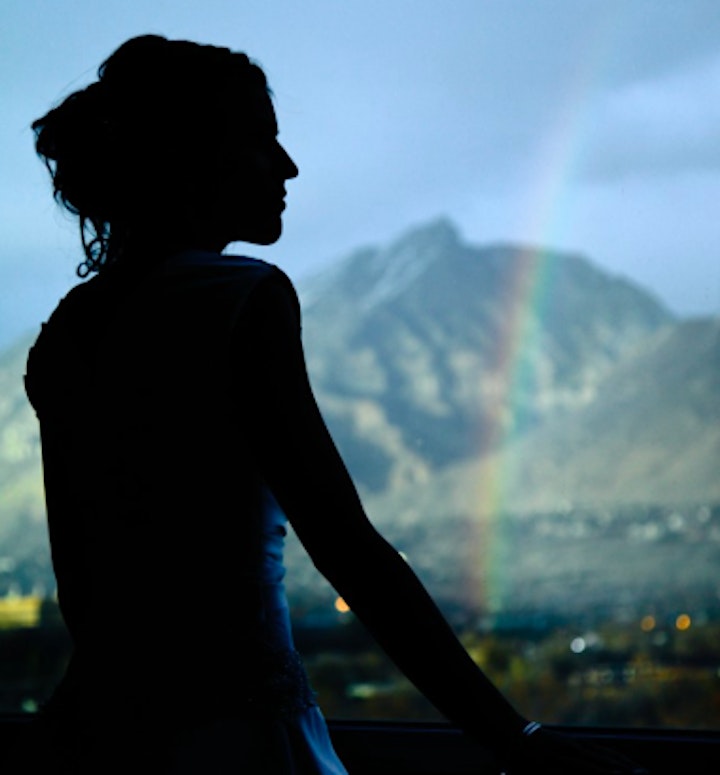 "Working with Michael has allowed me to enjoy my healing journey with much more clarity, ease and authenticity. His compassionate presence has allowed me to trust his process and precise insights. Through solo travel, mirroring communication practice, affirmations and other processes, Michael has allowed me to open up to and own my deepest truths. Now I live from that place and it has improved every aspect of my life. He is a gifted teacher and a masterful guide."
- Chad C., yoga teacher and 4th degree black belt in Aikido, graduate of the coaching program and numerous intentional solos.
*
If you feel in your heart that this week of learning is meant for you, then please sign up for HEALING POWER OF THE ROAD. Advance pricing may still be available.
And if you have any questions about the class or registration, you can reach out to me (scroll further down for email / social options to keep in touch or take next steps).
I believe in this work and I give my best to this class. I've sent many people on their journeys, helping them to experience life in a heightened state of well-being and mystery for a little while. Movement is naturally healing. And the work we do before class to align with the coming movement creates a force of healing momentum that not only gives us a great solo, it changes the perspective we have on our life and work for the better.
Thanks for reading, and be sure to see below about my book, THE ZEN OF SOLO TRAVEL: A JOURNEY FROM ANXIETY TO ENLIGHTENMENT, as well as more about next steps and keep-in-touch options with myself and this healing work.
Much peace and prosperity,
Michael Jason Sherman
MA in Teaching from Seattle University / Certified Imago Dialogue Coach / Corporate Wellness Leadership Trainer / Author and Musician
*
"In the very first moment I spoke with Michael, I was able to sense his deep compassion and wisdom. He provided a safe environment for me to transition through a difficult time. Now I am about to embark on a 3 month Solo Journey around the world. I feel thrilled and nervous and happy all wrapped up into one."
– Diane S., former Coaching Client and co-founder of an on the ground charity in Uganda, who completed this 3 month round world solo journey in 2013