Description
"To heal ourselves and our world we must each become a conscious living system designer"
Welcome, and thanks for your interest in this gathering and masterclass on Saturday 6 April- 09h30 to 1630 PST.
This event is for spiritually inclined activists, enlightened professionals, holistic practitioners, integral savants, jaded ecowarriors, spiral wizards, lovers of jazz and savvy business people, amongst others. This day is designed to deepen your practice, enrich your networks and make fruitful new connections, while helping you map out your personal and professional pathways to a thriving future. Above all, we are not going to take ourselves too seriously, while letting go of any heaviness through laughter and mutual appreciation. We will be playfully serious.
In order to join us and get your free powerpoint guidebook, please click on the green button on the right to get your ticket. Then join us for an experiential, action packed day, where you mysteriously find yourself grabbing hold of the beautiful simplicity the other side of complexity.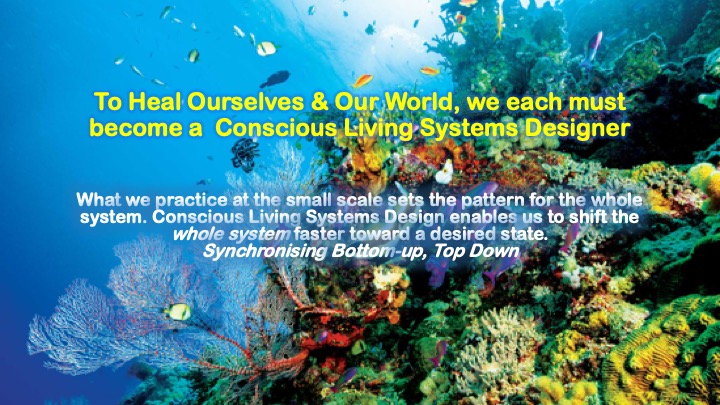 Here is a brief overview of what we'll be doing:
1. Structure of the Day -
This special day is divided into four main parts-
09h30- Arrivals and Welcome
10h00 - Part One - Modelling & Responding to the Global Transition We are In
The Global Shift Model

7 Challenges & 7 Responses

Break out into small group exercise
11h15- Refreshment Break
11h30- Part Two - Becoming Conscious Living Systems Designers
The Conscious Living Systems Design Model

Mapping Change and Transformation in our Lives and the World

Break out into small group exercise
12h45- Snack Break
13h30- Part Three - Architecting Thriveable Worlds
Six Pathways to a Thriving Future

Mapping Your Journey to Thriving on the GOOD CUBE

Break out into small group exercise
14h45- Refreshment Break
15h00- Part Four - Shifting Minds, Capabilities, Cultures and Worlds
Fractal Leadership & Hierarchies of Self-Actualisation

The Personal, Organizational and Social Alignment Wheels

The Dynamics of Mindsfhits, Capability Shifts, Culture Shifts and World Shifts

Working in Pairs on your own challenges and responses
16h15 - Final Plenary
16h30 - Closing & Farewells
2. Your Change Response Type-
Ensure you've completed the change response survey (takes a minute or so) in order to enable us to assign you to a group in the small group exercise during the event. The survey appears at the top of the page under announcements in our Facebook group, which you are invited to join if you've not already done so (under "Announcements")- http://bit.ly/hohop7
3. Your Powerpoint Show -
Download and/or View the Powerpoint show for the event from Onedrive to familiarise yourself with the agenda, models and questions we will be exploring together. We look forward to welcoming you to stimulating new insights and rich conversations!
Warmest regards
Robin
Dr Robin Lincoln Wood
Now, for a dive into the world of healing ourselves and healing our planet.
1. Pathways to a Thriving Future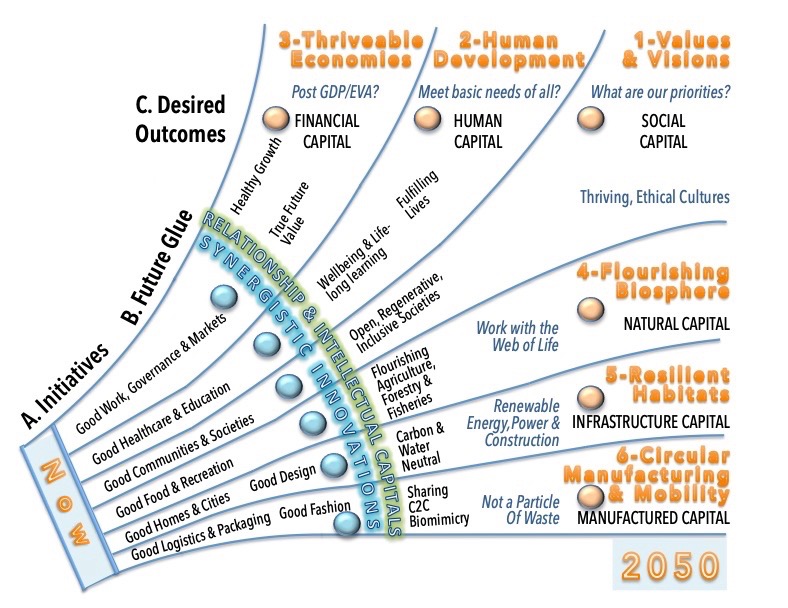 In the first part of the day, we're going to explore the transition we are currently in from degenerative, exclusive, materialistic soulless mono-capitalism to soulful, regenerative, inclusive, synergistic multi-capitalism. My last four books fill in the details of this picture to make a beautiful painting and a soulful melody so you can not only imagine the destination, but begin mapping your own journey. We are already on the path, on the way there, and now we can be be much more precise and specific about what we can each do on the journey.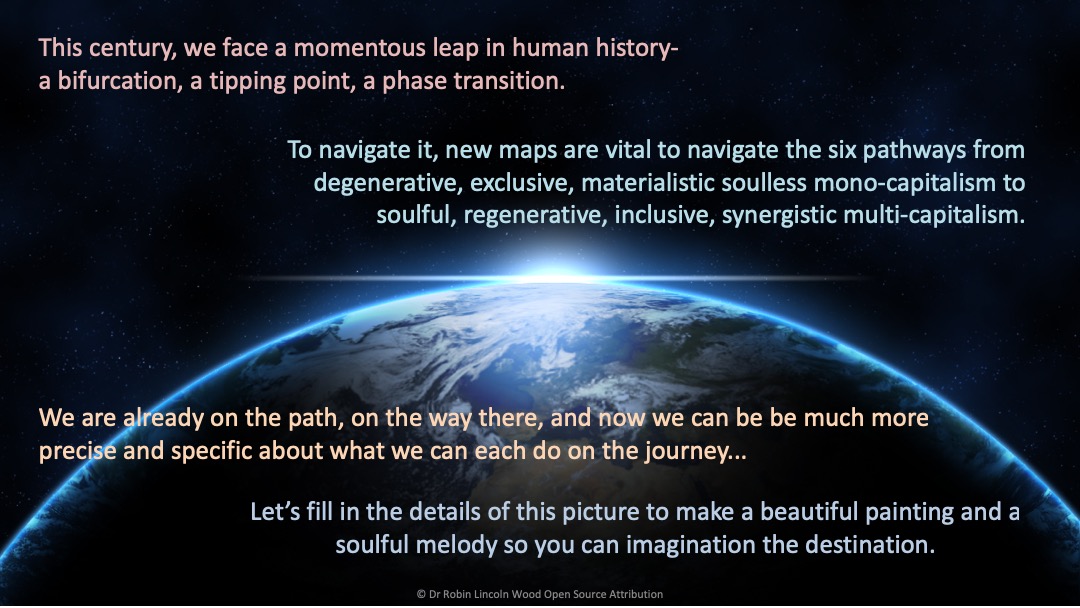 This lively day will appeal to open-minded, curious thinkers and doers making a positive difference in the world, who are interested in sharing their experiences with others, and keen to find ways to feel more whole and better connected in their efforts.
2.

Perspectives and Practices that Heal and Transform
On the practical side, we need fresh perspectives, better models, useful practices plus tools and techniques, to better heal and transform ourselves and our planet. Dr Wood's specialty is working with very diverse groups from around the world to catalyze mindshifts that create thriveable worldshifts, through capability & cultureshifts. This event is designed to help you develop capacities and connections that enhance the mindshifts in each participant enabling them to develop new capabilities in their own personal and professional lives.
There are several golden threads that weave Robin's approach together into a seamless, dynamic whole:
Complexity science and thinking

Cognitive science and multiperspectival approaches to shift mindsets

Process-based value-systems approach to personal, cultural and social transformation

Dynamic models of the interactions between life conditions and human, organizational and social development

The BioPsychoSocioTechno model of human evolution and healing

Meeting people where they are at framed within their potential for upward stretch

Aligning strategic contexts, operating models, values, leadership styles, innovation styles and metrics

Personal & group learning and development modularized into bite-sized, psychoactive chunks

Evidence-based approaches to the higher reaches of human potential.
The key to healing and regeneration at all levels from the cellular to the global is the way in which old wounds and dysfunctional systems are transformed through the liberation of old patterns that have enabled the person, organization, culture or society to adapt and continue despite the weight of history and life experience. We are literally matter and energy self-organizing through information encoded at every level of our being and social structures, which is why we must learn to dissolve and let go of what is not working as gracefully as possible, in order to create space for the new to emerge and embed itself in a healthier pattern of functioning. Such new "patterns that reconnect" form the foundation on which healthy, thriving, living systems can prosper biologically, psychologically, socially and technologically.
Learning to heal ourselves and heal our planet is consequently both a challenging and liberating experience, activating our capacity to experience joy, creativity, lightness and powerful insights into how our lives can be transformed in purposeful, meaningful and productive ways. These events are designed to generate the conditions in which such transformations can be seeded in fertile soil.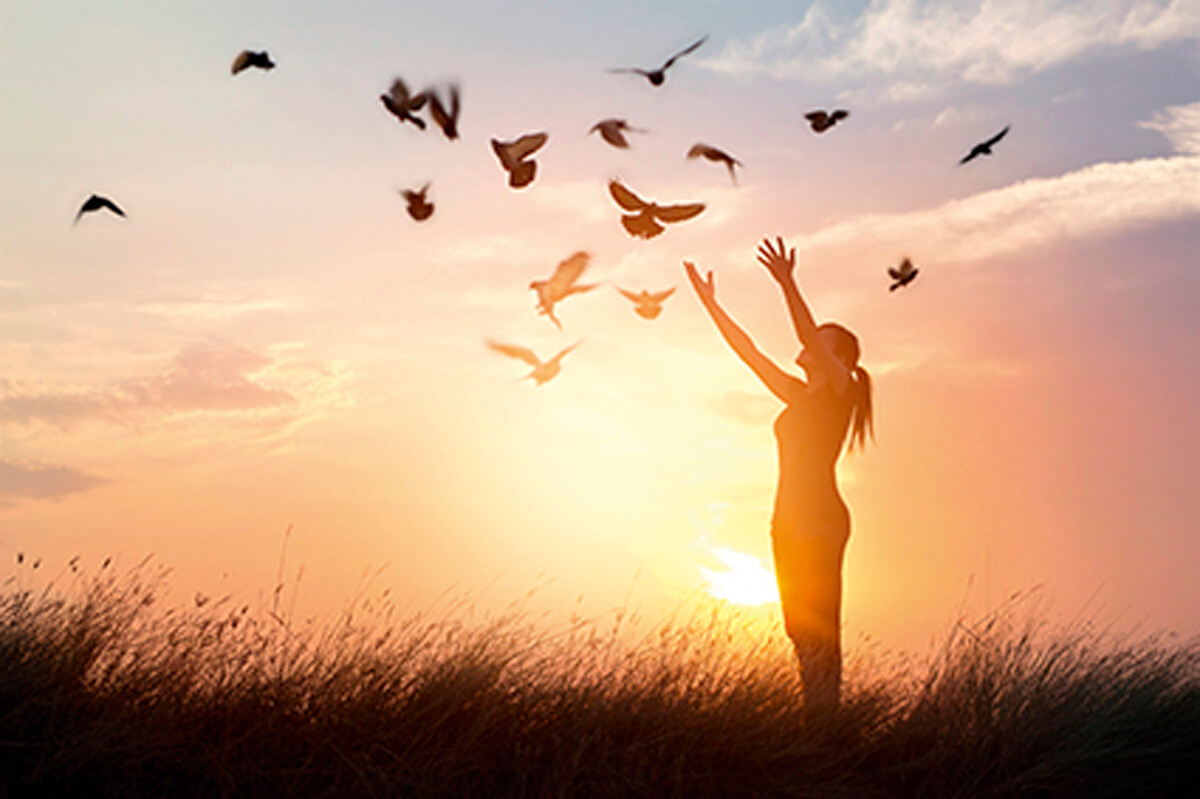 3. Meet Your Presenter & Host
Over the past three decades Dr Robin Lincoln Wood has been a catalyst of personal, business and social innovation and transformation. He has engaged in hundreds of personal development, transformation and social innovation projects around the world and has written eight books about his experiences. He invites you to join him in his current enquiry into how we can remain sane, pragmatically optimistic and become more effective in engaging positively with our current ecological, social, economic and psychological challenges.
Robin's books provide a treasure-trove of useful perspectives and practices that can be mined by participants for the nuggets that they find most useful in their own process of healing and transformation. During these webinars, extracts from his eight books will be featured, and some of the diagnostics and worksheets applied to demonstrate what is possible in triggering healing and transformation.
This series of events on Healing Ourselves, Healing our Planet, is designed to bring together a variety of different perspectives to ensure a holistic conversation that leads to fresh insights and fruitful relationships and projects. We will deepen our mutual enquiries into a wide variety of inter-related topics that are rarely explored systemically, including:
How can we expand our own powers of creativity, resourcefulness and resilience in the face of seemingly overwhelming odds and unprecedented challenges?
What are the key ingredients in successful transformations, whether personal, professional or organizational?
Why are healing and transformation intimately interconnected, and how can we balance these to create elegant outcomes?
What role do the arts, design, innovation and cultural/spiritual practices and rituals have to play in healing ourselves and inspiring others?
Where can we find inspiration and role models for regenerative practices and thriveable lifestyles and organisations, and whom can we connect with to apply what is relevant in our own parts of the world?
How can we implement more organic ways of working and self-organizing in our organizations and communities?
What is needed to transcend our political, religious and cultural differences to work together to make a meaningful difference locally and regionally?

4.

What People are Saying About This Work
The Momentous Leap – Thriveable Transformation in the 21st Century - 2018
"The rewards of healing yourself and healing the planet at the same time, are immense. No matter where you are on your own journey, applying the thinking and frameworks in this book to improve your own practices and skills will help you become more focused and powerful in your efforts. Your fellow travelers are already out there, waiting for you to connect up with them, and make the momentous leap together".
Paul van Schaik – Integral Mentors and Integral Without Borders
Making Good Happen – Pathways to a Thriving Future – 2017
As Robin puts it in the final chapter:
"Making Good Happen is ultimately not just a technical problem to be solved, but an intensely personal journey that will help you become a better person. The desire to create a better world for our children and their children and everyone else's children is strong in many hundreds of millions of people around the world. This good energy is helping each of us connect up with others who are making a difference and making a living by making a difference. It also helps us clarify our priorities: what kind of a legacy I am leaving in this world? What will they write on my tombstone as my epitaph?"
From where I sit, it is very clear that the younger generations now moving into positions of leadership want to live a life of authenticity, and of meaning – and this is becoming far more important to all of us than the things we may aspire to own. This poses a challenge and an opportunity for brands who wish to stay relevant in the future. Now that we have grown into a global community of change makers who understand not just the responsibility, but the opportunity embedded in re-infusing our businesses with sustainable purpose -- what's needed next is for us to collectively tap into and accelerate an emerging new vision for the "Good Life."
I heartily recommend "Making Good Happen" as a handy and accessible guide on that journey.
KoAnn Vikoren Skryniarz - CEO/Founder of Sustainable Brands
Synergise! 21st Century Leadership - 2017
"Every few years a book comes along that you know sits within a special group of books that provides thought-provoking insight into the waves of change taking place. Two of those were Alvin Toffler's Future Shock (1970) and The Third Wave (1980). Another is The Fourth Wave by Maynards and Mehrtens (1993)... That special group of books now has another added to it: A Leader's Guide to ThriveAbility...We are in a time when the 'fourth wave' is breaking through, a time of considerable change and uncertainty, and this is an excellent handbook for designing a positive and hopeful way through that wave."
Michael Gell
A Leaders Guide to ThriveAbility - 2015
"It is a masterpiece with a new holistic theoretical framework that could support innovation and transformation in business and society."
Dr Michael Braungart - Co-Founder of Cradle to Cradle
"The investment community and big business need "integrated thinking" at every level. This is central to delivering a sustainable, positive and regenerative role in the economy. It is also fundamental to capitalism's social license to operate. The ThriveAbility operating system is a serious first step toward that."
Dr Steve Waygood - Chief Responsible Investment Officer at Aviva Investors
"Amidst rising global expectations of what constitutes responsible business, incremental improvement must give way to a transformational approach to corporate valuation and value creation. In the future, the valuation of a company must accord parity to all forms of capital. The ThriveAbility Index, which embraces integrated decision-making and innovation, is a potentially major contribution toward closing the gap between contemporary practices and societal expectations."
Allen White - Co-Founder and Former CEO of GRI, (Global Reporting Initiative), Founder and Co-chair of GISR (Global Initiative for Sustainability Ratings)
"ThriveAbility brilliantly captures what every leader, every business and every change-agent should embrace - a positive vision of how we can flourish as enterprises, as communities and as people. ThriveAbility is the opposite of denial; it is positive engagement with challenges and proactive creation of solutions."
Dr Wayne Visser, Director of Kaleidoscope Futures and author of Sustainable Frontiers
"When Interface started its journey in 1994 to become a restorative enterprise, there was no handbook to help us find our way towards that outrageous goal. We think the "Leaders Guide to ThriveAbility" helps today's leaders to climb their own Mount Sustainability, and support the thriving of their own employees and organisation, as well as the world."
Geanne van Arkel, Head of Sustainable Development, Interface Benelux
"I am excited about this book... A Leader's Guide to ThriveAbility offers a sound roadmap to help us companies to learn how to 'enhance the ThriveAbility of itself and all its stakeholders." Deeply well researched and a remarkable synthesis of the front edge of our knowledge about ecosystems, and businesses' impact on them, as well as about what it means to aspire to a world where we are each encouraged to be truly human and truly thriving, A Leader's Guide to Sustainability joins my list of must reads for anyone entertaining the prospect of being involved with 21st century business – and that means everyone!"
Koann Vikoren Skrzyniarz, Founder/CEO, Sustainable Life Media & Sustainable Brands
The Trouble with Paradise: A Humorous Enquiry Into the Puzzling Human Condition in the 21st Century - 2014
"If human beings are going to actually make it through the 21st century – and not just surviving, but "thriving"- then an integral, a-perspectival approach is certainly starting to appear to be the only truly viable path forward. Robin Wood explores just such an option - take the following pages as an introduction to this "monumental leap in meaning" that does, indeed, appear to be the face of the future for all of us."
Ken Wilber- Founder: Integral Institute and pioneering integral philosopher
"The Trouble with Paradise" is a "Guide for the Perplexed" in the twenty-first century reflecting modern concerns. He presents these with a lightness of touch which means that the book more than lives up to its promise as being "a humorous enquiry." The book has more the style of a discussion with a friend over meal or drink than of a public lecture.
Graham Mummery – Psychotherapist and Poet
The Great Shift: Catalyzing the Second Renaissance - 2009
"As a lifelong champion of conscious evolution, I see The Great Shift as a seminal contribution toward our ability to evolve consciously... Covering major themes of self, social and systematic evolution, "The Great Shift" is one of the most comprehensive coherent and strategic plans of action on all levels – this is the guidebook on how to make a whole system shift in our lifetime."
Barbara Marx Hubbard – Pioneer futurist and acknowledged founder of the global transformation movement
"Dr. Robin Wood shows brilliantly… where the sweet spots are that allow us to change the fate of humanity. With a clarity that makes it easy to comprehend his arguments he shows that you have to engage on every level, be it personal, local or global. Using the integral framework, he shows how being and becoming in the 21st century can lead to a conscious evolution of our world, how we can put in place the solutions that are out there and how we can turn the wheel towards a thriving future instead of certain extinction we are facing due to the challenges in our century."
Jonothan Klodt
Managing Complexity: How Businesses can Adapt and Prosper in the Connected Economy – 2000
Sunday Times Book of the Week and Director Magazine Book of the Month
"A must read for those concerned with unfreezing the corporate mind and allowing it to take advantage of the opportunities offered by the new e-era"
John Seely Brown – Former Director of Xerox Parc
"Answers the prayer of all managers who desperately need a practical guide to how business can survive in the new economy"
Napier Collins – Founder of Global Business Network
"This is the dotcom bible."
Amazon reader review
"Complexity science is the most powerful tool I've come across for fixing the mess we have made of management. Robin Wood's strong grasp of the science is evident throughout these pages, no less than his skill in applying it to the real world of strategy, creativity and leadership."
Amazon reader review
"As a practicing manager this book is by far the most useful of the dozens of texts that have come out in the past few years. Instead of the grand principles of the scientists, or the jargon of the complexologists, Wood tells us how to use specific tools and techniques, as well as develop complexity thinking- as he says, complexity is at the same time a method, a mindset and a movement. There is plenty of meat here for everyone. Enjoy."
Amazon reader review