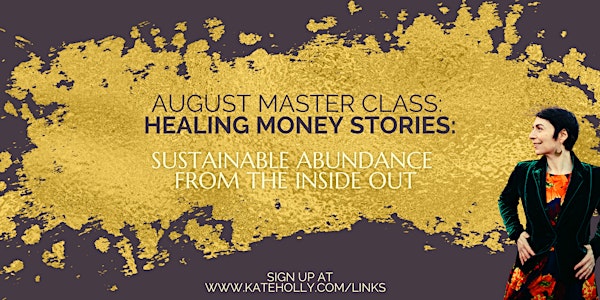 Healing Our Money Stories: Sustainable Abundance from the Inside Out
What if we can have BOTH stability, abundance and ease in our relationship with money AND a more equitable, sustainable economy for all?
About this event
Living through late stage capitalism is hard, am I right?
Whether you are trading your time for dollars, living in the uncertainty of entrepreneurship, or juggling a patchwork of income streams just to get by, most of us desire more freedom, abundance, stability and ease in our relationship to money.
Yet that relationship is fraught with our complicated feelings about money, which is a normal response in an economy and system that is inequitable, exploitative and unsustainable.
Money mindset work is often done in isolation, but the truth is money is a shared fiction, and the way we collectively make meaning from it matters. In this master class we will:
-Explore common disempowering money stories that heart-centered entrepreneurs and change makers struggle with.
-Work through journal prompts, facilitated conversation and spot coaching to support awareness of your unique money stories.
-Learn tools for shifting money beliefs in an authentic, ethical and practical way that will help you move towards the results you are seeking financially.
-Vision a more equitable and just economy, and how our money stories can be part of creating that.