Description
We're excited to welcome Clay Harrington, evangelism pastor at the Vineyard Church of Central Illinois, for this special weekend designed to help you more effectively share the love of Jesus with the people around you.
Schedule
Session 1: Friday, April 13th, 7-10pm
Session 2: Saturday, April 14th, 9am-12pm
Lunch break: 12-1pm
Session 3: Saturday, April 14th, 1-3pm

About Healing on the Streets
Healing on the Streets was founded in April 2005 by Mark Marx from the Causeway Coast Vineyard in Northern Ireland. It is a simple, but beautiful way, to reach out to the lost and hurting on the streets of your town or city. It enables you to connect with your community every week, powerfully expressing God's love, whatever the weather. We simply invite people to sit on chairs so we can pray for them.
The HOTS model is simple yet profound, gentle yet powerful, full of God's presence and brimming over with love. We create a thin place on the streets where heaven and earth meet, and people can encounter Jesus. It is marked by a true sense of peace. Amongst the hustle and bustle of busy pedestrians, walks the Prince of Peace. The kingdom comes, stillness falls; passers-by begin to slow and stop, as the deepening presence of God draws their hearts. Over time we build relationships, creating stepping stones for people to come to Jesus, and be healed along the way.
For more about Healing on the Streets, visit www.healingonthestreets.com
Healing on the Streets Columbus was launched in May 2016 on the corner of Broad and High, in front of the Ohio Statehouse. Our diverse multi-church team of all ages is united in our desire to help people encounter the love of God. Together we've seen many different types of pain and conditions healed, and lives forever changed. This has been a wonderful and supportive place to practice the lifestyle we see Jesus and his disciples demonstrating in the New Testament.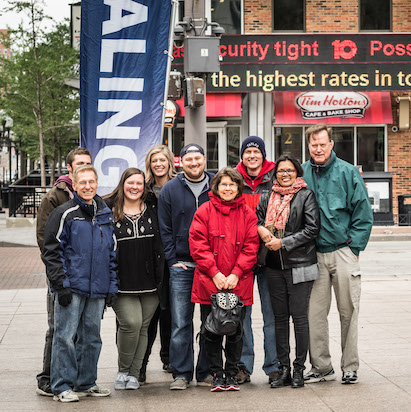 FAQs
Is it worth coming if I don't plan on ever participating in Healing on the Streets?
Yes! The theology and practical skills that we'll be learning are valuable and applicable for everyday situations and not limited to Healing on the Streets.
Am I committing to be a part of the Healing on the Streets team if I come to this event?
Nope! There is no schedule or roster for our Healing on the Streets. We trust that God sends the right people every Saturday, and so far this has been our experience. If you want to be involved you can come every single week, occasionally as your schedule allows, once, or never. :)