Healing Music Festival

Sunday, October 12, 2014 from 11:00 AM to 6:00 PM (PDT)
Event Details
Healing music performances all day, on the main stage in a beautiful outdoors Redwood Amphitheater, situated on a pretty pond.  
Advance purchase of $25 gets you entry into the Healing Music Festival for the day, where you can relax and experience healing music under the Redwood trees.  Or kick up your experience a notch and take a guided walk around the Labyrinth, get a massage, try a sound healing session, sample music therapy.
Live performances by 7 groups and musicians, throughout the day, starting every hour.  Healing sessions and massage, labyrinth walks, all available at $15 - $20 each, for 20 minute sessions. 
Healing jewelry, special healing candles, customized flower essences, and more will be available on site, for purchase and to experience.  
Sign up in advance for energy medicine, sound healing, music therapy, and guided labyrinth walk sessions. All day event from 11 am - 6 pm. All ages.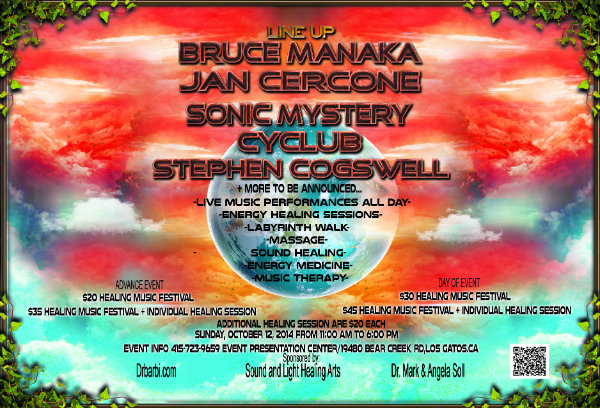 ARTIST LINKS to Sample Music
Marya Stark: Marya sings like it is, about what hurts, what feels good, and everything in between, making it all seem so sureal and bearable at the same time. She has a hauntingly beautiful presence and her performance on this magical morning in the redwoods is not to be missed! http://maryastarkmusic.com/music
Stephen Cogswell:   Soulful hip singer songwriter Stephen Cogswell brings his dancing vocals and a special guest violinist / stand up bass player to our event  www.stephencogswell.com/news
Sonic Mystery:  This trio of lovely energy healers has helped put me on my path of producing live healing music events.  Collectively, their power increases, as the sounds they produce carry over and into your body, soul, and heart.  You will experience the didgeridoo, shruti box, crystal bowl, rattles, and Tibetan bells as if you were in a long ago forest of healing... Rich Raffals, Karina, and Jovani make up the three-some and each of them will be available for healing sessions at the event stations.  Bios here
Bruce Manaka:  A divine being of light, Bruce is an artist, an author, a former monk!, and a healing musician. Listen to some of Bruce's music here, see his art on his website, which will be for sale at the event, and check out the podcast interview I did with Bruce, where he tells about how sound moves inside the body, and produces feelings that can lead to healing, and even bliss :)  www.manakastudios.com
Gail & Michael:  Lovely and empowering, as well as thought provoking and inspirational. They perform a blend of spirit based music with vocals, giant gathering drum, wooden flutes, brass, and glass bowls, improvising meditational synthesizer/drum music. You will have to experience Gail and Michael on this day, to find out how you are enhanced and awakened by feeling their sound waves wash over your mind and body... Preview https://soundcloud.com/shamansound/holyrain_2
Jan Cercone:  A visit by an angel, is how I describe the voice of Jan Cercone singing over you, as you are carried away from the stresses of daily living, into a joyful, peaceful, intervention of healing and calm.  Her waves of various sound modalities can include crystal bowls, Tibetan chimes, and all sorts of interesting facets. You have to experience Janon this day, to see what she has in store for us!  Watch Jan's video on The 3 magic keys to Music and Sound Healing, How to raise your vibration and dissolve headaches and grief!!
Cyclub:  Japanese High Energy Solar Power Message for Healing with Heart, Junko Suzuki Parsons heads up this wild ensemble convinced that the Japanese population harmed by the nuclear radiation in Fukushima will be recognized and their suffering alleviated through the power of her music, just as she herself was healed. Here's my favorite song of theirs, written by Junko, and I love the tuba in this one!  http://cyclub.me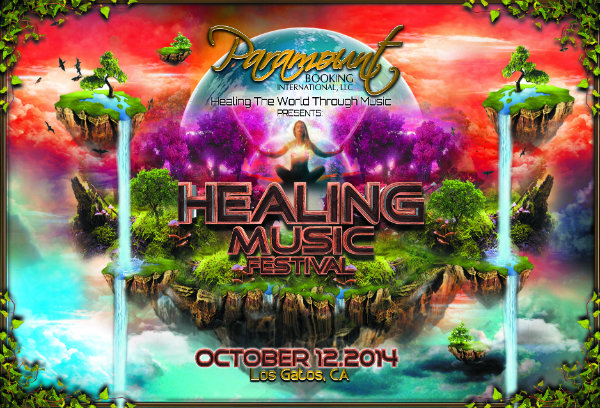 When & Where

Event Presentation Center
19480 Bear Creek Road
Los Gatos, CA 95033


Sunday, October 12, 2014 from 11:00 AM to 6:00 PM (PDT)
Add to my calendar
Organizer
PARAMOUNT BOOKING INTERNATIONAL  www.paramountbooking.com 
Our Mission is: "Healing the World Through Music". We provide quality music entertainment with the intention of creating well being, harmony, restoration, and promoting wellness and transformation for individuals.  By shifting the energy, we create a new reality. 
HEALING THE WORLD THROUGH MUSIC.  We combine music, sound healing and energy healing to create amazing shifts in people's lives.