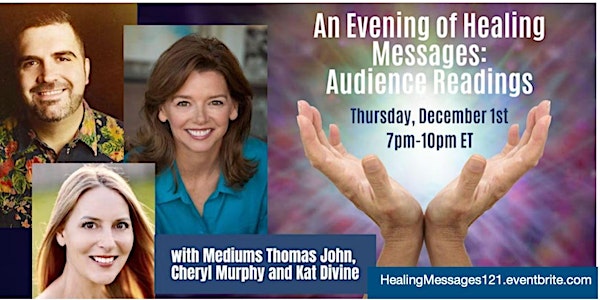 Healing Messages w/ Mediums Thomas John, Cheryl Murphy and Kat Divine
Join Mediums Thomas John, Cheryl Murphy and Kat Divine for a sacred, special experience where Spirit communicates out of love for you.
About this event
Join Mediums Thomas John, Cheryl Murphy and Kat Divine for an evening of connection to spirit from the Other Side on Thursday, December 1st at 4pm PT/7pm ET. All three mediums will provide as many readings for the audience as they can during this 3-hour session. This is a great way to tap into the afterlife and experience a connection with our passed family and friends. Whether you or someone else receive a message, it is amazing to witness all three of these mediums channeling and delivering messages from spirits from the Other Side.
Many ask if a virtual reading is still possible even though the readers cannot see me and/or because it is virtual? Simple answer – yes! It doesn't matter if they can see you or not. The energy still passes through computers and smart devices. The mediums meditate before the event and begin receiving messages energetically and vibrationally to be able to deliver messages to those in attendance.
How this works:
1. Once you purchase a ticket, you will receive the Zoom login information. The details will contain information on how to log into Zoom through your cell phone, landline and/or computer device.
2. There will be a chat room where you can message all three mediums(along with an office moderator) and the other attendees.
3. When being read, they will unmute you and provide you with their messages!
4. You will also receive a recording of this event a few days after the event.
**Please keep in mind that the purchase of a ticket to this event does NOT guarantee that you will receive a reading.
Note, there are no refunds on tickets. If you miss an event we cannot move you to a future event.
About Thomas John
Thomas John is a global psychic sensation who has impressed audiences with his accurate messages from the Other Side & is constantly in high demand with influencers and those at crossroads in their life. Thomas has also been a trusted advisor to celebrities around the country, including Courteney Cox, Sara Gilbert and Goldie Hawn. Thomas also aired his first television show: Seatbelt Psychic on Lifetime (2018) & his first novel, Never Argue with a Dead Person: True and Unbelievable Stories from the Other Side, was published in 2015. In recent years, his infallible track record and down-to-earth approach has lead him to being known as one of the world's top psychics.
About Cheryl Murphy
Cheryl Murphy is an accomplished Evidential Medium, Psychic, Animal Communicator, Health, and Wellness Intuitive. She first experienced the spirit world at the age of three recalling a glowing orb floating through her bedroom. Growing up, psychic phenomenon naturally occurred in her home. All the female family members experimented with metaphysics and she and her brother practiced together when they were children.
Her aspiration to work professionally in the spirit realm started when she was just thirteen years old. Destined to attend university, she chose psychology as her major, the closest field to metaphysics at that time. But after a profound psychic experience, Cheryl couldn't ignore her calling and immersed herself in mediumship and advanced metaphysical studies and has been reading professionally for clients for more than 20 years.
Cheryl channels departed loved ones and uses her abilities to guide clients in making life path decisions. She practices animal communication, authors articles on spirituality, and teaches intuitive development to students worldwide. She is the founder of The Healing Prayer Circle, and a member of Find Me, a non-profit organization focused on locating missing persons.
About Kat Divine
Transforming lives around the world, Kat Divine, a Spiritual Practitioner, Evidential Medium and Psychic Intuitive, shares her gifts by directly working with the flow of source energy and the unseen world of spirit to work with and through her. She has developed an extraordinary ability that helps to uplift and heal from the surface deep into the multidimensionality of our souls.
Kat Divine's work is recognized as a Psychic Intuitive, Spiritual Medium, Energy Healer, and Transformational Soul Coach. Kat is a natural-born medium that was handed down to her from generation to generation, although, it was only after her studies with some of the best national and international tutors from around the world, as well as from the Prestigious Arthur Findley College in the UK, when she fully stepped into the role as a full-time spirit medium and spiritual practitioner. Kat's well rounded and advanced abilities connecting to the spirit world have given her clients peace, clarity, validation, and healing. Her readings are heart-centered and compassionate. Her advanced certifications and studies include spiritual practitioner, certified psychic medium, transformational spiritual life coach, intuitive healing, psychic and evidential mediumship for people and pets, trance mediumship, LMT and many other spiritual practices and modalities. She is a best-selling co-author of The Last Breath: True Stories of Mediumship, the Afterlife & Messages From Heaven and she can be heard as a guest speaker on the Hay House Radio Show with James Van Praagh, "Use Your Intuition To Tune Into Your Pet!" Kat is vetted and tested as credible and legitimate through a former private investigator, Bob Olson.