Refund policy
Contact the organiser to request a refund.
Eventbrite's fee is nonrefundable.
In this seminar we learn how to heal our own trauma and help others heal their trauma through Process Oriented Psychology techniques.
About this event
Living in times of great stress and conflict means we are often flooded with so much of our own, our families, and our people's hurt that we can't process it, digest it, move it through us. Instead we go into symptoms of trauma and post traumatic stress. In this seminar we have an opportunity to learn how to heal our own trauma and help others heal their trauma through the latest techniques and approaches from Process oriented Psychology. This seminar is for anyone working on their own trauma healing plus doctors, teachers, therapists, counselors, and other healing professionals who comes into the role of healing trauma.
Online seminar - PLEASE NOTE THE DATE CHANGE
A normal seminar would run 2,5 days over the course of a weekend. Due to the pandemic we host this seminar online over 4 sessions running on Fridays starting 12th of March 2021. Four sessions of three hours will be held 12th, 19th and 26th March, closing on 30th of March on a Tuesday. This seminar can be taken alone or part of a series of seminars that leads to a certification from the Process Work Institute in Portland, Oregon.
Is this seminar for me? 
This is a specific training for human rights, peace, and political activists, facilitators, organizational development practitioners, psychotherapists and other interested people worldwide. The training is open to everybody interested wanting to integrate this approach in their professional field and / or use it for personal development. This seminar includes:
• Healing personal trauma
• Healing historical trauma
• Working with the role of trauma in body symptoms
• Moving from trauma victim to empowered world changer
• Exploring new concepts of core wounding and mythical powers
Besides exercises and various contents, we will work actively in the group of participants with traumas and historical topics. Be prepared to go deep together.
Process Work and certification
An off-shoot of Jungian analytic psychotherapy, Process Work is an awareness practice that incorporates  physical, interpersonal, and world healing. Its methods are applied in a wide range of situations: as a form of inner work or self-therapy; a facilitation method for group work, conflict situations and large public forums; as a therapy method for individuals, couples, and families; mental health issues such as addictions, depression, anxiety and panic disorders; working with chronic symptoms; and death and dying, grieving and loss.
This is the first of 6 seminars, which are part of a two year certification track. You will receive a certificate for each seminar individually, but have the option of going deeper into a full certification track. Find out more here: https://www.shift-foundation.org/wp-content/uploads/2020/12/HH_Certificate_program.pdf
Instructors:
Dr. Gary Reiss, LCSW, PhD, certified Process Work trainer, teaches this work worldwide. He has a private practice in Eugene and Portland Oregon in the US and is the director of the International Peace Group that works on Healing History in Europe, the Mid East, Japan, Africa, the United States, Canada and other countries. He is a senior faculty member of the Process Work Institute. He is the author of 13 books including Healing History, published in 2018.
Gary has a private practice in Oregon and teaches worldwide. His specialties include family therapy, organizational development and conflict facilitation in hot spots around the world. This program is co-hosted by SH!FT foundation, learning institute for personal and societal transformation.
Costs workshop
Full price: €350,- for the workshop. 
Support price: €225,- for the workshop 
Get in touch for scholarships via connect@shift-foundation.org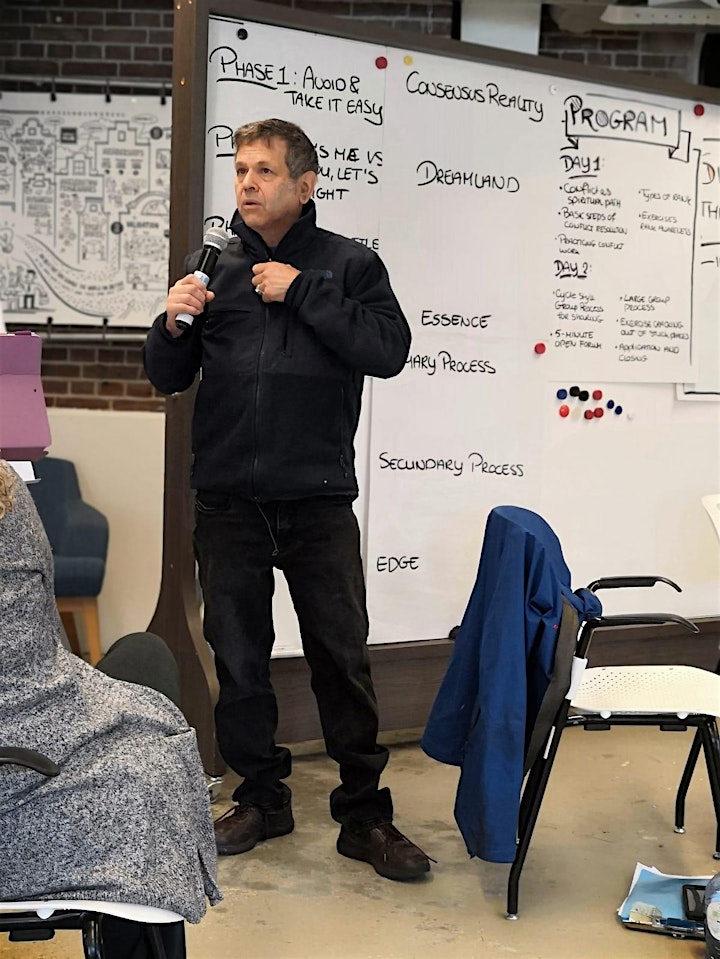 "Healing History was such a powerful and profound experience that open my heart to see how much we carry from our history which is shaping who we are today whether negative or positive. . If it was only positive we would celebrate for ever but we carry a lot of woods and trauma from colonization negative practice from our ancestors that l have realized which is taking control in our today leadership and taking our lives negatively. I came to realize the power of inner work that l could work which l appreciate from Gateway . Deeply understand and appreciate my self first, my environment, my community have open a positive mind-set that during healing history l could have time to look at what l appreciate from my history and put more energy so that l can bring positive energy from the past . & when we carry things from the past we only carry what was good & Through diversity of people from different corners of the world l have realized that we have same historical challenges and this challenges can be only resolved with us through listening to our self come together support each and build the better future for our future generation. Its us and it's now."
Admire Gwatidzo - participant healing history seminar
"The Sh!ft team hosted an incredibly enlightening workshop led by Gary Reiss of the Process Work Institute. It was attended by over 20 participants from Brazil, Denmark, Kenya, Poland, the USA and Zimbabwe to name a few.
Healing histories works on the premise that histories are repetitive for as long as they go unacknowledged. We all carry personal and historical trauma that needs healing from multigenerational psychological inheritance. It can be applied to individuals, families, communities, nations and to address translocation and transnational issues as well. It can therefore also be applied to a myriad of challenges. Participants are engaged in diverse social change work at various levels from working with young women to uncover the subjugation silently imposed by romantic love over many generations and how to take back their power, setting new standards and norms in relationships that encourage health and wholeness to dealing with communal trauma caused by manmade or natural environmental disasters such as land degradation by big corporations to cyclones and hurricanes.
Healing histories would be helpful in Zimbabwe as we as a nation carry a physiological inheritance of trauma through a history of violence. We have wounded leaders who have become powers that oppress and wound others. To disrupt this cycle we need to work to bring healing on many levels by uncovering the unspoken and bringing light to what is lurking in the shadows beyond simply talking about it though this is a good first step. Healing histories then works with the emotions arising in a way that promotes healing.
In the Gateway we can continue to socialise our community of practice in various spaces through immersions. Encouraging engagement of the body and soul with all it's senses and intelligence that goes beyond the left brain logical approach sets the stage for the level of depth and presence required to do this kind of Healing get work. This method of engagement confirms the need to combine efforts by Gateway and Citizens' Manifesto as it encourages the efforts of all methods of positive social change where previously process work and activism were polarised because activists believed process workers were focused only on inner work and no action and process workers saw the pitfalls of the culture of violence, burn out and overall lack of healing with activism. The Dalai Lama said, "Meditate then get off your cushion and use your centeredness to bring change to the world."
My take home points were:
●To create spaces to do inner work in broader spaces- meditation gives guidance on how to move into action. There is a global need for new pathways that lead to health and wholeness.
●To identify our rank and social, psychological and spiritual power and use it to bring social change.
●To work on every level- with the leaders that we have access to and at a very local level, in the communities and with individuals.
●That every action counts- if you won't go to the streets, start with a conversation at the dinner table about the reality of social injustice and the need for social change.
This was an introduction and I can already see how more understanding, internalising and living out these methods would be incredibly enhancing to the work in the Gateway and to my personal history which is all inextricably linked. We have been healing histories since the day we were born and all our life experiences have shaped who we are and brought us to our purpose. It all belongs.Healing Histories introductory workshop"
Michar Kumalo - participant Healing histories seminar