Healing Hike & Circle

Sunday, August 16, 2015 from 10:00 AM to 1:00 PM (EDT)
Event Details
    Lets take a hike and connect to the energies that sorround us.We will meet at a secret spot in Amelia Earhart Park and experience these beautiful grounds first hand. Afterwards join us for a healing circle where we will cleanse,realease and empower.Lastly we will wind down with a picnic by the water to reflect and discuss the messages recieved throughout the day.
What to bring
Water
Bug Repellent
Journal & Pen
Sneakers
Comfortable Clothing
Hats/Sunglasses
Bagged Lunch
Blanket /Yoga Mat
Once your ticket is purchased you will be contacted witht the exact location we will gather.
Any Questions call us at 305-953-5546
When & Where

Amelia Earhart Park
401 East 65th Street
Hialeah, FL 33013


Sunday, August 16, 2015 from 10:00 AM to 1:00 PM (EDT)
Add to my calendar
Organizer
Welcome to The Witch's Garden A Mom & Pop online shop and community organization Est. in 2004
We are available daily, by appointment for Oracle Consultations, Chakra Readings,
Reiki Sessions,
House & Business Blessings, Custom Ritual Preparations ,Wicca Classes , Psychic Development Courses ,Women's Empowerment ,Private Apprenticeships and
Training, Witchcraft Amulets & Jewelry ,Custom Creations & more locally in the comfort of your own home or worldwide online.
Together Armando and I along with our tribe are on a mission to unite people of all ages and religious backgrounds encouraging self expression and exploration as the key to awakening .We are eclectic witches and embrace who we are by crafting our products and gatherings with pure intentions and the specific energies needed for each person and time infusing the world with peace, tolerance and magic .Each Season we celebrate life and connect with the elements with a growing community of all ages ,paths and religions at Amelia Earhart Park were we gather ,share a dish ,drum then end with a release and recharge cleansing ceremony with an interactive spiritual discussion. It is a great opportunity to meet local mystics and spend a day outdoors in a beautiful park. time we gather outdoors and invite the public set an example as we grow and learn from one another creating a universal shift towards higher awareness
and acceptance one drumbeat and picnic at a time. We are wild creative souls who love living passionately and following our dreams.We share our art and do what we do so we can inspire others to follow their bliss and live life fully letting love lead the way.
It started with a tiny table at the Coral Castle Psychic Fair in Homestead Fl were we steadily grew while joining them monthly 7 years .After falling in love with the sacred grounds and the energies experienced while in sessions there we visualized and manifested MoonFaire A Magical Event in A Powerful Place for 5 years .Meanwhile we had an annual schedule were we met lots of great people who later joined us on our venture and many who have become family and we continue to support along their creative journey inspiring and motivating however possible.It was awesome doing the Miccosukee Arts Festival,Earth Day with Expand The Love,Pagan Pride with the UU ,Camelot Days,Full Moons at Tobacco Road with Spam Allstars and so many more .Finally with the support of the community and the clients who believed in us on the February full moon in 2010 we opened our first Brick & Mortar location in the heart of Hialeah inside The Celis Art Building unit 432. We spent 5 years hosting weekly events and offering our services to all in need of guidance and support. It was a haven a unique portal created with love and unity . We always were available personally without turning down anyone and we are grateful to have helped many during confusing times and unbelievable situations .Having our shop was fun and running it with the family was a lesson on its own with an abundance of memories that last a lifetime.Finally here we are 14 years later our family grew with a little miracle that is our son doing what we love and continuing this sacred journey.
We are Twin Souls,Artists,Musicians,Creatives,Spiritual Teachers,Mentors,Healers,Event Producers,Activist,Writers,Official Family Black Sheep,Loving Parents, Witchy Friends,Unique, Authentic,Inspiring,Clergy ,Life Coaches,Motivational Speakers,Compassionate ,Humanitarians on a Mission to promote love , Unity, Acceptance for all walks of life
Marizel & Armando are the Psychic and Healer at The Witch's Garden along with their tribe Zelie Rain, Zari Moon and Yaz. Together we create custom rituals and art as well as provide clergy services, spiritual consultations ,private classes and more.Our business is our path and we pour our heart and soul into it which can be felt in our gatherings, services and custom creations. Every time you support our mission you are directly contributing to the growth and well being of our family and our continued mission on our journey throughout life.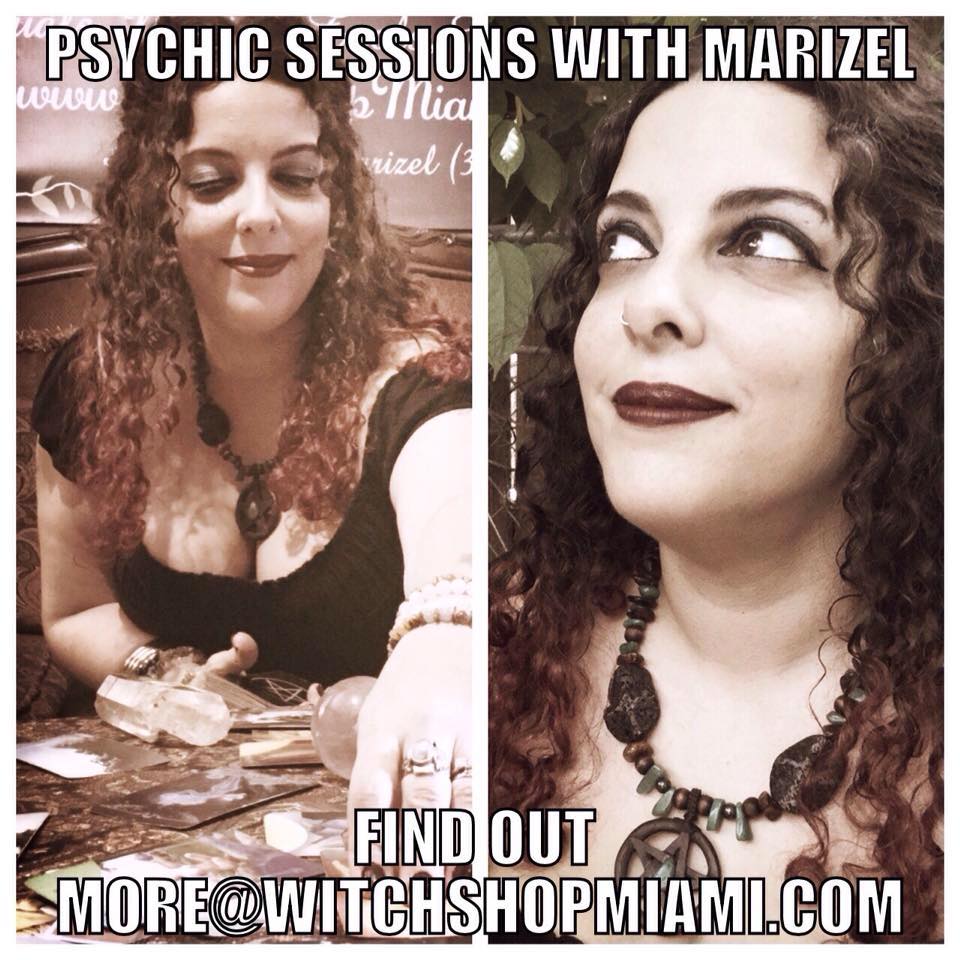 Marizel has been featured in CBS Miami ,New Times,Miami Herald and as the Fortuneteller for a photoshoot with super models Natasha Poly and Jorden Barret included in Fashion Weeks Act 1 shoot for Art Basel 2016 . Since childhood she has been aware of spirits and felt energies around herself and others. These gifts guided her to walk between worlds embracing the path of a medium channeling messages and recipes that have helped many along their path towards balance and self discovery. She is currently working on a series of books related to her life experiences and lessons as a Witch as well as constantly creating new brews and potions included in all spiritual services and custom creations.
Armando AkA The Witch Doctor is a Reiki Master and co creator of The Witch's Garden .He is a singer songwriter and frontman to Craft Metal Band Black Sun Prophets who headlined Caldera the first Pagan Music Festival in the foothills of GA in 2016 . He has created a variety of events through Witch Doctor Productions which was created to unite and showcase local talent. For over a decade he has taught private classes along with his well known Chakra Readings ,Healings and Alignments locally and worldwide .He makes custom ritual tools, chakra candles ,staffs ,altars and more. He is currently working on writing new music, sermons and his path in a book while working with students who wish to empower themselves through a series of customized workshops and exercises designed to target individual growth and overall spiritual development.
Currently we are raising our family and living a magical life creating daily and providing our classes and services for all in need. Sessions can be booked by appointments and custom rituals along with Monthly Moon Boxes ,classes and ceremonies are prepared to order. We create all by hand and with positive intentions bringing together the energy of our hearth and home to help align and harmonize your mind ,body and soul bringing forth good vibes and aiding you in spiritual awakening.
Remember 50% of all proceeds go directly towards our family and the mission of teaching tolerance,love and unity worldwide.