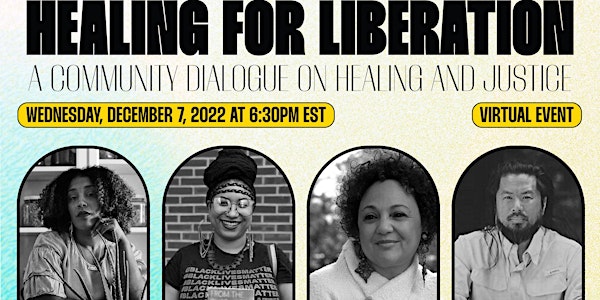 Healing for Liberation: A Community Dialogue on Healing and Justice
Healing For Liberation
About this event
Creating and sustaining conditions for healing and well-being for all people are an essential part of building a more and just and equitable world. Moving beyond paradigms in which healing is relegated to the realm of invisible, individual labor is a necessary element in the building models of collective care and mutual aid, and creating resilient, sustainable movements. This multi-generational panel of organizers, activists, healers, and cultural workers will reflect on healing work as an essential element of our social justice ecosystem, and a pathway to collective care, earth balance, and interdependence.
Featuring Suhaly Batista, Shane Bernardo, Cherizar Crippen, and Gloria Rodriguez.
Suhaly Bautista-Carolina (she/they/we/us) is an AfroDominican herbalist, artist, cultural worker, and community organizer whose work lives intentionally at the intersection of plant power and people power. Through her practice, Moon Mother Apothecary, Suhaly centers care, collective wisdom, and ancestral legacy, while creating spaces of agency to facilitate healing. She is based in her native home of New York City [Lenapehoking] where she lives with her wife and their baby girl, Luna.
Shane Bernardo is a co-founder of Food As Healing, a social movement based on ancestral, Earth-based traditions that are critical for maintaining our identities, sense of belonging, health and wholeness. Shane is also a grower, anti-oppression facilitator, storyteller and food justice organizer based in Detroit, Michigan that uses food and the stories embedded within them as mediums for healing and decolonizing.
Cherizar Crippen is a Black + Indigenous bisexual troublemaker, mother to 25+ plants, and a very resilient fish. She is creator and Director of the Ancestral Spirit Kollective (The ASK), a program of the Acorn Center for Restoration and Freedom, that connects youth healers with healer mentors to plan and implement their community based healing justice work. She is also proud to sit on the 2021-23 Holistic Board of Directors for Carolina Youth Action Project, a group of youth dedicated to police free schools and comprehensive sex ed. She is based out of the south, spending her time developing youth leadership, creating and facilitating intimate spaces, and helping Black people to venerate our ancestors and reclaim Hoodoo. Cherizar's work includes offerings of political education, healing practices, coaching, and facilitation for BIPOC led organizations such as SONG, BYP100, and NCBLOC.
Gloria M. Rodriguez is a Professor of Psychology at Bronx Community College of The City University of New York, where she specializes in womanist/mujerista feminism, cultural, spiritual, and community/social psychology, and is the founder and Faculty Director of BCC's first Women's Center. Gloria's life of service began with her involvement as a student, community leader, and social activist in her community of Brooklyn and as a member of the Young Lords Party in NY and Philadelphia. She is the founder of the DeAlmas Women's Institute, a community-based organization, literally meaning "of the soul." DeAlmas is dedicated to providing women and girls the opportunity to reclaim, honor, heal, express and celebrate their Divine Feminine power and potential – whereby transforming the larger society for a just and compassionate world. Gloria is a mother, grandmother, and Oshun initiate in the Lukumi-Yoruba religious tradition.