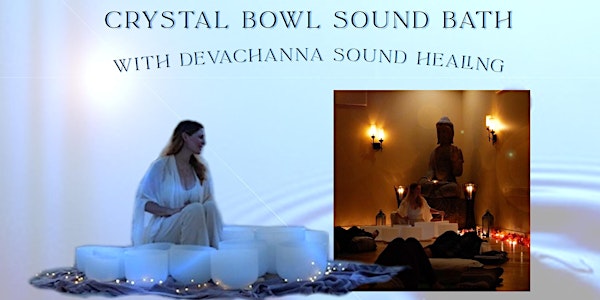 Healing Crystal Bowl Sound Bath + Bija Mantra Chant - With Devachanna
Experience a Crystal Bowl Sound Bath with mantra; experience Theta State healing, nervous system healing, deep state of meditation.
When and where
Location
MovementRx Studio 333 East Lancaster Avenue #4 Wynnewood, PA 19096
Refund Policy
Contact the organizer to request a refund.
Eventbrite's fee is nonrefundable.
About this event
An Evening of Sound Healing: Crystal Sound Bath for Chakra Healing
With Laura Kellogg of Devachanna
Deepen your yoga practice through the experience of sound healing! We will begin with an introduction to sound healing, discussion of the energetics of the time and a group Bjia Mantra chant, followed by a guided meditation and crystal bowl sound bath that will take the listener through the chakras. Mantra will accompany the sound bath at key transitionary chakra points. The evening will end with time for integration and discussion.
Sound used for healing is a powerful tool, in this practice we use vibratory sound with meditation to still the mind and reach more illuminated states of awareness, which is the ultimate goal of yoga. Crystal bowls and mantra chant create vibratory sound which balances the human energy system (the chakras) and facilitates wellbeing. Sound healing clears and vitalizes the Chakras, facilitating a natural flow of the body/mind.
Please wear comfortable clothes, bring a yoga mat and other supports to help you stay comfortable during the sound bath. It is suggested to bring tea or water in a travel mug to hydrate after the sound bath.
The result is a powerful healing tool to shift consciousness and movetoward harmonious living.
Devachanna Sound Bath events are designed to heal by stilling/calming the body/mind and create illuminated states of awareness. Devachanna sound baths shift consciousness, clear and vitalize the Chakras (energy centers), and facilitate a natural flow of the body/mind through specialized vibratory sound and guided meditation. An introduction to and practice of Theta State Meditation during the event provides an inner environment for a consciousness shift while the crystal frequencies and chanted mantra provide an outer environment for healing of the body/mind.