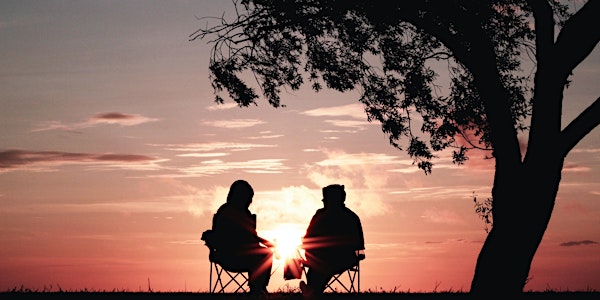 HEALING Conversations - Make Difficult Conversations Easy
Conversations can be so challenging especially now. Join Michele each month- go from tension to connection and enjoy better relationships.
Date and time
Tuesday, February 14 · 10 - 11:30am PST
About this event
(This 2-minute video dives into my life...and connects the dots to this program.)
On Tuesday, February 14th at 1 - 2:30 PM Eastern, we will explore "Making Difficult Conversations Easy."
Transform division and contempt into connection and understanding
Use our "7 Ways to Connect" to open the conversation instead of shutting it down.
Experience how to shift from cultural and political polarization to bridging divides and building relationships.
Leave with answers to these questions:
What are the potential benefits you might receive from listening to others with differing beliefs?
How can I listen without getting triggered when hearing different points of view?
How can I create a safe space where I can express myself?
The benefits don't just create a better relationship, it makes you a better relative, friend, co-worker, and leader.
Want to take a Dive Deeper? Want to strengthen your communication skills not just once a month but TWICE a month? In addition to meeting on the 2nd Tuesday, we offer a Deeper Dive into these skills on the 4th Tuesday of each month. It's a lot easier with support. Some say it's critical. Experience Deeper Dive here: https://deeper-dive-feb28.eventbrite.com
Hear what folks had to say:
"Thank you for providing this platform....it is allowing me to get even more comfortable with difficult conversations and expand my view point in areas of my personal and professional life. ~Ralph
"Michele hosted something deeply important at this moment in our world. I think this creation holds so much potential for healing.
I feel like people were very inspired and got a lot out of it. I definitely did. I was able to have exactly the experience which I have been craving which is to just practice dialoguing with people whose beliefs might be different from my own and to do so graciously all around.
Thank you for an offering of love, that was clearly created with such care."
~Eve Donnelley
"I had an amazing experience with Michele's process. Providing people the safe space and the raw questions to open us up to a deeper level. Leaving us fulfilled, transformed, and acknowledged through the process. Thank you for the amazing experience Michele." ~ Clifford Starks
"I recently had the pleasure of attending one of Michele Risa's healing conversations. Honestly, I didn't know what to expect. I consider myself to be pretty good at communicating but I feel very strongly that working the muscle of simply listening without expectation, convincing, or understanding, is something we don't do enough. I was blown away by the experience.
Michele offered us clear guidelines, a practice conversation, and small groups that provided a sense of safety when discussing sensitive topics. …I left Healing Conversations with SO much love in my heart for these people that I just met…"
~Jessica Dugas
"When we were sharing we opened ourselves in ways that people don't usually do. So I felt more able to open my heart to receive the love from the friends involved. It is the spiritual love that uplifts us and makes us feel united.  I didn't share very much as this is very new to me. I hope to progress in sharing my thoughts with others." ~ Leonard Galit
"I always feel better after your sessions. I like the way you challenge us to think and to respond. This has been a very beneficial (10 out of 10) conversation. I always learn something to help me with my conversations." ~ Ron Vero
"I am so glad that I attended this get-together. The participants are all open, charming human beings, and it was good to be a part of it. My take-away has been to understand myself better. I feel that I must enter a conversation employing the seven points you outlined at the beginning. This will complete communication for me." ~ Anna Capasso
About the organizer
Michele Risa is CEO and Founder of Collaborative Solutions, Inc. For over 25 years, communication has been her secret sauce- for you to hear what is said and not being said- at a business meeting, at the dinner table, and within your own heart.
WHY CRITICAL NOW: With so many challenging events hitting our senses- from abortion to guns to climate change to war- we help you shift from conversations of tension to connection.
HOW: Our monthly"Healing Conversations" include a toolbox of 7-Ways-To-Connect and a powerful, simple process in 3 steps: 1) theory, 2) practice, 3) mastery.
WHERE IS MICHELE: After leaving the corporate world of Citibank, I've come full circle and returned as an Executive Consultant to help CEOs turn the great resignation into the great retention, build a culture that "eats strategy for breakfast" (meaning a powerful and empowering culture that is a surer route to organizationa succes), starting with the most valuable asset- people.
IS THIS FOR YOU: Yes, if at work, you don't feel heard and would like to finally express what you haven't been able to say, maybe for years. Yes, if you wonder, "Do I belong here? Where would I go?" Yes, if you're tired of the tension and raised voices at meetings and family gatherings. Yes, if you find yourself yelling at the TV as you hear a point of view that sounds like it came from an alien who lives on a distant planet (or wish that they did). AND yes if you recognize that it's more difficult to figure this out alone and way easier to do it together with support from others who have done it successfully.
SUCCESSES: A global speaker, Michele has presented at the World Economic Forum, Viacom, Forbes, Barclays, United Healthcare and TEDx in Manhattan, including a 6-month program at the New York Stock Exchange, to name a few. She is an award-winning co-author of "Conscious Entrepreneurs: A Radical New Approach to Purpose, Passion & Profit." Michele has been a TV producer since 1998. She has conducted meditation at the United Nations. She was formerly President of the Manhattan Holistic Chamber of Commerce.
Check out LinkedIn & let's connect. https://www.linkedin.com/in/michelerisa/