Description
WE CARE FOR HUMANITY
AFRICAN WOMEN SOLIDARITY ASSOCIATION FOR DEVELOPMENT
and SANT NIRANKARI MISSION
In Collaboration with THE AFRICAN UNION to the UN
In Celebration of the Women's Month (March 13-24)
A SIDE EVENT of the UNCSW61
HEALING and EMPOWERING WOMEN & CHILDREN
(Victims of Domestic Violence, Acid Attack, Trauma and Mental Health)
MARCH 21, 2017- 2pm to 5pm
AFRICAN UNION HALL
Inline with the The sixty-first session of the Commission on the Status of Women (CSW61) which will take place at the United Nations Headquarters in New York from 13 to 24 March, we, the We Care for Humanity (WCH), African Women Solidarity Association and Sant Nirankari Mission, in collaboration with the African Union to the United Nations, are partnering for a side event entitled: HEALING AND EMPOWERING WOMEN AND CHILDREN. Our goal is to give solution and empower women and children who have been abused and victimized by domestic violence, acid attack, trauma and mental health.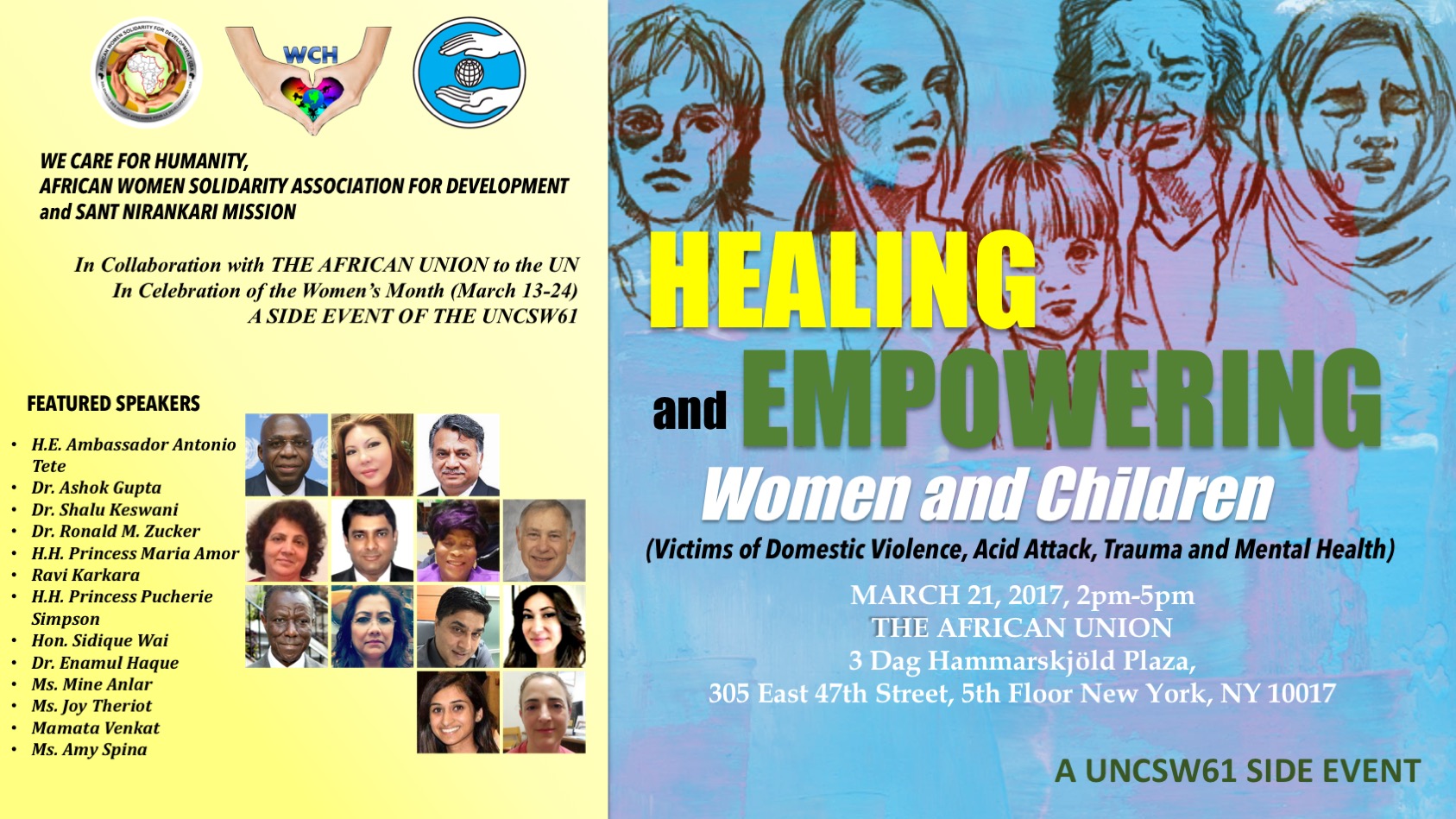 Organizer of Healing and Empowering Women and Children ( A UN CSW61 Side Event)
 WE CARE FOR HUMANITY (WCH)
Founded in 2011 by Princess Raden Dato'Seri Maria Amor Torres, We Care for Humanity is a non-profit organization 501(c)(3), based in California, with its headquarters in 12522 Brookhurst St.  Garden Grove 92840.

WCH is an internationally recognized organization dealing mainly with current global issues focusing on the seven (7) United Nations Sustainable Development Goals (UNSDG) such as: #1 NO POVERTY, #3 GOOD HEALTH AND WELL BEING, #4 QUALITY EDUCATION, #5 GENDER EQUALITY, #10 REDUCED INEQUALITY (HUMAN RIGHTS), #13 CLIMATE ACTION, #16 PEACE AND JUSTICE STRONG INSTITUTIONS.
OUR MISSION STATEMENT
Our mission is to advocate and innovate sustainable social developments and promote universal humanitarianism. 
We envision to be a catalyst for change, transforming people to becoming humanitarians, 
and we aim to be a sustainable partner of the United Nations in promoting the 17 UNSDG towards the 2030 UN Agenda.