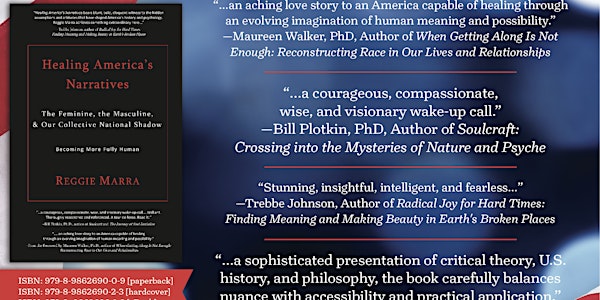 Healing America's Narratives: Overview, Conversation, Q & A
Worried about the mood of the United States? Join us in conversation about what it might take to heal America's diverse narratives.
About this event
Join Reggie Marra and Kent Frazier in their third conversation about Reggie's new book, Healing America's Narratives: The Feminine, the Masculine, & Our Collective Shadow. If you'd like to prepare for the event by reading the book, you can buy a copy here, but that's not necessary (although it will be appreciated).
Kent and Reggie are cofounders of the Fully Human at Work initiative and are committed to exploring what it means to become more fully human in this third decade of the 21st century.
Consider joining us! These conversations are ongoing.
*Note that we record the conversations and may use them to promote the book.
Below is an under-three-minute video of Reggie speaking about the language in the book's title and subtitle.