About this Event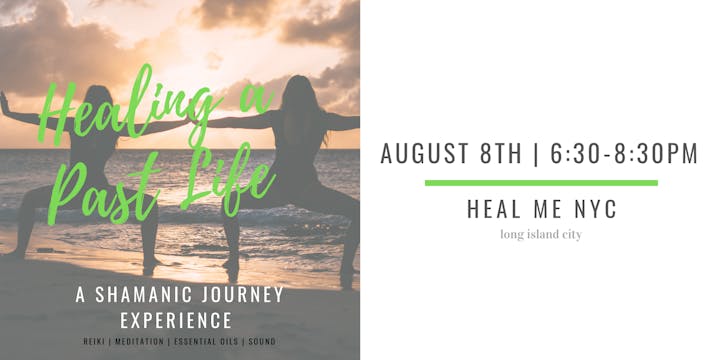 HEALING A PAST LIFE
A SHAMANIC JOURNEY EXPERIENCE
Are you eager to learn about a past life? Are you struggling with behavior that you're unclear where it comes from?
Shamanic Journeying is a practice that has been used by healers, shamans and indigenous shamanic cultures for thousands of years. It helps us to access inner wisdom through a meditative state for the purpose of healing. In this unique gathering, you will also receive Energy Healing through Reiki, Essential Oils and Sound for an enlightening and restorative experience.
We look forward to guiding and connecting you back to a deeper sense of self.
About the Healer: Jissel Ravelo
Jissel Ravelo is a Master Healer, Teacher and founder of Vibra Wellness, a practice in NYC assisting the transformation of individuals and groups through Energy Healing since 2011. Her down-to-earth and practical approach to spirituality and self-care has earned her raving reviews. In 2007, seeking relief from a long and painful battle with depression and anxiety, Jissel transformed with the very techniques she now teaches. One of her gifts is to simplify complex ideas and teach them as everyday wisdom anyone can apply. Jissel is trained and certified in various healing arts such as: Usui, Karuna and Shamanic Reiki, Holistic Counseling, Meditation, Energy Healing and others.
You can learn more about Jissel and book a private session via her website https://www.vibrawellness.com.
FAQs
How do I purchase tickets? Can I pay at the door?
Tickets are $40 online. The easiest and most affordable way to purchase tickets is via our app: healme.nyc, which you can download via Google Play or Apple App Store. You can also purchase tickets through Eventbrite, PayPal with the link PayPal.me/healmenyc, or Venmo @healme.nyc. We also accept cash or card at the door. However, at the door pricing is $50.
What are my transportation/parking options for getting to and from the event?
healmenyc is located on the corner of 44th Avenue and 23rd Street in Long Island City, just a few minutes walk from Court Sqare, E, 7, M, or G trains. Free and paid for parking is also available nearby.
How do I find healme.nyc?
healme.nyc is located at 44-02 23rd Street, Suite 516 in Long Island City, New York 11101. We are a hidden gem which can make us a little tricky to find. Here are the secret steps:
1) Walk to the intersection of 23rd STREET and 44th DRIVE (You should see LIC market).
2) Walk North on 23rd Street for 2 Blocks (You should pass the Secret Theater).
3) Enter through the DOUBLE DOORS of Caffeina (a cafe with a green sign).
4) Take the elevator to the 5th Floor and buzz suite 516.
5) Walk as far as you can down the hallway. We'll be here!
How can I contact the organizer with any questions?
Please contact healmenyc via email at info@healme.nyc or via phone at 518-589-3049 with any questions. We will be happy to help you!
What's the refund policy?
Full refunds are available with 24 hours cancellation notice. Email info@healme.nyc to cancel.