Healing 100 Hearts in 100 Days Challenge 2012

Tuesday, September 18, 2012 at 8:00 PM

-

Tuesday, October 30, 2012 at 4:00 PM (EDT)
Event Details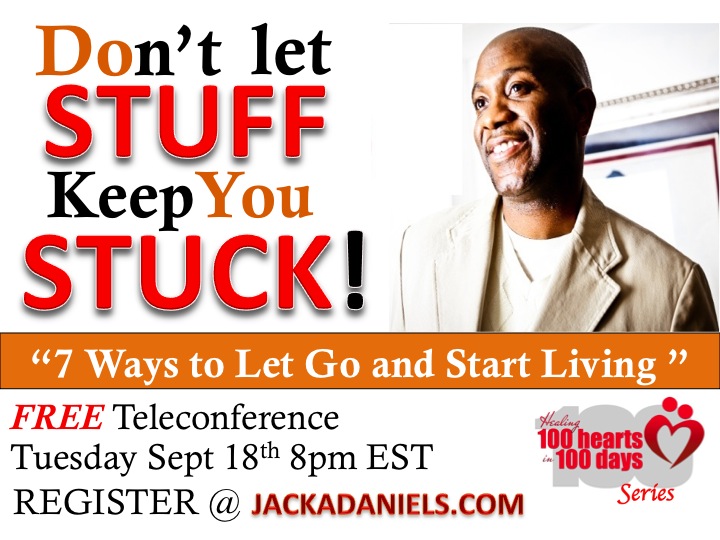 Healing 100 Hearts in 100 Days Challenge is back!  This is the award-winning program's 3rd year in existence and its going stronger than ever before.
This Challenge makes for a GREAT Small Group Activity - (Singles Ministries, Nonprofits, Sororities, Support Groups or Schools)
DETAILS:
Challenge begins September 30th
Weekly Teleconferences w/ special guests to discuss Themes: 1st Call is Sept 18th, 8pm EST 
Follow/Subscribe to this Blog for Daily Tasks and Assignments Updates (visit www.jackadaniels.com or facebook.com/healing100hearts)
From Wounds to Wisdom Study Guides are STRONGLY Recommended for this year's Challenge. (Group discounts available)
Live Challenge w/ Jack A. Daniels will be awarded this year to 20 lucky winners (stay tuned for contest details)
You've committed to everything & everyone else except YOU. It's time for you to STOP making excuses about why you haven't, can't or won't move on from WHOever or WHATever has you feeling stuck. It's time to heal, it's time to be happy & it's time to be whole.  So the only question is "Will You Commit to You?"
Not for you? That's OK...fwd this info to SOMEone you know who NEEDS it.
This event is open & public and space IS LIMITED! So HURRY and Register SOON! You DEFINITELY don't want to MISS THIS!
"Keep the faith, keep making it happen and remember to Stay Out of Your Own Way!"
Jack A. Daniels
To contact Jack for interviews or speaking engagements visit www.jackadaniels.com 
When
Tuesday, September 18, 2012 at 8:00 PM

-

Tuesday, October 30, 2012 at 4:00 PM (EDT)
Add to my calendar
Organizer
Jack A. Daniels
Jack A. Daniels is the Director of Press Pause Counseling & Consulting: A personal growth and development company committed to strengthening families by providing holistic products, programs, & clinical interventions. Advocating the philosophy, "Stay Out of Your Own Way," we also provide individual transformational solutions & therapy for high profile individuals nationally & abroad. Politicians, Business Execs & Entertainers frequent our services. We'd love to partner & work with you. Contact us today for a consultation. www.presspause.org "Change Begins & Ends With You"