Description

NOTE- There is no community clinic on July 5th, but Sheri is available for private sessions
There will no open community clinic due to the church being occupied by the upstairs congregation for a conference Luncheon. I will still be holding private sessions in my room as continued as will see clients at CLINIC love donation rates.
To book your session contact Sheri Kaplan, text 786 419 1389.
Limited to 6 slots every Wednesday.


"Taste of Healing" Spiritual Healing Hub

"Do you WISH TO Get unstuck?"
"Push the pause button and leave it all behind"
"Return To Tranquility"
"Shut Off Your Mind"
"Have Pain Relief?"


Sheri Kaplan and friends is offering a Weekly Sound & Healing Love Donation Based Clinic & Healing Hub

on Wellness Wednesdays


When: Every Wednesday from 11:00am to 8:00pm
Where: 1855 McKinley Street, Hollywood, FL 33020

Private Mini 30 minute sessions are by donation and appointment. Suggested $1.00 minute
($30-60)
Press the pause button and relax release and recharge your batteries.


Experience a one stop shop of a "Taste of Healing" A Mini Sound Healing ENERGETIC SOUND HEALING TUNEUP Session by Sheri "The Revitalizer" Kaplan
The only Healer you need to go to, stop running all over town
She will Balance out your Chakras and changing your Energy field, to make you feel lighter, fresher, happier.

Sheri incorporates a MULTI-SENSORY approach in her healing sessions using a unique combination of healing techniques; Reiki, Crystal's, Tesla Healing Metamorphosis, Tibetan and singing crystal bowls, transformational coaching, Shamanic work and intuitive readings.......

helping you feel the most relaxed ever!


Her Private Mini Sound Healing Chakra Balancing sessions are 30 minute & are by donation ($30-60 average donation) and appointment. Allocate an hour with her. For appointment, private message or text 786-419-1389 or if you want to see clients as a vendor.

http://www.facebook.com/sherikaplantherevitalizer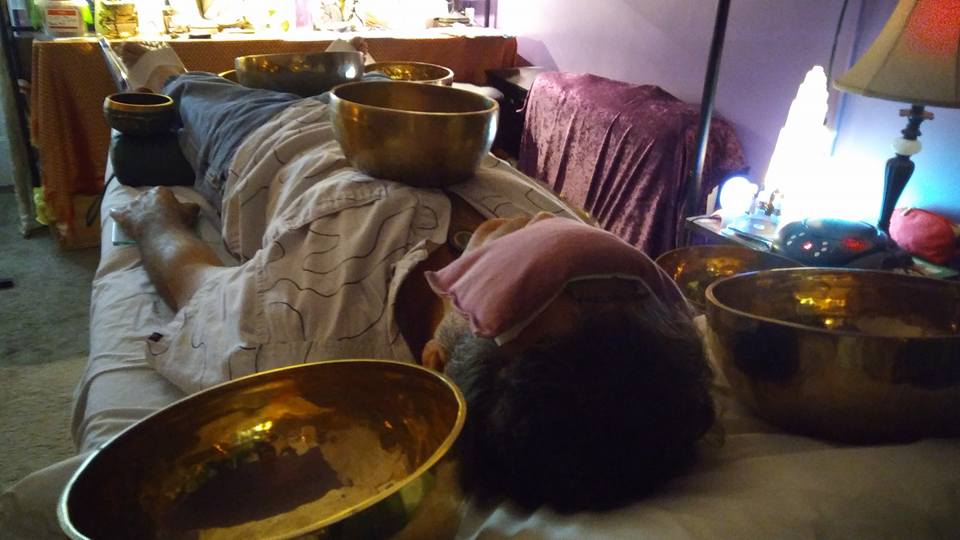 Do you desire to understand or awaken your Spirituality,

Would you like to build your self-confidence?

Need to stop and meditate but don't have time?

Do you want to take your life to the next level, but somehow you feel stuck because of the lack of inspiration, motivation or clarity?

Are you having relationship issues or dealing with a loss?

Feeling exhausted, or not sleeping through the night?

Are you not putting yourself first?

Is your body pain slowing down your productivity

Maybe your just feeling a little off?

Do you want to build your Character?
Let us support you on your Journey toward healing the pain in your body mind and soul
If you are a practitioner & need a location to work out of & expose your services? I am opening my doors to you. There is no fee to participate, % back to the House.However, you need to bring your own customers. You do your own marketing and let potential or current customers know you are In Hollywood on Wednesday and I can add you as a host to the event page so you can invite others.
Like a Spiritual Starbucks of sort. Open to the community. 1855 Mc Kinley St. Hollywood, FL 33020
Confirmed practitioners and readers and keeping various hours, You can walk in and take a chance on their availability.
Private Mini 30 minute sessions are by appointment (suggested). If you walk-in, if there is no guarantee who will be on site. We keep various hours.
For appointments call US DIRECTLY:
~Sheri "The Revitalizer" Kaplan, Organizer offers mini Sound Healing (tibetan and singing bowls, gong) Reiki, TESLA sessions. 786-419-1389
~Alisun Wunderland (Alison Olkowski) is an Intuitive Reiki Healer, Crystal & Shamanic healer, Life Purpose & Wellness Coach.786.422.4484
~Angie Gonzalez- Regenerative Lifestyle Design Specialist, Thai Massage, Ayurveda consultations 954-701-7515
~Jess Roberts- Pyroplumis divination- Intuitive Tarot Card Reader. 407-417-7013
~Melysa Mac - Meridian Tapping/EFT, Reiki, Wellness Coaching, Energy Balancing, Healing Laser Therapy, Chakra Balancing 305-776-2642
~ Peter Sieber- Energy & Reiki Healing and crystals.- 305-979-0103
~ Donnareyna Donna Sessler- Intuitive Oracle Tarot Card Reader, Spiritual Gemologist.303-589- 0035
~Steve Spencer, LMT- Got Pain? Azzizia Biofeedback Machine, Energy Healer. 561-929-8715
~Jeff Stearns- High Priest and Grand Master of the Children of the Light, Certified in Tuning Forks for Chakra Healing, Spiritual & Vibrational Healing, Certified in use of Holy Oils, and in Healing the 7 Wounds & giving the Shakti, Shekinah & Wholeness Blessings. 517-719 0048
~Juliana Yasa- Mystic, herbalist, Reiki, Akashic records. 954 -638-6159
~ Jimmy Paul Silva Bazán- Energy Healer, Sound Healer (Didgeridoo), Shaman, Reiki , massage, crystal quartz and stones for unblocking Chakras, aromatherapy, (Sage, PaloSanto, oils, aura sprays and candles), Sound therapy (Didgeridoos, Rain Sticks, Singing Bowls, Tank Drums). 786 470 6895
~ Lindsay Grace Sternberg- Numerologist, spiritual gemologist (in-training), Osho Zen & destiny stone readings, and readings from the Cards of Illumination, mini-moving meditation. 954-319-8399
~Sahara Rose- Tarot Card Reader, Medium, communicates with deceased.954 589-7862
~Howard Luckman "Lucky" - Morgan Deck Tarot Card Reader, Core Beliefs/NLP Quick Change, Psychometry. (561) 716-4112
CONTACT EACH PRACTITIONER FOR AN INDIVIDUAL APPOINTMENT! Or chance it and walk in. Like, share and RSVP 'I'M GOING' and text 786-419-1389 for appointment with Sheri Kaplan & we will see you there
www.facebook.com/groups/healersnetwork
Meetup Healers Network of South Florida
www.meetup.com/Healers-Network-Of-South-Florida


#selfcare #TreatYourSelf #loveDonation #healing #tarot #MindBodySoul #holisticlinic #HollywoodFl #soundhealing #painrelief #chakrabalancing #AffordableHealthCare #reiki #shamans #cardreadings #tuningforks #thaimassage #cardreadings #healingclinic #wellness