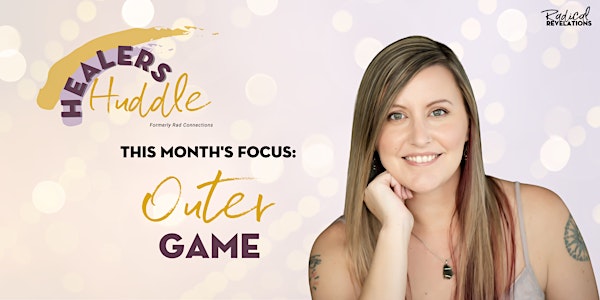 Healers Huddle: Outer Game
Online event supporting Healers & Healing Leaders. Come fill your Healers Cup with sharing, learning, & connection to others in your field!
Refund Policy
Contact the organizer to request a refund.
Eventbrite's fee is nonrefundable.
About this event
As a Healer or Healing Leader you give SO much!
Whether you're healing through energy, mindset, money, the body, emotions, the business, or the soul, it is clear that the world needs YOU now more than ever.
The world needs YOU fully-sourced & in your sacred flow so you can keep showing up for your gifts and your people.
The world needs YOU to stay connected to others on a similar path so you don't slip into isolation and self-doubt.
Healers Huddle is designed to do just that!
Connect with other Healers, feel supported, free your blocks to flow, and fill your healers cup so you can keep on serving your people.
Odd-numbered months are all about the Inner Game:
Practices & tools to support you in continuing to show up for your work without burning out.
Even-numbered months we focus on the Outer Game:
Tips & strategies that help you keep up with your online healing practice & keep growing your impact & income.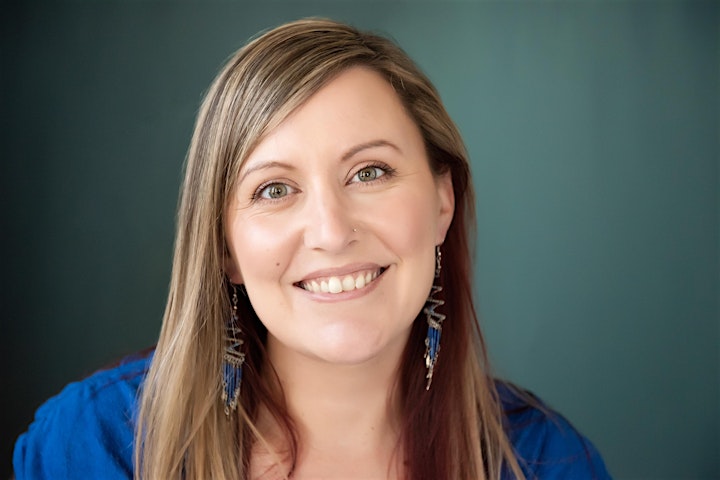 Hi, I'm Starr and I'm so passionate about supporting healers and leaders with inner work and business strategy that I've been studying and geeking out on this stuff for decades.
I have a deep understanding of and experience with the healer's journey, and I know what can keep you stuck, small, or searching for how to show up for the next expression of your unique calling.
If you've been seeing clients for a while and love the work you do but are hitting a ceiling in your growth, Healers Huddle is here for you!
If the last two years have you feeling isolated and disconnected from community, start connecting with other healers at the next Healers Huddle!
It is my life's purpose to support those who are supporting others, because I believe that we are healing lifetimes of trauma on this planet and we need all the healing we can get to cocreate a better world for all. Thank you for being a part of this wave and supporting your people with your healing in the way only you can.
I want you to be able to keep expanding into your calling, and be richly rewarded for doing so!
Join us at this month's Healers Huddle, a safe space to bring all your parts & connect with others on the path.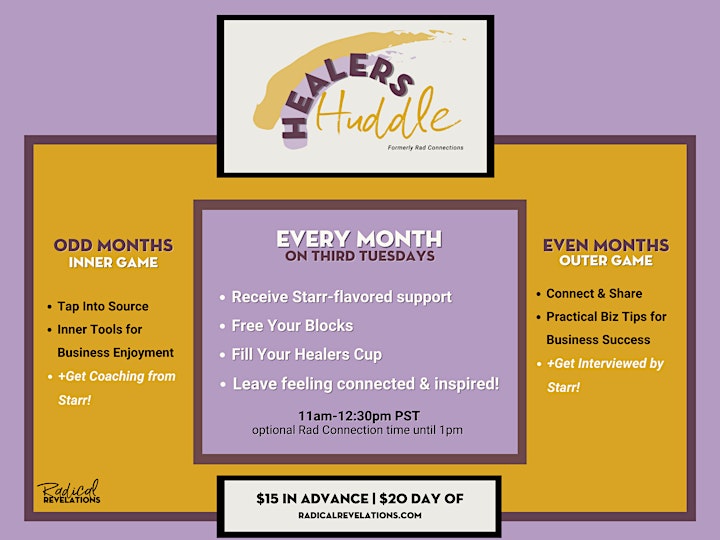 Each online event offers up:
opportunities to be witness by others in your field & hear their stories
Starr-led teachings specific to running a healing practice & changing the world
A raffle to win either live coaching from Starr (Inner Game) or a chance to be interviewed about your business in front of the group (Outer Game)
From recent attendees:
"The timing of the topics that you come up with are always so inline with what is going on at the moment, and I so resonate and get a lot out of it for myself. Connecting in the partner shares, in witnessing & receiving that acknowledgment and sharing insights, it's so helpful to be in a space where you truly heard and seen, and it's so beautiful to be in this container that you've created. Thank you."
"Thank you for allowing me to show up just as I am and just where I'm at."
"Thank you so much for creating this space. You are remarkable."
"It's been very powerful to recognize ourselves in each other and to know that we're all beloved souls and we're all doing the best we can."



I hope you join us!
Make sure to snag your spot before the price goes up.
See you soon!