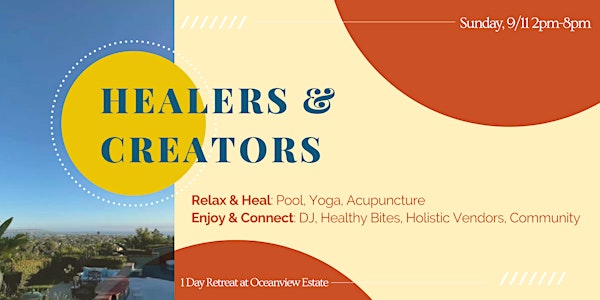 Healers & Creators Late Summer Gathering
Healers & Creators, Late Summer Gathering: 1 Day Wellness Retreat at Oceanview Estate
When and where
Location
5030 Windsor Dr 5030 Windsor Drive San Diego, CA 92109
Refund Policy
Contact the organizer to request a refund.
Eventbrite's fee is nonrefundable.
About this event
Come join us for another gathering of Healers and Creators, a one day mini retreat overlooking the ocean in San Diego.
As one of the final weekends of summer before passing into fall, we gather together to honor this energy and create a strong foundation in body, mind, and spirit to help us through the rest of the year.
In Traditional East Asian Medicine (TEAM) the late summer is associated with the Earth Element, which represents both how we turn food into energy as well as how we nourish self in order to manifest our highest purpose. By the end of the day not only will you be more in tune with this aspect of self, but you will have real take away tools that you can use at home to keep this energy strong.
*
Arrive at 2pm to settle in by the pool while our DJ sets the atmosphere for your one day reset. Mocktails and healthy bites are provided that are not only delicious, but also represent the Earth Element. Talk to our vendors about their unique wares and services or book a massage (services extra) with one of our very talented on site therapists.
At 4pm, gather on your yoga mat as acupuncturist Erica Sloan teaches more in depth about the Earth Element and shares her thesis research about how this is represented in the Nervous System. Not only will you begin to understand what certain signals in your body mean, but you will also have some simple yet effective ways to treat them. You will then be coached on where to put magnets on specific acupoints that enhance the Earth Element for you to wear during your yoga flow.
At 4:30pm 16 year yoga teacher and movement specialist Jennifer Umberger will take over as she guides you in a centering flow to reconnect mind and body. Feel the strength in your muscles as well as take time to nourish them in this dynamic and conscious flow. Once you land in savasana, you will be led in a guided meditation while you receive acupuncture that will both calm and recharge your spirit.
By 6pm we will be finishing with our practice and you can begin to integrate everything you've communicated with your body. Soak in the hot tub, get a massage, or just hang out by the pool to enjoy the sunset over the iconic Pacific Ocean.
Once our day together is complete, go home feeling refreshed and reconnected in both self and community.
*Please bring your own mat and towel
Full Experience (after 8/15): $75
**Limited Availability Chill Only Pass: $35; pool, bites, mocktails, shopping, hot tub
Some of our other Holistic Offerings!
🙏 Hypno Priestess will be doing Tarot readings and CranioSacral sessions. Tarot $25/15 minutes or $60/45 minutes, CranioSacral $35/25 minutes or $70/50 minutes. Venmo @Hypnopriestess to reserve your spot and text (321) 917-5936 to schedule.
🙏 Julie Hagen will be sharing her expertise with mini transformational Breathwork sessions, guided Micro-dosing, and instant access full Breathwork sessions. $33 for Breathwork sessions, Micro-dosing sessions (cost TBD). Venmo @julie-hagen-3 to reserve your spot and text (712) 389-6815 to schedule.
Here is a list of some of our Creative and Holistic Vendors (more will be added as they are confirmed):
🛍️ Charlice Arnold will be offering Essential Oils and Consultations, Micro-dose Plant Medicines, and Educational Books.
🛍️ Sabey Atelier is showcasing her hand made, one of a kind, beautiful earrings and clutch bags. They are all made with a mix of resin and crystals/gemstones and lots of love and good energy.
🛍️ CBD Organics West prides themselves on making the very best CBD products for people & pets. Combining the soothing power of the CBD compound and aroma therapeutic effects using therapeutic grade essential oils. Their products are effective and luxurious and provide a better quality of life.
🛍️ Amanda with Pure Romance will be available to provide you with the answers to your sexual health questions. Sexual health and wellness is an important part of full body wellness. She will also have products on hand for you to see and take home.