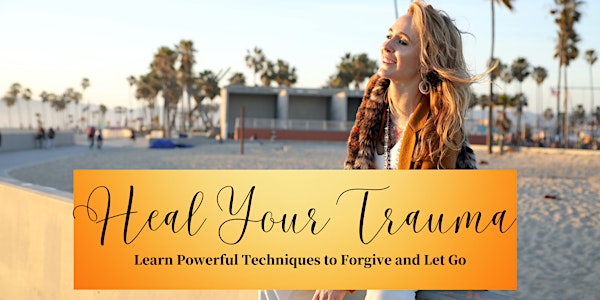 Multiple dates
Heal Your Trauma Austin: Learn How to Forgive and Let Old Stories Go
Gateway: Learn powerful techniques for emotional healing, overcoming trauma, and letting go of the past with Master Coach Amaya Shiva.
Date and time
May 11 · 10am - July 20 · 11am CDT
Location
Austin Downtown Austin, TX 78704
Refund Policy
Contact the organizer to request a refund.
Eventbrite's fee is nonrefundable.
About this event
As a spiritual seeker and warrior of light, you care deeply about doing your dharma, having a loving relationship with yourself, friends and family, and contributing positively to the world.
But for many of you, meditating, going to yoga class, and being a "good" person aren't enough to bring true fulfillment and emotional happiness.
This is because they don't address the deep-seated stories stuck in your nervous system about what's "safe", which is why you don't experience deep personal fulfillment and happiness you have been seeking for so long.
Gateway was created by Master Coach & Āyurvedic Practitioner Amaya Shiva to give you practical tools to remove emotional blocks, move through old trauma, and repattern your nervous system to hold the life you want and deserve.
One that is connected to your Purpose, Power, and the Divine Thread that runs through all things!
Because good people deserve to live great lives.
Gateway bridges the gap between spirituality and personal development in a 5 part process created by Vedic Practitioner and Master Coach Amaya Shiva. She is initiated into 3 spiritual lineages and has been meditating for 14 years, but came to realize that her spiritual work wasn't solving some of the deeper problems she was struggling with like deep lack of self worth, shame, and emotional suppression related to past traumas.
Translation- the body remembers what the find forgets, and all the positive affirmations in the world won't work if you don't do this work to!
Gateway is the result of the deep work she did to bridge that gap and now shares with her students and clients around the world.
Somatics, emotional release, and Vedic principles are woven together support your transformation from repression to full expression. Because your life was meant to be lived in BLISS.
In this workshop series you will be guided on how to
✔️Remove emotional blocks stopping you from loving fully
✔️Express grief, anger, and sadness without fear or guilt
✔️Overcome shame and transform self criticism into self LOVE
✔️Get comfortable with your NO so you can stop people pleasing
✔️Find clarity on your Purpose for a life you're excited to wake up to
✔️Rekindle your connection to Spirit to walk a path of service
✔️Find your voice and speak your truth as a powerful Leader
BIO
Amaya is a trauma informed Master Coach, Vedic Practitioner, & Founder of Siddha Labs Ayurvedic Supplements. She helps her clients transform confusion about their path into confidence and clarity about what's next by combining Ayurveda, Astrology, & Tantra with emotional repatterning tools and modern personal development. Her mentors are all world renowned in their fields and include Dr. Vasant Lad, Preston Smiles, and Freedom Cole to name just a few. She is a spiritual disciple of 2 Natha lineages and a devotee of Swami Vidyadhishananda Giri.
She is currently involved with research projects at Los Alamos National Labs investigating the impact of Ayurvedic herbs on the oral microbiome and is passionate about merging Eastern tradition with the Western lifestyle for a life connected to Self, Spirit, and Source. Amaya has been awarded grants and awards from NASA, the National Science Foundation, the Ayurvedic Institute, and Los Alamos National Labs.
Amaya will be touring Europe from July12- August 31.
To connect with her for 1 on 1 coaching and mentoring, or to have her come speak at your event or studio space, please email
sarah@siddhalabs.com
www.amayashiva.com
https://www.instagram.com/amayashiva/
Thank you so much for joining and see you soon!
Frequently asked questions
I already meditate, do I still need this work?
Are these classes recorded?
I can't come, what's your refund policy?
I want to go deeper, how can I get in touch with you?
About the organizer
Sarah is a NAMA certified Āyurvedic Practitioner, e-RYT 200 Āyuryoga instructor, and Founder of Siddha Labs. Sarah was inspired to help others on their journey to great health after her own tremendous transformation through Āyurveda. Years of suffering from health conditions that left her barely able to walk for weeks at a time led to relentless investigation into all things medicine and eventually to Āyurveda, the oldest medical science in the world.
She completed her studies in Āyurveda at the Āyurvedic Institute under the guidance of Dr. Vasant Lad, known throughout the West for his deeply spiritual insights into this profound science. Sarah watched Dr. Lad create thousands of customized herbal formulas for clients from around the world, and it was here that she honed her herbal compounding skills, which started in 2009 with an ethnobotanical apprenticeship through Earthwalk Northwest and her first product, Keeper of the Ink. She has crafted hundreds of unique formulas for clients and brings passion, vision, and indigenous wisdom traditions to her herbal creations. Healthy People for a Healthy Planet!
 Sarah is available for private consultations, education, and lectures. Please check her schedule by contacting her at sarah@siddhalabs.com.