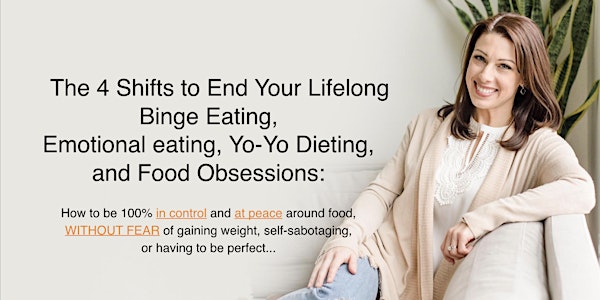 Multiple Dates
Heal Your Lifelong Binge Eating and Lifelong Dieting [FREE ONLINE EVENT]
Event Information
Location
San Diego
San Diego
San Diego, CA
How to be 100% in control and at peace around food, without fear of gaining weight, self sabotaging, or having to be perfect.
About this event
This FREE ONLINE EVENT is for anyone who feels out of control with food and who struggles with binge eating, overeating, emotional eating, food obsessions, yo-yo dieting, or a former eating disorder.
In this online masterclass I'll show you:
How to naturally be in control around food, without it feeling forced, and without the pressure of having to be perfect.
How to remove constant guilt, shame, should/shouldn't, good/bad, can/can't mental negotiations and restore eating to be simple, nourishing, and natural as it's meant to be
How to break the dependency on tracking, diet plans, overwhelming "food rules"and confidently trust yourself again to know when, what, how much to eat
How to reprogram your brain to eliminate toxic thinking and beliefs about self, food, and/or body that are feeding your urges to binge, emotionally eat, restrict, quit, or procrastinate
How to stop wasting your time, money, and energy on destructive eating habits and diet methods that keep you stuck so you can invest it all back into yourself and into your life
The ONE secret that will put you in the position to sustainably lose the weight and boost your metabolism without restricting your favorite foods
**Confirmation Link to Join the online webinar will be provided prior to the event**

Shelby McDaniel is known as one of the nation's top coaches for people struggling with compulsive eating behaviors, disordered eating, former eating disorders, and lifelong food and weight struggles.
Her 17 years in the fitness industry, 14 years of coaching, and extensive educational background gives her specific skill sets to create long term transformations for every common and uncommon food and body struggle. Learn more about Shelby and the results of her clients at www.ShelbyMcDaniel.com
Location
San Diego
San Diego
San Diego, CA
Organizer of Heal Your Lifelong Binge Eating and Lifelong Dieting [FREE ONLINE EVENT]
Shelby's training at the internationally accredited Institute for the Psychology of Eating, Am I Hungry® Licensed Mindful Eating Facilitator program, BS Nutrition Science program, amongst others, equips her with powerful cutting-edge tools and protocols to work with weight issues, body image challenges, overeating, binge eating, and a variety of nutrition related health concerns, such as digestion, fatigue, mood, immunity, and others. Shelby's work combines the powerful fields of Dynamic Eating Psychology and Mind Body Nutrition and skills that are a combination of practical coaching techniques, results-oriented psychology, clinical nutrition, body-centered practices, mind body science, and a positive and compassionate approach to challenges with food and health.
Website: www.ShelbyMcDaniel.com
Facebook: https://www.facebook.com/groups/AchieveFoodFreedomForever