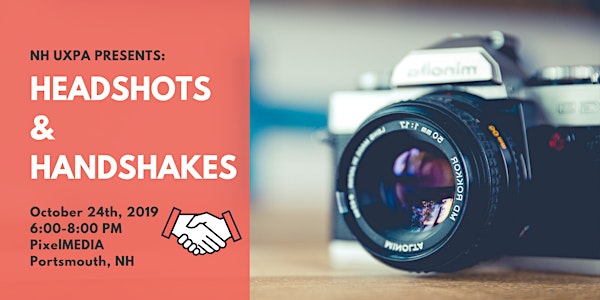 Headshots & Handshakes!
When and where
Location
PixelMEDIA 75 New Hampshire Avenue #100 Portsmouth, NH 03801
Description
Headshots & Handshakes!
Come join us for food, drinks, headshots, and networking on 10/24 at PixelMEDIA!
Meet with local UXers and share a fun time while enjoying a complimentary headshot taken by our very own, Jill Hart, one of our board members who has a passion for photography!
Instead of having an invited speaker this month, we wanted to provide an opportunity for attendees to engage and connect with each other. Be sure to stick around for some fun door prizes that we'll be raffling off at the end of the night!
NH UXPA meetings are always open to anyone that's interested in learning more about User Experience. Membership to UXPA is NOT required.
Thanks to food & beverage sponsor!
Market Street Talent is a specialized staffing and consulting firm focused on staffing solutions for Information Technology positions. From our offices on the Seacoast of New Hampshire, we service companies across a wide range of industries from Greater Boston to Greater Portland and beyond. Learn more: https://marketstreettalent.com/
Thanks to our host this month!
PixelMEDIA helps lifestyle brands launch, manage, and grow their eCommerce business specializing in footwear, fashion, sporting goods, and speciality food brands. Learn more: http://www.pixelmedia.com/
Time
6:00–8:00 Networking and refreshments
Location
PixelMEDIA 75 New Hampshire Ave #100, Portsmouth, NH 03801