A headshot session, networking party, and workshop in one! Plus snacks and mimosas, of course.
About this event
After 500 days of pandemic times, you KNOW it's time to get new headshots taken! This super fun event makes getting new photos fun, easy, and affordable.
Emily (Biz BFF) and Rebecca (Hunnicutt Photography) are combining forces to bring you a mini photo shoot, a networking party with other small business owners, a workshop to help you make the most of your new photos, and of course... mimosas!
What You Get:
A mini photo session with Rebecca
2 digital head shot images that you'll choose from a gallery of options (additional images available for purchase)
A fun, interactive workshop led by Emily: learn how to choose your final head shots and brainstorm creative ways to use them in your business
The opportunity to network with other amazing local business owners in a safe, inclusive environment
Snacks and mimosa crafted by Laurie & Renee, the geniuses of Hip Chicks Do Wine. A charcuterie plate and one mimosa are included with your ticket with additional beverages available for purchase.
Optional Add Ons: Don't feel confident about doing your own hair and makeup for your photos? Let the pros do it for you! Add on one or both:
Makeup by Jena Sanchez of Magix in the Makeup
Hair style by Kelsi Morrison of Kelsi M Hair
Your Hosts:
Rebecca makes getting your photo taken so relaxed and easy. Her down-to-earth, calming nature makes these head shot sessions so approachable and fun.
Emily will spark your creative thinking and inspire you to use your photos in ways you never imagined! You'll leave this party excited to show up in the world and online.
What if I want more than 2 photos?
Sweet! Additional images from your session will be available for purchase.
Can I get my hair and makeup done, too?
Yes! When you check out, you'll see the option to add on hair and/or makeup for $30 each. This is an optional add on, and there are limited spots available! If you choose this option, please arrive at 9am with clean, dry hair and skin.
Where is this party?
Hip Chicks Do Wine is Portland's oldest urban winery, and provides several cool backdrops for your photo session. Nestled among the urban landscape of SE Portland, follow the signs displayed along Holgate and 26th. There is plenty of free parking in the parking lot. If you are taking public transportation, bus lines 19, 17, and the orange Max line are great options.
Where can I learn more about Rebecca and Emily?
Check out Rebecca's photography at https://www.hunnicuttphotography.com and Emily's business advice at https://www.bizbff.com
What's the refund policy if my plans change?
Tickets are refundable up to 7 days before the event. They are transferable to another person up to 24 hours before the event.
***If you're are sick, experiencing any Covid symptoms such as fever or sudden loss of taste or smell, or you test positive for Covid-19, please stay home, and we will refund or reschedule you!***
What Covid safety precautions are you taking?
We take the health and safety of our community very seriously. Your hosts, stylists, and venue owners are all fully vaccinated, and Hip Chicks has plenty of space to spread out. Plus we will have large doors open for fresh air and may conduct the workshop outside--weather permitting.
We encourage all guests to wear a mask when appropriate, and your hosts and stylists will be masked when you can not be. Guests who are not yet fully vaccinated are required wear a mask for all portions of the party except for the individual photo session and makeup.
We will ask a few short Covid screening questions as you check in to the event.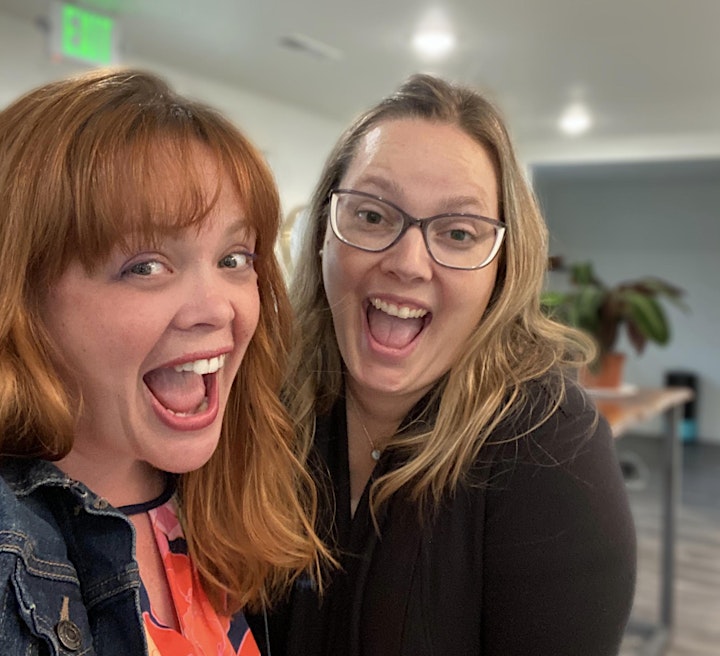 Details person? Here's a timeline of how this party works:
Before the party - You will receive helpful tips and things to think about to prepare for your headshots, like what to consider when choosing an outfit.
9am - arrive at Hip Chicks - Photo shoots, hair, and makeup will all be scheduled in little time slots (we'll let you know your scheduled time slots before the party so you know what to expect). When you're not in one of those stations, Emily will be guiding you through easy, fun, intentional opportunities for connection with other guests. (You'll forget you're even "networking.")
Snacks and mimosas will be available through the duration of the party. We recommend you save your mimosa until after your photo session.
11am - after everyone's photo shoot is complete, Emily will lead a fun and engaging workshop to help you make the most of your new head shots and show up courageously and authentically in the world!
12pm - We say our goodbyes and spend the rest of the day napping, stalking our new business friends on instagram, or sampling all the tasty wines at Hip Chicks!