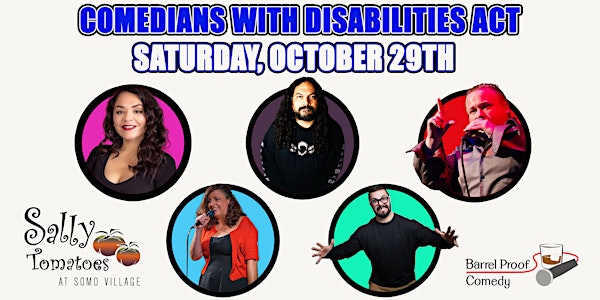 Headline Comedy - Comedians With Disabilities Act!
The Comedians With Disabilities Act Showcase Tour comes to Rohnert Park!
When and where
Location
Sally Tomatoes 1100 Valley House Drive Rohnert Park, CA 94928
Refund Policy
Contact the organizer to request a refund.
About this event
Barrel Proof Comedy brings the best stand-up to Sonoma County
"Changing attitudes, one laugh at a time." Don't miss this hilarious night of laughter!
Doors - 6:30 (for VIP guests, GA @ 7pm)
Dinner - 7:00 (purchase VIP in advance, LIMITED dinners available at the show)
Show - 8:00
Be sure to buy tickets for your whole party so we can seat you together.
VIP Tickets are closer to the stage and include dinner!
Menu:
Rolls & Butter
House Salad w/ Our Famous Ranch
Mixed Grilled Vegetables
Mashed Potatoes
Fried Chicken & Gravy
Brownies
The producers and contributors of the Comedians with Disabilities Act are pleased to announce the upcoming tour of its wildly popular show in October 2022. The comedy troupe is the brainchild of the late comedian Michael O'Connell, who started the group in 2010, and was later joined by Steve Danner and Nina G not long after.
"The Comedians with Disabilities Act is a fabulous collection of comedians with disabilities, both seen and unseen, who bring forth the humor they find in their experiences," says Nina G.
In 2016, O'Connell sadly passed away – but the show he created lives on, spotlighting a variety of Disabled and outrageously funny comedians.
Nina G notes, "The upcoming lineup of shows includes disability representation from the following experiences: stuttering, dyslexia, Dwarfism, amputation, addiction recovery, OCD, depression, anxiety, PTSD, Autism, Tourette's syndrome, spina bifida, spinal muscular atrophy, multiple exostoses, hearing loss, cerebral palsy, epilepsy, and blindness."
Disability Awareness Month:
In the troupe's most recent news, the Comedians with Disabilities Act is announcing it will be touring Northern California, featuring four headliners across 4 different venues – just in time for the Disability Awareness Month of October. Author, comedian and Disability advocate Nina G, who has been with the Comedians with Disabilities Act since 2011, will host all four shows.
San Francisco Bay Area favorite at local clubs, Mean Dave, will headline Santa Cruz's Greater Purpose Brewing as part of the Santa Cruz Comedy Festival. Dave is in his 8th year of recovery from addiction, which he ingeniously weaves into his humor. "Not a lot of people know that being an addict in recovery is covered under the Americans with Disabilities Act," Mean Dave advocates.
"We're all comedians first," said Napa native and Sally Tomatoes' headliner on October 29, Steve Danner, who identifies as a Little Person and is one of the show's original founders. "But who says you can't make people laugh and send them home with something to think about too? While our first goal is to have fun and joke around, we also want to send a strong message that, even with a disability, we can reach our goals."
In addition to being the Bay Area's only female stuttering stand up comedian, Nina G is also a college and corporate speaker and author of three books. Her memoir, "Stutterer Interrupted: The Comedian Who Almost Didn't Happen," was released to critical acclaim in 2019 and is about realizing her lifelong comedy dream while overcoming internalized stigma. In February 2022, she launched her new book co-authored by OJ Patterson, "Bay Area Stand-Up Comedy: A Humorous History." Nina has performed all over the United States and appeared on many daytime TV talk shows, NPR broadcasts, and podcasts.
About Steve Danner:
Steve Danner's comedy career began as an audience member at a comedy club. That night, the comedian on stage started riffing with him and after Danner showcased his own riffing skills, the comic approached Danner after the show and suggested he give comedy a try. He soon began a career as a comedian and producer and has opened for many headliners such as Last Comic Standing Winner Felipe Esparza.
About Mean Dave:
Comedian Mean Dave has opened for many notable comedians like Josh Blue, Big Jay Oakerson, and Jay Mohr, and has performed at colleges across the US. Mean Dave's role in the Comedians with Disabilities Act helps to bring his critical message about addiction and disabilities to audiences around the world.
LEARN MORE:
https://www.comedianswithdisabilitiesact.com/
https://www.ninagcomedian.com/
Find all the best stand-up and trivia in the North Bay at BarrelProofComedy.com.