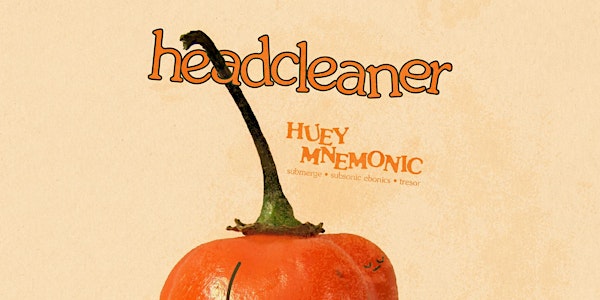 Headcleaner at The Summit Music Hall - Saturday July 2
Location
The Summit Music Hall
2210 Summit St.
Columbus, OH 43201
Headcleaner returns July 2nd with Huey Mnemonic!
About this event
Now that we have been baptized by Yessi, Effective and Simplicity... We are excited to get busy again for July!
*
Huey Mnemonic is not new to the world of dance music, but you may be pleased to finally hear him play in Columbus!
Coming off of his most recent set at Movement main-stage, we aren't the only ones who recognize the talent.
Can't wait!
*
Huey Mnemonic:
https://soundcloud.com/hueypmnemonic
https://hueymnemonic.bandcamp.com/
*
In addition to Detroit's very own...
We have Columbus's very own FBK.
"FBK is possibly your favorite DJ's favorite producer. With a career and discography spanning four decades, FBK is beloved by his peers in house, techno and beyond. A prolific producer who has released on Rekids, MDR, Frictional, and many more, this 'master of space' continues to be a favorite of the pickiest of selectors.
https://www.mixcloud.com/thefbk/
*
and Nick....
Brenner
https://soundcloud.com/justbrenner
*
9-130
$10 at the door
*
*Headcleaner has always been a consent-forward, anti-harassment collective acting on any allegations of misconduct while our dance floor is in motion and surrounding areas of concern. If you or anyone ever feels like you are uncomfortable in our shared space, please let one of the residents, or Summit staff know immediately and we will handle the situation quickly and efficiently. Thank you.